25 Nov 2022 6:10 p.m

The fact that the US news agency AP erroneously reported that a Russian missile had hit instead of a Ukrainian missile last week forced it to react in order to protect its reputation. However, the dismissed employee is only a pawn.
An analysis by Dagmar Henn
Last week there were claims from two sides that a Russian missile had landed in Poland. One was the Polish station ZET, who cited Polish security forces; the other the US news agency Associated Press (AP) citing an intelligence source.
It was clear relatively quickly that it was by no means a Russian, but a Ukrainian missile; but the news immediately triggered a debate about Article 5 of the NATO statute, which only slowly died down when the White House also confirmed that it was a Ukrainian missile.
Dismissed on Monday of this week AP the employee who wrote the report that brought the world to the brink of World War III. The reason given was that he broke the internal rule that anonymous statements from secret services require a second source. In the meantime, however, internal communication has taken off AP become public, which proves that the dismissed employee still bears the slightest responsibility.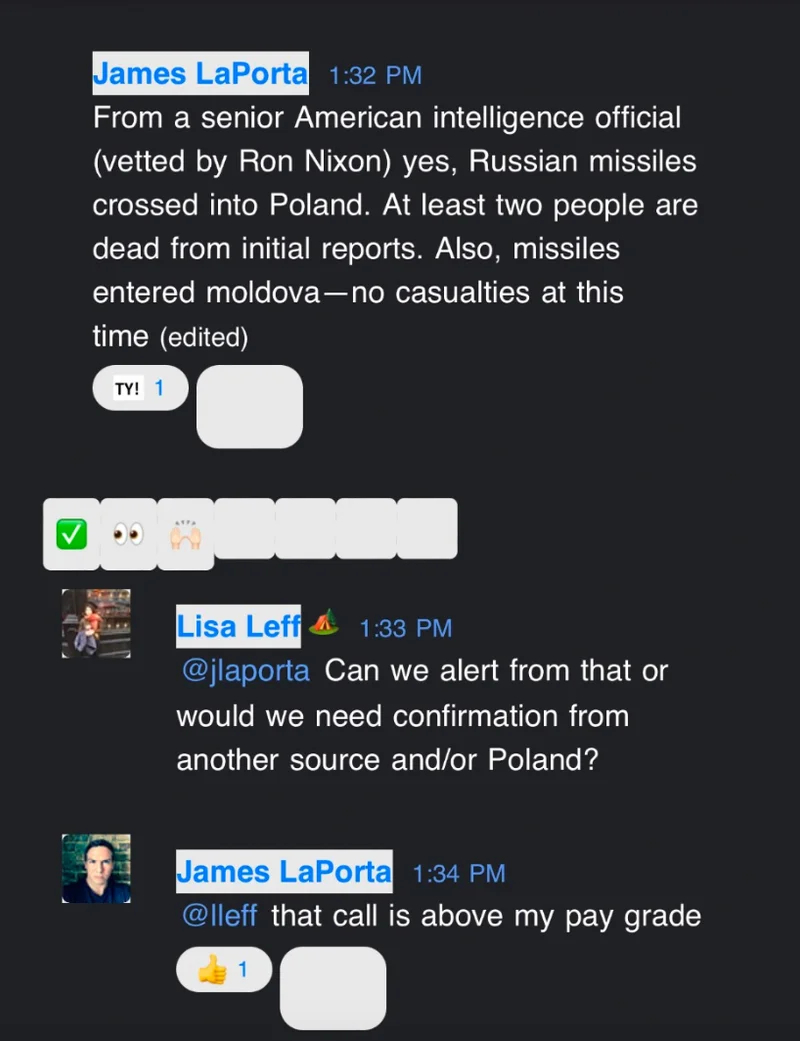 James LaPorta (13:32): From a senior American intelligence official (verified by Ron Nixon) Yes, Russian missiles went to Poland. According to initial reports, at least two people have died. Rockets also flew to Moldova – this time no casualties (changed)
Lisa Leff (13:33) Can we report this or do we need confirmation from another source and/or Poland?
James LaPorta (13:34) That's above my pay grade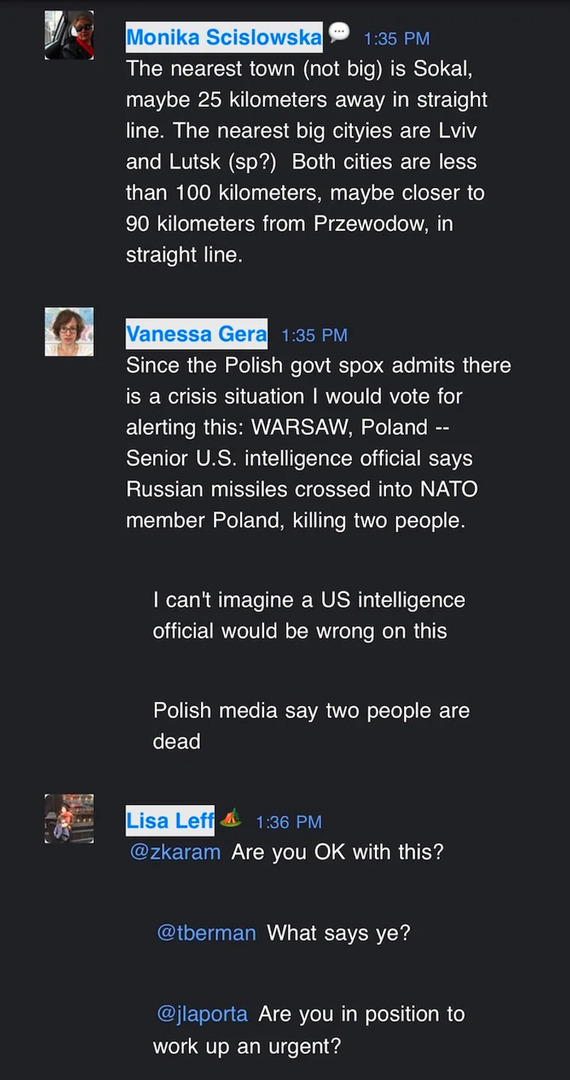 Monika Scislowska (13:35) The nearest town (not big) is Sokal, about 25 kilometers as the crow flies. The nearest big cities are Lvov and Lutsk (sp?) Both cities are less than 100 kilometers as the crow flies away, perhaps more like 90 kilometers from Przewodow.
Vanessa Gera (13:35) As the Polish government spokesman admits there is a crisis situation, I would be in favor of reporting this: Warsaw, Poland – senior US intelligence official says a Russian missile has struck NATO member Poland, killing two .
I can't imagine a US intelligence agent getting it wrong.
Polish media speak of two dead
Lisa Leff (13:36) @zkaram Is that right? @tberman What are you saying? @jlaporta can you do a breaking news?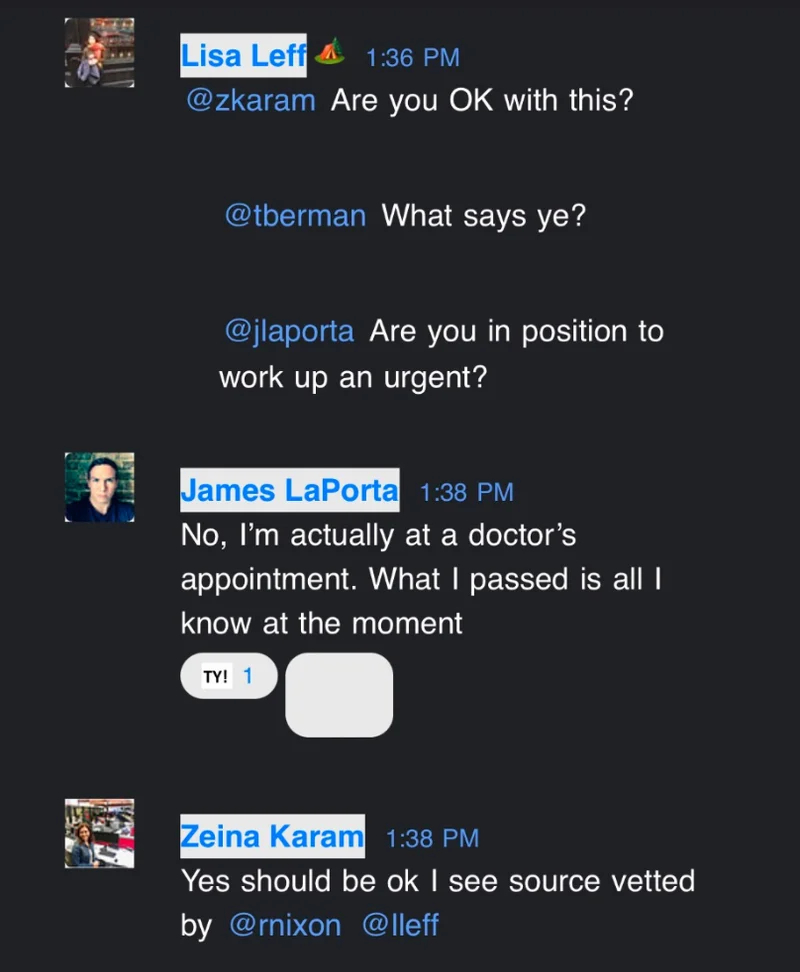 James LaPorta (13:38) No, I'm at a doctor's appointment right now. What I sent is all I know at this time
Zeina Karam (13:38) Yes should be ok I see source checked by rnixon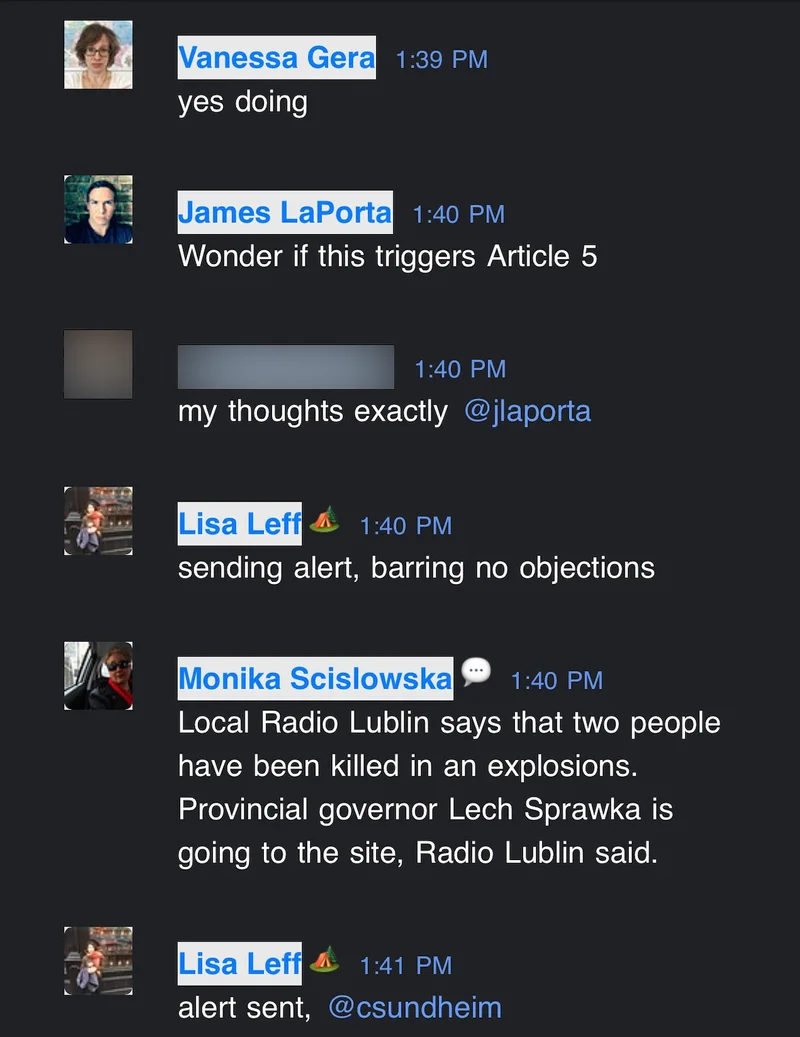 Vanessa Gera (13:39) Yes, do it
James LaPorta (13:40) Wonder if that triggers Article 5
(13:40) exactly my thoughts
Lisa Leff (13:40) Send message if no objections
Monika Scislowska (13:40) Local radio Lublin says two people killed by explosions. Provincial governor Lech Sprawka is going there, says Radio Lublin.
Lisa Leff (13:41)
Message out, @csundheim
Among those involved in the ten-minute communication, James LaPorta, who was later released, pointed out the possible consequences of the report. He doesn't make the decision to bring the message. The question of the source, allegedly according to the rules of AP is handled strictly, is ultimately settled with the simple remark that one cannot imagine that a US secret service agent would be wrong.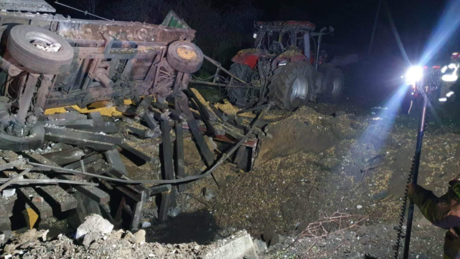 This same secret service agent is still anonymous, even if the phrase "vetted by Ron Nixon", i.e. by the head of AP verified, indicating that said person has already submitted information at least once AP passed on.
This unknown person is actually the interesting part. Even if the procedure AP doesn't show much diligence and James LaPorta was unmistakably a pawn – why did said source give false information? After all, the US military has a radar station not too far from Przewodow, with which it should be able to monitor the airspace at least as far as Lvov.
This question is so explosive because it is still not clear whether the Ukrainian missile landed in Poland accidentally or on purpose. In the latter case, the unknown source would be part of the game and has AP used to influence public opinion in the desired direction. However, being used in this way by members of the secret service is far more problematic for a news agency than just being sloppy with sources.
more on the subject – The Polish missile incident briefly brought us to the brink of nuclear annihilation
RT DE strives for a broad range of opinions. Guest posts and opinion pieces do not have to reflect the editor's point of view.

By blocking RT, the EU aims to silence a critical, non-pro-Western source of information. And not only with regard to the Ukraine war. Access to our website has been made more difficult, several social media have blocked our accounts. It is now up to all of us whether journalism beyond mainstream narratives can continue to be pursued in Germany and the EU. If you like our articles, feel free to share them wherever you are active. It's possible because the EU hasn't banned our work or reading and sharing our articles. Note: However, with the amendment of the "Audiovisual Media Service Act" on April 13, Austria introduced a change in this regard, which may also affect private individuals. That's why we ask you not to share our posts on social media in Austria until the situation has been clarified.
Source: RT
Disclaimer: If you need to update/edit/remove this news or article then please contact our support team
Learn more