Offering great sound quality at a reasonable price is a race that many manufacturers want to win, and Xiaomi has a new runner for that purpose. This is the Xiaomi Redmi Buds 4 Pro, TWS headphones that cost less than 100 eurosThey have active noise cancellation and promise a range of up to 9 hours.
Inexpensive, with good specifications and willing to compete with rivals that cost a few euros more. We analyze in depth the new Xiaomi Redmi Buds 4 Proa proposal
Are expensive headphones always better than cheap ones?
Technical sheet of the Xiaomi Redmi Buds 4 Pro
features

architecture

Completely wireless (TWS) electrodynamic in-ear headphones

diaphragm

11mm

noise cancellation

Yes, up to 48dB

connectivity

Bluetooth 5.3

autonomy

up to 9 hours

Up to 36 hours with the charging case

design

touch control

other benefits

IP54 protection

low latency mode
Compatible with Xiaomi AI
360º sound

price

From €99.99
Redmi Buds 4 Pro – Wireless headphones with Active Noise cancellation up to 43 dB, Triple microphone, 59 ms latency, up to 9 Hours of autonomy, Black (ES version + 3 years warranty)
Design: approving ergonomics and finishes
The Xiaomi Redmi Buds 4 Pro are inspired by the AirPods Pro, it's no secret. Even so, they have their own personality, with a huge side strip to control the system by gestures (which we will talk about later) and a plastic finish. Each earphone weighs 5 grams and the total weight of the box is 49.5 grams. In the average of what we usually find in this type of TWS.
Although we have not had the luck to test its resistance in falls, the construction is solid, the final shot is good and although they do not give the sensation of being premium headphones (they do not pretend to be), we are left with a good taste in our mouths. Betting on a material other than plastic would directly affect the weight of the headphones, and the main purpose here is to make them as light as possible.
They come with a total of five silicone rubber bands, one medium to large already mounted on the headphones and another five of four different sizes separately. The stock pads did not suit me too welladapting well to the ear but causing pain after a few minutes.
Later, we will see that Xiaomi's own app recommends which pads to use. Although it will always be better to listen to our own body: if they hurt a little, change the pad
The problem has been solved in a matter of seconds, switching to smaller pads. Here each user will have a different auditory pavilion, and it is always appreciated to have different configuration options.
Beyond the size of the pads, ergonomics is excellent. They are very small headphones that we will barely notice in the auditory pavilion, and that hold onto it quite well. This last goodness makes them ideal for sports activities, since the perfect fit prevents them from falling off despite the intense movement of the head.
Regarding the case, like the headphones, it is elongated in the style of the AirPods Pro. The box is light, finished in a plastic glossy and the quality level is in line with the headphones. The auction is good, it gives a sensation of solidity and it has USB-C at the bottom, a pairing button on the side, and the charging indicator in the center.
User experience: Xiaomi, you need a good application
The user experience with these Xiaomi has not been very good (something that we already complained about in the Xiaomi Buds 3T Pro, and the main person responsible for this is the application. Xiaomi Earbuds has only 2.3 stars in the Play Store, and at first I thought it might be due to some users exaggerating how badly it works, but there has been little exaggeration I'm afraid.
Pairing these headphones with non-Xiaomi terminals is quite tedious. Bluetooth does its job, but the app doesn't make it easy for us
I have been unable to pair these headphones with some of my Android devices, such as the Samsung Galaxy Z Fold4. The mobile did its part and detected it as a Bluetooth device (in fact, they work, although without the app options), but the app wouldn't pair them, no matter how much I followed the instructions.
With the Google Pixel 6 the opposite happened to me, the Bluetooth did not detect them, but through the app I was able to connect them. The final solution has been to use a POCO F3 since, if you use a Xiaomi mobile, fast pairing does work. These headphones are priced at almost 100 euros and that they do not come with Fast Pair on all devices is a problem. With the iPhone I have not even been able to test them, because the app is only available on Android.
Regarding it, the operation is correct once we manage to pair them. We can manage three noise cancellation modes: deactivated, transparency mode and active noise cancellation, which we will talk about later. We can also configure gesture controlwhich works quite well with its own default settings.
GESTURE

ACTION

TWO PRESSES

play/pause
accept a call

THREE PRESSES

next song
reject a call

PRESS AND HOLD

Activate noise cancellation
Activate ambient mode
Disable ANC
We liked that the app has the aforementioned mode to check whether the ear pads fit us or not. If they are large or small, the configuration mode will indicate that the adjustment is not correct. We also have options to answer calls automatically or find our headphones by means of a discreet sound that, if we do not have them close, will be inaudible.
What we need some adjustment to equalize the headphonesperhaps because they are designed to be used with Xiaomi phones, and these already include an equalizer in the sound settings.
We have not had problems with playback latency, neither in videos nor in games, so they fully comply in this section without the need for specific low latency modes. Overall, an acceptable experience that is somewhat marred by the matchmaking method.
Sound quality: correct and without great pretensions
Regarding sound quality, Xiaomi offers compatibility with the LDAC audio codec at transmission speeds of up to 990 Kbps, as well as with audio resolutions of 96 kHz/24 bit and higher. Navigating the developer options of our POCO F3 (with a Snapdragon 870) We check that the LDAC codec is activated correctly and that the sample rate is correctly set to 96 kHz.
How do these Xiaomi Buds 4 Pro sound? We have put them to the test with our Spotify collection (320 kbit/s OGG Vorbis quality) and the results are correct, without great pretensions. We lack prominence in the bass, since the medium frequencies cover practically everything. In songs with a certain role of instruments, the voice is clearly ahead of them.
For calls and video calls, the microphone has a somewhat poor quality, sounding quite canned and metallic. We do not have any problem on the part of our interlocutor, appreciating his voice perfectly.
The maximum volume is highto the point that it will not be necessary for us to go above 75/80% to enjoy our songs at full volume without harming our hearing health.
Noise cancellation: some work to be done
At the level of noise cancellation, the Xiaomi Buds 4 Pro are perhaps a small step below expectations. It has not been enough to isolate all the daily sounds of the home (my neighbor's hyperactive dog, some construction site next door, the wind when going out onto the terrace, etc.). They do their job discreetly, isolating a certain part of the sound that surrounds usbut we should not expect a feeling of absolute silence with these headphones, because we will not find it.
Xiaomi promises to filter sounds up to 43 dB, although it does not detail which ones. The bass filter is impeccable, but we miss that it isolates the high-pitched and mid-high sounds better.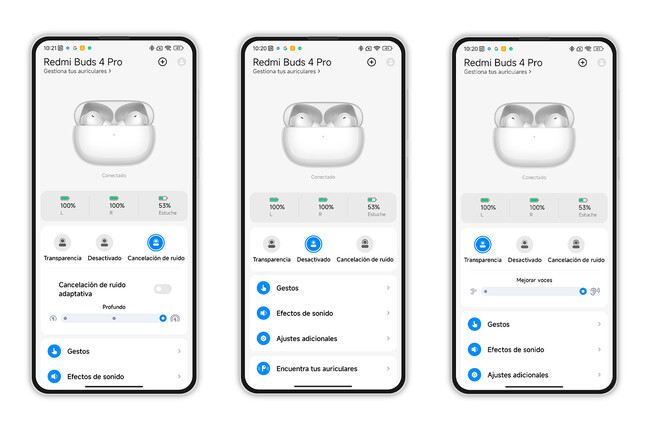 The transparency mode allows us to cancel noise while listening to the voices of those who speak to us. There is a setting to further improve the clarity of vocals and I have to say that the latter works flawlessly. If you have the cancellation in transparency mode and you are in an office or library, I recommend leaving the voice enhancement active.
In short, a decent noise cancellation for cheap headphones, although perhaps something more was expected as these are the most outstanding Redmi headphones.
Battery: good data even with ANC active
Xiaomi promises up to nine hours of playback with its headphones, and up to 36 with its case. The figures are so optimistic because they pose a scenario with noise cancellation disabled. In our tests, with noise cancellation active, we have managed to exceed five hours of reproductionan excellent figure considering the heavy use of ANC.
In case that let's turn off noise cancellation, autonomy is close to the 9 hours promised by Xiaomi. However, since the ANC is not too intrusive and that we can configure a transparency mode, the recommendation is to always keep it active to get the most out of these headphones.
We do not have Qi wireless charging, the only method of providing power to them is USB-C located at the bottom of the case. Given the good figures in autonomyit is not a function that we miss too much.
Xiaomi Redmi Buds 4 pro, Xataka's opinion
The Xiaomi Redmi Buds 4 Pro are considered a good option below 100 euros, although your application penalizes the user experience. If we do not have a Xiaomi we can have some pairing problems, at the level of options it is not particularly rich and, given the good work that Xiaomi does with its home apps and connected products, we miss a better job here.
After some of the discounts they have suffered since their purchase price, they become quite attractive for around 80 euros on websites like Amazon. If we start from their original PVP, 99.99 euros, they are worthy rivals for their competition, although perhaps we miss a little more ambition in sound and noise cancellation.
7.9
Design8.75
Sound quality7.75
Noise Cancellation7
Ergonomics9
user experience6.5
Autonomy8.25
In favor
The ergonomics are outstanding. Very comfortable and light.
Good autonomy, about 5/6h with ANC active.
Sound more than acceptable for its price.
Against
The application is a disaster when it comes to pairing, and its interface is somewhat poor.
Functions limited to Xiaomi mobiles.
Noise cancellation is not its forte.
Redmi Buds 4 Pro – Wireless headphones with Active Noise cancellation up to 43 dB, Triple microphone, 59 ms latency, up to 9 Hours of autonomy, Black (ES version + 3 years warranty)
Source: www.xataka.com
Disclaimer: If you need to update/edit/remove this news or article then please contact our support team
Learn more
Add Then24 to your Google news feed.