7′ – Yellow – Strahinja Pavlovic
87′ – Cont. Raphinha by Gabriel Martinelli

83′ – Cont. Aleksandar Mitrovic by Nemanja Maksimovic

79′ – Cont. Neymar by Antony

79′ – Cont. Richarlison by Gabriel Jesus

76′ – Cont. Vinicius Junior by Rodrygo

75′ – Cont. Lucas Paqueta by Fred

73′ – Goal – Richarlison (2 – 0)

66′ – Cont. Filip Mladenovic by Dusan Vlahovic

65′ – Cont. Sasa Lukic by Darko Lazovic

64′ – Yellow – Sasa Lukic

62′ – Goal – Richarlison (1 – 0)

57′ – Cont. Andrija Živkovic by Nemanja Radonjic

57′ – Cont. Nemanja Gudelj by Ivan Ilic

49′ – Yellow – Nemanja Gudelj
FIFA World ChampionshipGame day 124-11-2022 20:00
The competition has been warned. Top favorite Brazil has impressed in its World Cup opener against Serbia. Still, it took more than an hour for the divine offensive line to score. Richarlison liberated Brazil and also scored a wonderful second goal. Only: how serious is the ankle injury with which superstar Neymar went to the side?
Brazil – Serbia in a nutshell:

Key moment: Richarlison's moment came in the 73rd minute. The Tottenham striker shook a world goal out of his slippers. With a half bicycle kick he brushed the leather into goal. 2-0 and match played.
Man of the match: The same Richarlison was not very good in the match, but left the field with two goals. In his last 7 international matches, he scored no less than 9 times.
Remarkable: Brazil and Serbia also met in the group stage of the World Cup four years ago. In Russia it also became 2-0, just like tonight.
unlucky bird: In Brazil, they are still holding their breath for their number 10. Neymar, who had to take a lot of blows, had to leave early with an ankle injury.
Fight for every scrap of ground for peace

England, Spain, France. There were already some top favorites who have issued their business card in Qatar. Brazil was added tonight. In the first half it was a fight for every bit of ground against the combative Serbs. Neymar almost swung a corner into goal himself, Vinicius later collided with Serbian goalkeeper Milinkovic Savic.
Brazil dominated and it was waiting for the opening goal. Neymar, in good shape, could almost punish a mistake at the back of the Serbs. Afterwards, Alex Sandro saw an insane long shot hit the post.
Serbia huffed and moaned, but held on for a long time. Until Vinicius could print after a dribble from Neymar. Richarlison was well followed to tap into the 1-0 in the rebound.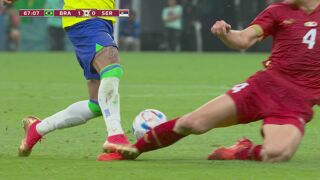 Richarlison shakes a touch of magic out of his slippers

The hardest part seemed done, because the Divine Canaries were gradually getting up to speed. Richarlison lived up to his national team nickname. With a nice control and half bicycle kick, he gave his team a double lead. Undoubtedly the goal of the first round in Qatar.
Milinkovic Savic suddenly found himself in a real shooting booth. The Serbian goalkeeper saw how Casemiro curled the leather nicely against the crossbar and breathed a sigh of relief at the final whistle.
Brazil has got off to an excellent start and hoists itself next to Switzerland in the lead in group G. Richarlison's gem in particular will be talked about a lot.
Check out Richarlison's goals: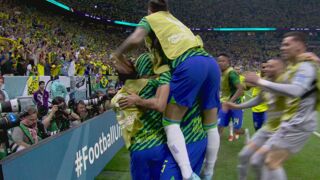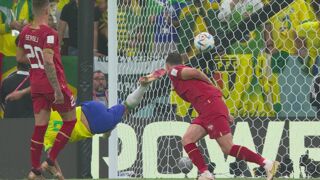 3 excellent Brazilian chances in a row

What a goal! Richarlison scores the 2-0 with a nice bicycle kick
Source: Sporza
Disclaimer: If you need to update/edit/remove this news or article then please contact our support team
Learn more