24 Nov 2022 06:30 am

The Israeli and US military are reportedly planning to hold an exercise simulating strikes against Iran and its allies in the region. Meanwhile, Iran has begun enriching uranium to 60 percent at the Fordo underground facility.
Israel Defense Forces chief Aviv Kohavi told US officials in Washington that the two forces must accelerate joint plans for offensive measures against Iran, the Israeli military said on Tuesday.
Kohavi landed in the United States on Sunday morning to spend five days speaking with senior officials about the "Iranian threat," according to the Israeli Defense Forces (IDF). On Monday, Kohavi met with US Chiefs of Staff Mark Milley, National Security Adviser Jake Sullivan and CIA Director William Burns, as well as Israeli Ambassador to the US Michael Herzog. In a statement released Tuesday, he said:
"During the talks, we agreed that we are at a critical juncture that requires an acceleration of operational plans and cooperation against Iran and its terrorist allies in the region."
On the one hand, Iran is under great economic pressure due to the sanctions and unrest in the country, on the other hand, the country is pushing ahead with its nuclear program. The IDF strongly supported all operational plans against the "Iranian threat", according to Kohavi.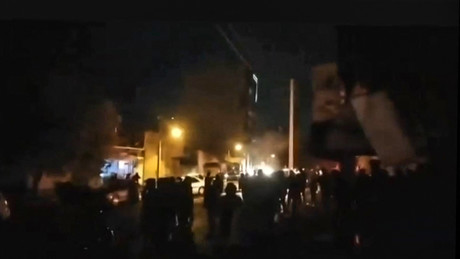 Israeli media meanwhile claimed that the Israeli and US military would hold an upcoming exercise to simulate strikes against Iran and its allies. Israeli military experts have repeatedly warned against Israeli military action against Iran. Such a strike would spark a war across the Middle East, with Hezbollah raining "tens of thousands" of rockets on Israel.
Meanwhile, Iran has started uranium enrichment to 60 percent at the Fordo underground facility, next to the Natan nuclear facility. The move came in response to last week's Atomic Energy Agency (IAEA) resolution condemning Tehran as politically motivated.
In the past few days, Iran has been hit by a series of terror attacks in several cities. Tehran accused the West and Israel of wanting to foment civil war in the country. The death of a 22-year-old Iranian woman triggered a wave of protests that quickly turned into unrest and violence. The West is attempting to stem Iran's growing influence in the region through hybrid warfare.
more on the subject – IAEA retaliation: Iran enriches uranium to 60 percent at Fordo underground facility
By blocking RT, the EU aims to silence a critical, non-pro-Western source of information. And not only with regard to the Ukraine war. Access to our website has been made more difficult, several social media have blocked our accounts. It is now up to all of us whether journalism beyond mainstream narratives can continue to be pursued in Germany and the EU. If you like our articles, feel free to share them wherever you are active. This is possible because the EU has not banned our work or reading and sharing our articles. Note: However, with the amendment of the "Audiovisual Media Service Act" on April 13, Austria introduced a change in this regard, which may also affect private individuals. That's why we ask you not to share our posts on social media in Austria until the situation has been clarified.
Source: RT
Disclaimer: If you need to update/edit/remove this news or article then please contact our support team
Learn more