23 Nov 2022 06:45 am

The controversial ambassador of Ukraine in Germany Andrei Melnyk smashed a lot of diplomatic china in Berlin. However, his resignation soon turned out to be a promotion: the Bandera admirer was now appointed deputy foreign minister in Kyiv and thus made a career leap.
Polish Deputy Prime Minister and Defense Minister Mariusz Błaszczak has called the appointment of former Ukrainian Ambassador to Berlin Andrei Melnyk as Ukraine's Deputy Foreign Minister a bad decision.
"In my opinion, this is a bad decision," Błaszczak told Polish radio station Radio 24 on Tuesday.
The Polish defense minister sees the "hand of the Kremlin" in Melnyk's promotion. He told the broadcaster:
"I believe that in addition to the person concerned, there is another person who is satisfied with this decision – the Kremlin owner. There is no doubt that it should be assessed in this way."
Błaszczak went on to say that in a conversation with the new Ukrainian ambassador to Poland, Vasily Svarich, he drew attention to and criticized Melnyk's positive statements about Stepan Bandera and his role in the story.
In an interview with the German journalist Tilo Jung in the summer, Melnyk described the Nazi collaborator Bandera as a "freedom fighter". At the same time, the diplomat denied the connections of the Ukrainian nationalist leader to the Third Reich. Melnyk justified the mass murder of Polish civilians by Bandera supporters in Volhynia and Galicia during World War II by saying that there had allegedly been "many murders and atrocities" on the other side as well.
The diplomat repeatedly visited Bandera's grave in Munich and other places in Germany connected with the person of the nationalist and ostentatiously maintained relations with his relatives.
In addition, Melnyk repeatedly attacked German politicians in an insulting manner for any deviation from the foreign policy line desired by the Ukrainian government in Berlin. He called the chancellor "offended liverwurst," was pleased that Saxon Prime Minister Michael Kretschmer "finally got his face in the mouth," and invited him out of Ukraine, calling the co-authors of an open letter who had called for a ceasefire in Ukraine one "Bundles of pseudo-intellectual losers," to name just a few of Melnyk's verbal gaffes.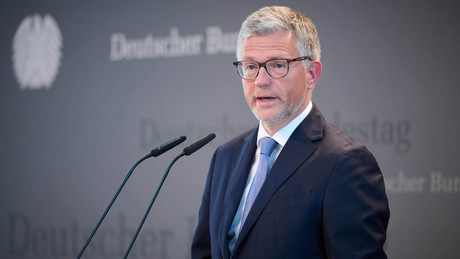 The Volhynia Massacre was a mass murder of Polish civilians in 1943 by members of the military wing of the Ukrainian Nationalist Organization (OUN) – the Ukrainian Insurgent Army (UPA; banned in Russia as Nazi and terrorist). Warsaw regards the murders committed by Bandera's followers as genocide and ethnic cleansing. The death toll is given as between 100,000 and 130,000 people, depending on the source.
At the same time, memorials to the Soviet soldiers who liberated Poland from German and Nazi occupation in World War II and ended the Nazi genocide of Slavs and Jews are currently being torn down and desecrated in Poland.
more on the subject – But no career break: Andrei Melnyk will become deputy foreign minister
By blocking RT, the EU aims to silence a critical, non-pro-Western source of information. And not only with regard to the Ukraine war. Access to our website has been made more difficult, several social media have blocked our accounts. It is now up to all of us whether journalism beyond mainstream narratives can continue to be pursued in Germany and the EU. If you like our articles, feel free to share them wherever you are active. It's possible because the EU hasn't banned our work or reading and sharing our articles. Note: However, with the amendment of the "Audiovisual Media Service Act" on April 13, Austria introduced a change in this regard, which may also affect private individuals. That's why we ask you not to share our posts on social media in Austria until the situation has been clarified.
Source: RT
Disclaimer: If you need to update/edit/remove this news or article then please contact our support team
Learn more