Nov 23, 2022 6:59 p.m

In several EU countries, including Germany, the training of around 15,000 Ukrainian soldiers will soon start at military bases. In Croatia, an open dispute over participation in the project has been going on for weeks between the president and the government.
An analysis by Marinko Učur
"As Commander-in-Chief of the Croatian Armed Forces, I will not approve any proposals aimed at allowing Ukrainian soldiers to be trained in our country," Croatian President Zoran Milanović said a month ago, referring to his country's more frequent requests to join several NATO to join states that have indicated their willingness to support Ukraine in this way.
But some "hawks" of the ruling Croatian Democratic Union (HDZ), led by Prime Minister Andrej Plenković, ignored President Milanović's firm stance and insisted that the small Balkan state should take even more forceful sides in the current conflict, which Moscow has dubbed a "special military operation". This time it was officially carried out by Defense Minister in Plenković's government, Mario Banožić, who requested Milanović's consent to host Ukrainian soldiers to train them to fight against Russia.
However, Milanović remained undeterred in his decision, as the conditions for the minister's request to be considered had not been created at all, stating that it was contrary to the constitution for several reasons. Milanović is not clear what activities representatives of the Ukrainian Armed Forces would carry out as a non-NATO member on the territory of his country. In other words, for a foreign army to enter Croatian soil, two conditions would have to be met – either that it is an allied country's armed forces, or that the entry and use of such forces is in accordance with concluded international agreements. And that is not the case here.
Milanović has also expressed reservations about Croatia's pro-Ukraine stance in the past. He was clearly audible, calling for a stop to Russophobia from Brussels and Washington and being criticized for it. On several occasions he openly opposed plans to train Ukrainian armed forces on Croatian soil because it would mean Croatia's more than necessary participation in the war. As Milanović explained on one occasion:
"I don't support this idea because I no longer support Croatia's more than necessary intervention in this war. This is the arrival of the war on Croatian soil. We are correct, we show solidarity and that's enough. NATO is one hundred percent involved in the war in Ukraine. That's a fact."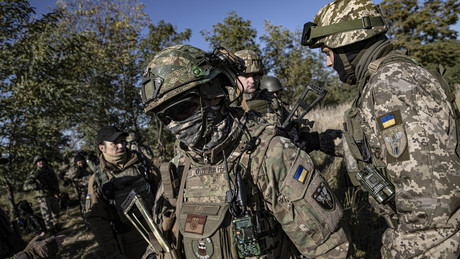 The defense minister, who is the formal initiator of this idea on behalf of Plenkovic's right-wing government, hopes that parliament will ultimately make a decision on this possibility and that a two-thirds majority of deputies will "overrule" the president. In this case, he would then have to come to terms with the intentions of official Zagreb to show its subservience to NATO and Brussels. Banožić, also a member of the party of the late Croatian President Franjo Tuđman, who many believe was one of the culprits for the tragic and bloody collapse of the former Yugoslavia, recently said:
"By refusing to do so, the President is evading responsibility, and I am convinced of a two-thirds majority of those MPs who deeply feel what is happening in Ukraine, what is happening on European soil, which threatens not only Europe but the whole world can."
Siniša Hajdaš Dončić from the Social Democratic Party (SDP) stressed that "Russia is the aggressor and Ukraine should be helped, but by a consensus of all EU and NATO members. There is no need for individual countries to stand out from this consensus" .
Stipe Mlinarić of the Homeland movement, meanwhile, said he thought Ukrainian soldiers "shouldn't come". He said he was convinced that Prime Minister Plenković would not be able to secure the support of two-thirds of MPs if the proposal went to parliament. Mlinarić asked:
"Why should Ukrainian soldiers come to us? Why don't we send our officers to Ukraine to train Ukrainian soldiers there."
Meanwhile, Croatian MP Željko Sačić of the Croatian Sovereignists Party warned that the Croatian people "should be prepared for the risk of becoming a legal military target for Russian drones where the training would take place". He added:
"The Russians are at war with Ukraine and they have the right to fight the Ukrainian army anywhere, including in Croatia, and that would not be a war crime."
One gets the impression that the Croatian public strongly supports the moderate position of the country's president. No matter how much the official government is committed to supporting Kyiv, which is in the context of European Union policies, citizens are still aware that it would be best for their country to stay away from the conflict. After all, Croatia is a small country and its actions cannot significantly influence the actions of Berlin, Brussels, London or Washington anyway.
More to the topic – Media report: British secret service to set up covert terrorist army in Ukraine
RT DE strives for a broad range of opinions. Guest posts and opinion pieces do not have to reflect the editor's point of view.

By blocking RT, the EU aims to silence a critical, non-pro-Western source of information. And not only with regard to the Ukraine war. Access to our website has been made more difficult, several social media have blocked our accounts. It is now up to all of us whether journalism beyond mainstream narratives can continue to be pursued in Germany and the EU. If you like our articles, feel free to share them wherever you are active. This is possible because the EU has not banned our work or reading and sharing our articles. Note: However, with the amendment of the "Audiovisual Media Service Act" on April 13, Austria introduced a change in this regard, which may also affect private individuals. That's why we ask you not to share our posts on social media in Austria until the situation has been clarified.
Source: RT
Disclaimer: If you need to update/edit/remove this news or article then please contact our support team
Learn more