22 Nov 2022 7:25 p.m

By Dagmar Henn
It's news that shouldn't be news. Because the whole story starts with a dance on the Odeonsplatz on May 9th, with a young woman named Julia P. who dances with a Russian flag. Which only became newsworthy and popular on the Internet because there was a counter-rally against the celebration by Ukrainians; a counter-demonstration that really shouldn't have happened, because what do you want to demonstrate against on May 9th, against the defeat of Nazi Germany?
At its core, of course, that is exactly what contemporary Ukrainians are doing, whose heroes are the Ukrainian henchmen of the Nazis, but so twisted are things in contemporary Germany that it is not the Ukrainians' pro-Nazi demonstration that is the problem, but the innocent one Dance.
And before anyone comes along and says this isn't a pro-Nazi demonstration, I'd like to ask you to imagine a counter-demonstration against a commemoration event on November 9th. It wouldn't even be allowed. That's only possible on May 9, because you haven't really dealt with the war in the East and act as if you don't know who was defeated and with what victims.
In any case, the video of this little dance became known. By mid-October it was said that her home had been searched and she was being investigated for the popular offense of "advocating a crime," the club used at anyone who does not fervently use the phrase "unjustified Russian war of aggression." to repeat. As has recently been seen, even people and portals that simply insist on a peaceful solution and dare to mention that NATO is not a victim in this game, but a perpetrator, are now being persecuted in every possible way; the withdrawal of non-profit status not only affected the Friedensbrücke-Kriegsvictimhilfe association, but also the NachThinkPages and other clubs.
A whole series of articles against the dancer also appeared in mid-October, including an article in the picture under the heading "The Russian agitator from Lower Bavaria". A little taste of it? "She gives tips on how to support the Russian army from Europe and calls for wasting energy. In videos, she turns on the light switch and turns on her stove, smiling sardonically at the camera."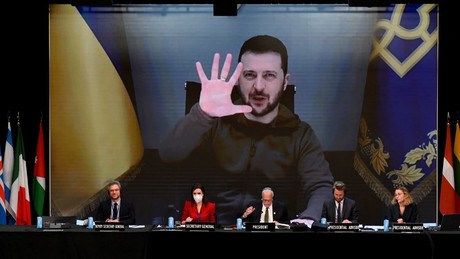 For real? Truly harrowing. As I said, under normal circumstances none of this would be worth reporting at all, let alone a reason for a longer article in the picture. Only – the article in the picture then also shows salacious pictures of the young woman, who are certainly not from the picture-Editor were discovered.
But first, why all this is relevant at all. On November 20th, it appeared on various Ukrainian portals, starting from a dubious, ostensibly Russian site called The Insider.ru, whose server is located in the middle of a San Francisco train station, according to localization programs, posted a video that is supposed to show Julia P. being deported in Berlin. The woman in the video bears only a vague resemblance. From these Ukrainian sites, the report went on to various Russian Telegram channels without further verification.
When asked by the public prosecutor's office in Landshut, the following reply came: "The accused was not deported. She is still in Germany. There are no indications that the accused wanted to leave Germany." The video therefore does not show what it is supposed to show. But what is the point of publishing such a video? What was the point of the rumors circulating from mid-October that she had disappeared?
On the Ukrainian side of the mess Ruscist.com there is an article about the young woman that not only contains her passport photos, but also her flights, her home address, even telephone numbers and passwords. It's hard to miss that the picture resorted to this source.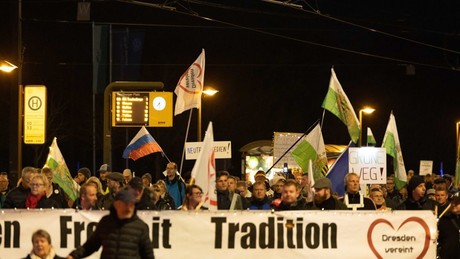 The group Zamhoidn Landshut (for non-Bavarians: sticking together), an anti-German outgrowth from the once really anti-fascist Landshut information shop, is particularly active in this context. She is "in solidarity with Ukraine" and almost celebrates the press articles against the young Russian. Both, the operators of the portal Ruscist.com like the Zamhoidn Landshut group, have no qualms about resorting to the most massive personal attacks because of simple expressions of opinion. And the compilation of the information on the Ukrainian side, in particular the flight data, suggests that information from German state sources must also have flowed here. Incidentally, the May 9 dance also led to an entry on Ukraine's notorious "peacemaker" page.
Nothing Julia P. has done has actually affected anyone. Even the public prosecutor's office would have laughed at reports of such trifles in normal times and then sunk them in the bin.
Humor? Irony? Satire? All of that no longer exists. In October she apparently made a video in which she filmed herself in front of a picture of the explosions of the first rocket attacks in Dnepropetrovsk. Which then, of course, is glorification of violence for both editors and readers; However, mainly because the model for this, the man-sized postage stamp in Kyiv with the explosion on the Kerch Bridge, in front of which hundreds of Ukrainians were photographed or filmed, is unknown in Germany. Actually, it would be the task of journalism to establish the connections in such moments. But to do so would jeopardize the narrative of democratic Ukrainians who were innocently attacked.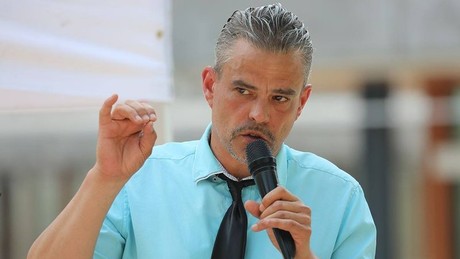 No, the great state machinery is set in motion. It is not even possible to reliably say why in individual cases it is reached in this way, without measure and aim, and in others not; perhaps the density of the Ukrainian population is decisive, or the whim of a responsible state secretary in the respective Ministry of Justice, who passes on his wish for prosecution to the public prosecutor's office. But just a few years ago, no one would have believed such a story. House searches for a little dance with a flag? Phone and laptop confiscations for expressing a few opinions? A request to turn on the light as an act of state endangerment?
The last time the German state apparatus was in such a state of turmoil was at the time of Schleyer's kidnapping in 1977. But at that time it was about a domestic political dispute; there was, on the one hand, a government that felt threatened, and on the other, the still unresolved issue of Nazi elite continuity embodied in Schleyer. As a result, more or less everything left of the SPD was visited in the form of a house search. But the assumption at the time that one could sympathize with the RAF had far more real content than today's reactions to opinions expressed about a war in which Germany is not a party.
Even the statement that cannons are used to shoot at sparrows seems to be an understatement. The only reason why the insanity of these reactions is not noticeable is that in recent years there has been an habit that has removed any measure of normality. After all, what can still be normal in a country where skaters have been evicted from frozen lakes by helicopter? In which neighbors were denounced because one child came too many to a children's birthday party?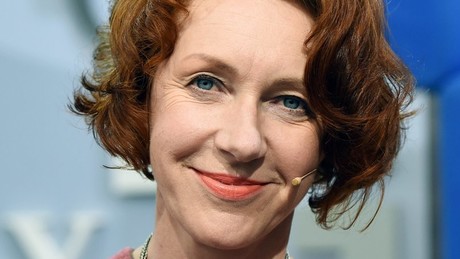 In the normal world, in the semi-democratic Federal Republic that once existed, there would never have been a Julia P. case. It would also have been a non-report for the media. And now? Escalates the whole story not only to the prosecutor's office, but also to the release of all sorts of data, which always contains an element of threat, especially if it's that infamous Ukrainian list, and is the last act of the whole drama this obscure video from an equally obscure source that's not sure if it's meant to be a distraction or another kind of threat.
Is there any way back to sanity? Eight years ago came the first reports from post-coup Ukraine that people were being arrested and tried for posting on Facebook, and that no one outside the limited circles that actually delved deeper into the Ukrainian misery wanted to just believe that. Eight years later the same thing happens in the Federal Republic. Penal orders because of a "Z" published in a post months ago, house searches because of Facebook posts, account closures.
And right in the middle of it all, as victims, people like Julia P., people who are not originally political, like the victims in 1977, but simply, assuming that there is freedom of opinion, expressed an opinion which, unfortunately, one has to add in Germany in the meantime, does not have to be true and also not capable of winning a majority.
And just to make the extent of the decay of democratic rights comprehensible, an anecdote about the Munich comedian Karl Valentin. As late as 1934 he played a program in Munich in which he said he had been given a picture of Hitler. Since then, he said on stage, he's been wondering, "Should I hang it up or put it on the wall?"
All press reports that appeared about Julia P. referred with indignation to the "call to waste energy". Video of their alleged deportation, released from an obscure address, has an unpleasant connotation of "disappeared." One has to worry about Julia P. As well as the country where all this is happening.
more on the subject – "Why is nobody stopping RT DE?" – Mainstream blows to the next round in the propaganda fight
RT DE strives for a broad range of opinions. Guest posts and opinion pieces do not have to reflect the editor's point of view.

By blocking RT, the EU aims to silence a critical, non-pro-Western source of information. And not only with regard to the Ukraine war. Access to our website has been made more difficult, several social media have blocked our accounts. It is now up to all of us whether journalism beyond mainstream narratives can continue to be pursued in Germany and the EU. If you like our articles, feel free to share them wherever you are active. It's possible because the EU hasn't banned our work or reading and sharing our articles. Note: However, with the amendment of the "Audiovisual Media Service Act" on April 13, Austria introduced a change in this regard, which may also affect private individuals. That's why we ask you not to share our posts on social media in Austria until the situation has been clarified.
Source: RT
Disclaimer: If you need to update/edit/remove this news or article then please contact our support team
Learn more