Twitter, one of the most popular social media platforms in the world, is currently on the agenda thanks to the steps taken by Elon Musk within the company. Speaking of layoffs and resignations, Twitter has become one of the most curious social media platforms about what steps to take from now on. At the same time, some users reacted to Elon Musk's purchase of Twitter and reactivating some accounts as he arrived. Some even closed their accounts. However, a name who was noticed that he closed his account yesterday, the reason for which was not known for sure, managed to keep the agenda very busy. That name was Phil Schiller, one of Apple's top names.
PHIL SCHILLER CLOSED MY TWITTER ACCOUNT
Phil Schiller, whom many will remember from Apple events, closed his Twitter account on Sunday for unknown reason or reasons. When users search for Phil Schiller's username '@pschiller', they get the message "this account does not exist".
Phil Schiller had a considerable following on Twitter with approximately 265.8k followers. Schiller used his account to promote various products and services of Apple.
WHY CLOSED? HERE ARE THE FORECASTS AND THEORIES…
There is no official explanation as to why Schiller closed the account, but the many changes Twitter has undergone since Elon Musk took control of Twitter may have caused Schiller to make such a decision. Another prediction focuses on an interesting theory.
The name that talked about that theory was Bloomberg writer Mark Gurman. In a tweet, Gurman said there was a scenario where Apple/Google removed Twitter due to content moderation issues or because Twitter decided not to give a 15%/30% commission to app stores by the two giants. "In particular, we now know what Apple's App Store chief thinks of the new Twitter," Gurman said.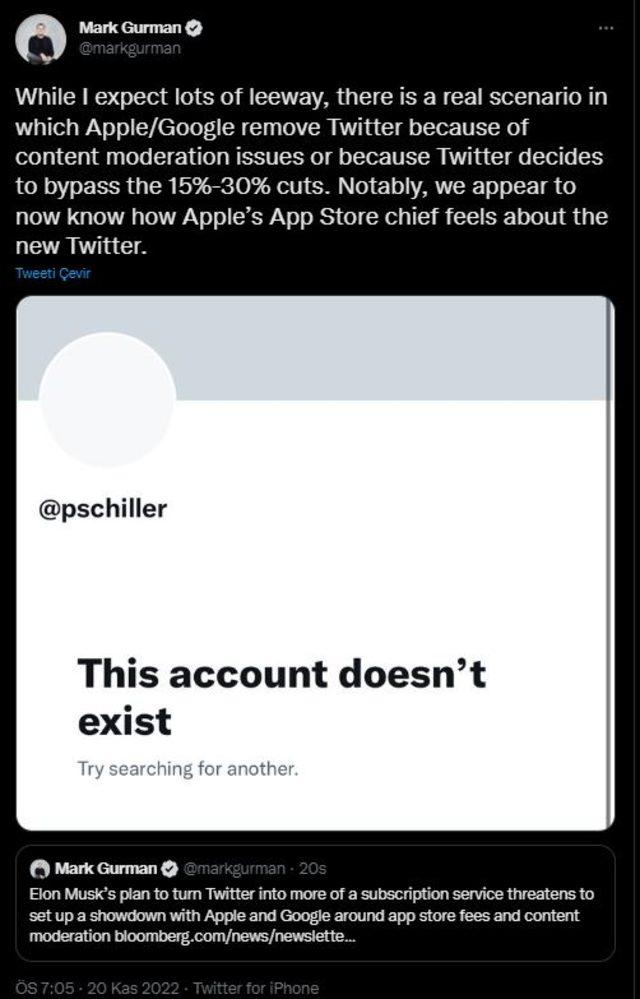 At this point, it is worth mentioning again that Phil Schiller is Apple's member responsible for managing the App Store and Apple Events.
"Will TWITTER BE REMOVED FROM IPHONES?"
On the other hand, the first thing Gurman shared was "Will Twitter be removed from iPhones?" brought the question to mind. However, it should be noted that neither side has taken any steps in this direction yet, Twitter is still in the App Store and can still be downloaded to iPhones. In addition, no statement has been made in response to these allegations on either side. However, it should be said that it is very unlikely that Twitter, which is used by millions of people, will be removed from application stores.
Source: Mynet
Disclaimer: If you need to update/edit/remove this news or article then please contact our support team
Learn more