Australia has turned out to be the dream warm-up for defending champion France. After Goodwin's quick opening goal, a new sensation seemed to be in the making. But the Australians seemed unable to match the speed and offensive power of the French.
France – Australia in a nutshell

Man of the match: We Belgians may not like to see it, but there was no measure on Kylian Mbappé today. Both before (no goals) and after the break (goal and assist), the winger ravaged the Australian defense with his speed and dangerous combinations.
Key moment: The French do not want to allow the lopsided situation for longer than half an hour, Giroud and Rabiot turn the situation around completely in five minutes. The Australians still want to do that, but against such a big class difference there is little to do.
Statistics (1): Giroud scored two goals against Australia and is joint French top scorer with Thierry Henry.
Statistics (2): The reigning champion has lost his opening match in the past three World Cups. France will not be fooled and breaks with that trend.
Australia surprised but punished

The past four world champions stumbled in the first round and France seemed to repeat that for a moment today. Leckie found his neighbor Goodwin with a great cross, who also outwitted Lloris.
During that attack, France also lost Lucas Hernandez, presumably to a cruciate ligament injury, so Deschamps had reason enough to worry. Duke almost shot the 0-2 from 20 meters.
Fifteen minutes later, the French engine started. Rabiot hung on after a corner and the Australian defense lost sight of him on Theo Hernandez's cross. He could barely get up close miss, 1-1.
Five minutes later, France completely took over. Australia wanted to play football too well, lost the ball, after which Mbappé pushed the leather to Giroud. He actually missed his shot, but still made the nets vibrate.
France had opportunities to increase the distance with Mbappé, Giroud and Dembélé, among others, but also saw Irvine's header on the post on the other side just before half-time.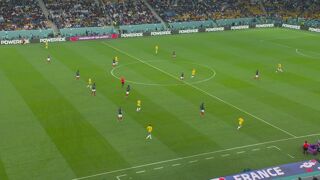 Again five minutes

After the break, France continued to dominate. After five minutes, Giroud showed his skills for spectacular goals. A lesser cross turned out to be a perfect opportunity for a bicycle kick, which went just wide.
Smooth combinations ended in blocked chances for Mbappé, but it couldn't last. In the 68th minute it was over with only threats. A shot was turned on the line, but Dembélé then 'banana' the ball to Mbappé, who headed in, via the right side of the post.
Barely three minutes later, the finisher became the declarant, and it was Giroud who was able to head in on a pass from Mbappé, after a double acceleration of the
speed demon.
Match played, but even then Matthew Ryan, once under the blue-black bar, had to prevent even worse. Konaté headed well, but Ryan dove quickly and whipped the 5-1 out of his goal.
Four of the last five world champions have not progressed beyond the group stage. With this victory, France is already taking a big step to avoid that fate.
Watch the 4 French goals: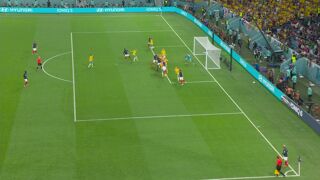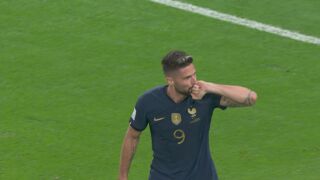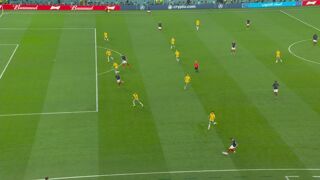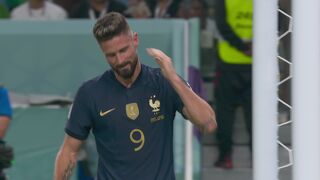 Goalkeeper Ryan whips the 5-1 out of goal

Acceleration from Mbappé and second goal from Giroud: 4-1
Source: Sporza
Disclaimer: If you need to update/edit/remove this news or article then please contact our support team
Learn more