21 Nov 2022 12:35 p.m

In an interview, military analyst Scott Ritter said that the Germans were delusional about their own strength. The German population should wake up, otherwise there is a risk of nuclear war in Europe.
In an interview, the US strategic analyst Scott Ritter cleared up many of the Germans' ideas about their country, their politics, and above all their military and economic strength.
According to Ritter, Germany's politics are highly dangerous and forgetful of history. The Germans should wake up, because German politicians with their current policies would lead Germany and Europe into a nuclear war that would destroy Europe, maybe even the world.
Ritter vented his anger at German politics. In his opinion, Germany has lost itself in an illusion. Ritter asks when the Germans will finally start learning from their history. Germany had tried to fight Russia on several occasions and it had never ended well for Germany. The analyst wonders why Germany is so eager to be drawn into the war.
The German military cannot win a conventional war against Russia. The Bundeswehr should not be taken seriously. He lacks capacity, equipment, everything. To believe that one can continue to get involved in the war in Ukraine because one has NATO at one's back is naïve and extremely dangerous. A confrontation between NATO and Russia would inevitably lead to nuclear war:
"A conflict between NATO and Russia ends in only one way: with the nuclear annihilation of Europe, including Germany."
In view of this obvious connection, German politics is insane.
The claimed German strength is an illusion. Germany is a weak country. Its economic success is based on the availability of cheap Russian energy. The idea of ​​being able to isolate Russia completely ignores reality and factual circumstances.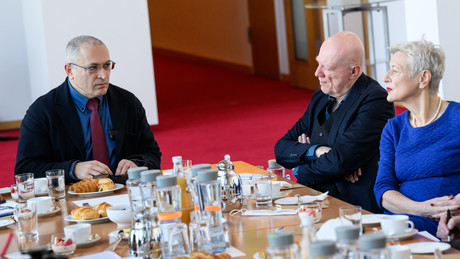 Ritter takes the G20 meeting as an example: subtracting the G7 from the G20 leaves BRICS. With this, Ritter makes it clear that strong alliances have emerged outside of the collective West, which are increasingly questioning the importance of the West. Ritter rhetorically asks Germans how their heating and energy costs are doing. All EU countries have the problem of dwindling purchasing power and rising production costs due to the western sanctions regime, Ritter proves. The situation is different for countries like India and China. The countries in the new alliances benefited from cooperation with Russia. Those who want to isolate Russia are sending their own economy into the doldrums, Ritter explains.
The interview is an urgent appeal and at the same time an expert's warning to abandon the confrontational course towards Russia. If Germany stays on this course, it can only lose.
more on the subject – How Western companies "withdraw" from the Russian market
By blocking RT, the EU aims to silence a critical, non-pro-Western source of information. And not only with regard to the Ukraine war. Access to our website has been made more difficult, several social media have blocked our accounts. It is now up to all of us whether journalism beyond mainstream narratives can continue to be pursued in Germany and the EU. If you like our articles, feel free to share them wherever you are active. It's possible because the EU hasn't banned our work or reading and sharing our articles. Note: However, with the amendment of the "Audiovisual Media Service Act" on April 13, Austria introduced a change in this regard, which may also affect private individuals. That's why we ask you not to share our posts on social media in Austria until the situation has been clarified.
Source: RT
Disclaimer: If you need to update/edit/remove this news or article then please contact our support team
Learn more