Mick Gordon has accused Bethesda of having unsanitary working conditions, while the company has dismissed his claims.
Bethesda Softworks is an American company dedicated to the distribution and development of video games.. It was founded in 1986 and is currently headquartered in Rockville, Maryland. Most of her video games have an action, simulation, and role-playing theme, however, her fans may know her from her most popular works, such as The Elder Scrolls saga, Fallout 3, and Doom.
Regarding this last title, Doom is a series of first-person shooter video games.. Its first release was in 1993, and since then, it has been considered as one of the pioneers in shooters after introducing 3D graphics, a multiplayer network, and support for mods. Doom has sold over 10 million copies of the series, counting numerous sequels, expansion packs, 2 movies, and thousands of fan-created mods.
Doom Eternal is the last installment of the saga and direct sequel to Doom (2016). Released in March 2020 for PlayStation 4, Google Stadia, Xbox One, Microsoft Windows and Nintendo Switch platforms, it received 5 nominations at The Game Awards 2020 -among the categories such as game of the year and best action game-.
Problems with Doom Eternal
Despite the fact that the game received multiple praise for its soundtrack, graphics, design, and combat mechanics from critics and fans, everything seemed to be going great for the Bethesda title… except for one very important detail. : their working conditions.
Recently Mick Gordon, the composer of Doom and Doom Eternal, published a lengthy written statement in which he gave details about his work on the latest title in the action saga, alleging that Id Software kept him in unsanitary working conditions, withheld his salary and, moreover, publicly defamed him. So, after the scandal caused by this complaint, Bethesda has finally responded to the composer's accusations. However, far from giving a concrete answer, the company dismissed Gordon's claims, without speaking directly about the themes and evidence that the composer contributed.
For his part, Gordon's letter was published last week, while in it featured his ordeal with id Software studio head Marty Stratton. The text extensively explained the process of creating the music for Doom Eternal, as well as the controversial release of a physical edition of the soundtrack. In addition, Gordon included a post that Stratton made on Reddit in 2020, where he blamed the composer for all the problems surrounding the soundtrack. Thus, Gordon blamed Bethesda, Id Software, and Stratton for all of Doom's problems.
To finish the topic, Bethesda gave a much shorter answer, though neither acknowledges any responsibility in the situation nor takes the blame. In fact, Bethesda claims that the composer "characterized and misrepresented the team at Id Software, the development of Doom Eternal, Marty Stratton, and Chad Mossholder with a one-sided and unfair account of an irreparable professional relationship." And he ends by saying that despite the fact that Bethesda is aware of what surrounds said controversy, in reality Stratton and Id Software are right and decisively rejects Gordon's argument.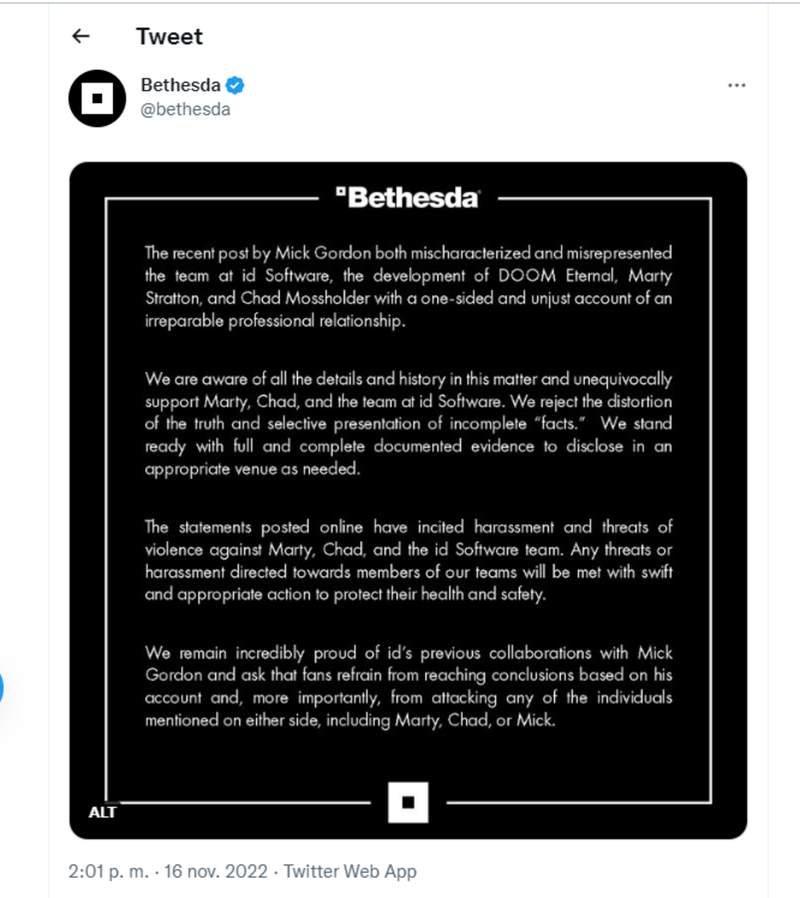 And, to lend weight to its claims, Bethesda says it is willing to share "full documentary evidence" to support its position, but, unlike Gordon, it will do so in "an appropriate place as needed." Even though Gordon shared a series of emails and documents about his work on Doom Eternal, which corroborates the information, the developer company intends not to do so through social networks. Due to the seriousness of the allegations, it stands to reason that Bethesda would have made this decision, but this renders it somewhat lacking in credibility online.
In addition to the response to the composer, the company took the opportunity to blame Gordon for inciting harassment and has engaged in unacceptable behavior, so it is already taking "prompt and appropriate action" to protect its employees.
Of course, we don't know the whole truth behind this discussion, but one fact is that Gordon made it clear that the development team at Id Software "deserves to be celebrated," while Bethesda claims otherwise, explaining that Gordon "characterized and represented Bad to the Id Software team." Some say it's hypocritical to say Gordon's letter incited bullying without openly acknowledging Stratton's incidence in 2020. Be that as it may, this conflict does not seem to end anytime soon.
Source: alfabetajuega
Disclaimer: If you need to update/edit/remove this news or article then please contact our support team
Learn more