30 Oct 2022 09:39 am

Marina Akhmedova, writer and member of the Russian Human Rights Council, has been touring the embattled Donbass and the Russian border region of Belgorod, which is under Ukrainian shelling, since the summer. Her notes, which she publishes on Telegram, give an insight into the everyday life of people under war conditions.
By Marina Akhmedova
For the second day in a row I am not able to get to Murom. Yesterday, shortly before entering the town, a large Ukrainian drone prevented me from continuing my journey. The drone flies over our village and obviously feels at home here. Not just over this village. The Ukrainian army shoots at everything that moves here. Just to spread fear. It rained all day today. I hoped that at least the rain drove the drone away. But no, she's back, flying around and humming. It is impossible to move here by car – they start shooting immediately, then also aim at the houses in the village. It would be too risky, too irresponsible to continue, putting yourself and civilians in danger. All of this is real. Murom, I forgot to mention, is a village in Belgorod Oblast of Russian Federation.
This memorial to a soldier's mother was designed by a 10th grader. I saw it for the first time a year ago. On July 12, in the villages around Belgorod, it is a tradition to set up tables on the streets, set them with food and drinks for passers-by and put up photos of loved ones who died in the Great Patriotic War.
Almost eighty years ago, a mother's husband and sons were killed at the front. None of them returned from the war. While other families welcomed their sons, husbands, fathers and brothers home with food and drink in the summer of 1945, she took a table in front of the house, set it up and placed photos of her sons and her husband on it. And it became a tradition. The date – July 12 – was chosen because it was a crucial day of the Prokhorovka tank battle. Everything was burning here that day – the sky as well as the earth, and the sun seemed to be a cloudy disc in the black sky. 1,200 tanks fought on a small piece of land. And after the war, the soil here didn't produce any crops for three years.
Brought bread to this mother's sons today. It was raining and the water filled the glasses to the brim.
I was assigned an armored car and an armored vest with a helmet in Belgorod, but if I drove to the border villages in such a car and in this outfit, I would definitely become a target for Ukrainian drones. I went there with the locals in a standard car in my own coat.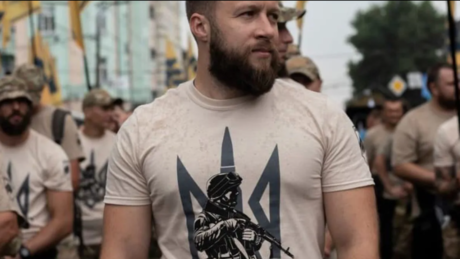 "When I say 'Down!' say, please lie down immediately, Marina, even if you are a member of the council", says Uncle Vanya, a Chechen veteran and father of Galina Ivanovna, the village headmistress, to me in this photo. – "Even the governor had to lie down here recently. The homeland, it protects you."
To be honest, I immediately felt like lying down somewhere under a birch. Or better yet, in a hotel on a comfortable bed.
The following photos show what Ukraine did to the Belgorod village of Murom. They fired mortars across the nearby border. I'm not scaring, I'm just showing how people currently have to live in our country. The recordings are intended for those who still think that nothing further is happening. Evacuated locals sneak into the village via secret routes – to feed their rabbits. Of course, victory will be ours.
…
– "Pass my boy!"
– "Did you think he was dead?"
– "When we ran to the hiding place, he got lost. As we ran into the basement. This is just our local dog. Look, he's alive, our passport."
– "I know. A splendid fellow!"
Today it finally worked: I made it into the village of Murom. It is right on the border with Ukraine. The Ukrainians have mortars on the border and are shelling our village. In addition, drones constantly monitor movements in the village. A kindergarten, the school and several houses have already been shelled and destroyed. The oblast administration evacuated residents, but not all were ready to leave. People stay and try to survive here. Those who left come to the village on foot every day – to work. Galina Ivanovna, the village chief, stayed with those who refused to leave – yes, that little woman in the video. As she walks through the village, she sprints from house to house. I think she should definitely get a medal.
– "You are a girl", said Galina's father to me. – "Why are you here?"
– "And why are you here?" – I asked him instead of answering.
– "Someone has to take care of everything here", he answered. – "So Galja and I do it."
– "My answer is no different"I replied.
(By the way, I've already left the village. So no need to shoot at it.)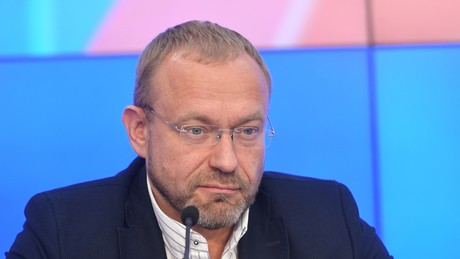 Before we met personally, Galina, Murom's village chief, wrote and asked to show my readers this crane. This story is related to the crane:
A soldier named Kostik gave it to a little girl who was very afraid of loud noises and the sight of military equipment. Every day the soldier came to the girl and asked about the bird. The girl replied that he was with her and would always protect her because he made the crane for her. This crane represents the strength and love of the soldier. During the evacuation from Murom, the girl took only this bird with her. And she said she believed in victory. Kostik has gone into battle and is officially considered missing.
Marina Akhmedova is a writer, journalist and a member of the Human Rights Council of the Russian Federation. She writes for the magazine "The Expert". Her reports on her work as a human rights defender and her travels through the crisis region can be followed on her Telegram channel.
More on the subject – Ukrainian Foreign Minister Dmitry Kuleba: We are behind explosions in Crimea and Belgorod
RT DE strives for a broad range of opinions. Guest posts and opinion pieces do not have to reflect the editor's point of view.
By blocking RT, the EU aims to silence a critical, non-pro-Western source of information. And not only with regard to the Ukraine war. Access to our website has been made more difficult, several social media have blocked our accounts. It is now up to all of us whether journalism beyond mainstream narratives can continue to be pursued in Germany and the EU. If you like our articles, feel free to share them wherever you are active. It's possible because the EU hasn't banned our work or reading and sharing our articles. Note: However, with the amendment of the "Audiovisual Media Service Act" on April 13, Austria introduced a change in this regard, which may also affect private individuals. That's why we ask you not to share our posts on social media in Austria until the situation has been clarified.
Source: RT
Disclaimer: If you need to update/edit/remove this news or article then please contact our support team
Learn more