It's teeming with exciting new products out there. But for which ones is it really worth hitting coal on the head? Our editors put five products through their paces and have fun every month. This month is all about sustainability. As part of our Green Week, we tested a sustainable pan, lip care and a bread box, among other things. Here are our results.
Cute and practical!

Product: Double lunch box with bamboo cutting board and cutlery from Nestler-matho
Price: 5.89 euros
Application: For a delicious snack on the go, a sandwich or the classic bento box with rice and lots of vegetables.
The boxes (made of 100 percent polypropylene) come with an elastic band that keeps the boxes firmly together. But the lids hold up very well. A small bamboo board to eat on and a cute mini cutlery set consisting of a knife, fork and spoon are also included. This can be strapped wonderfully onto the box, as the strap has three cut-outs for cutlery. Dimensions: 185 x 107 x 95mm.
Result: With a volume of 500 ml each, the boxes hold a lot for a short trip. When transporting, however, only solid food should be packed. Whether it's a city trip, a train ride or a break at the rest area: the practical lunch box is a pleasant companion everywhere. Since it comes with cutlery, you can easily put it back in one of the boxes after use and wash it off later.
Leftovers can be stored well in the containers at home. They seal very well and can even be heated in the microwave for up to three minutes. However, the cover should be removed. After the meal, all parts – with the exception of the bamboo board – end up in the dishwasher without any problems. According to the manufacturing company, the lunch box is sustainable, ecological and 100 percent climate-neutral. I added a cool sticker to my taste and am happy every time I see them.
Gentle doer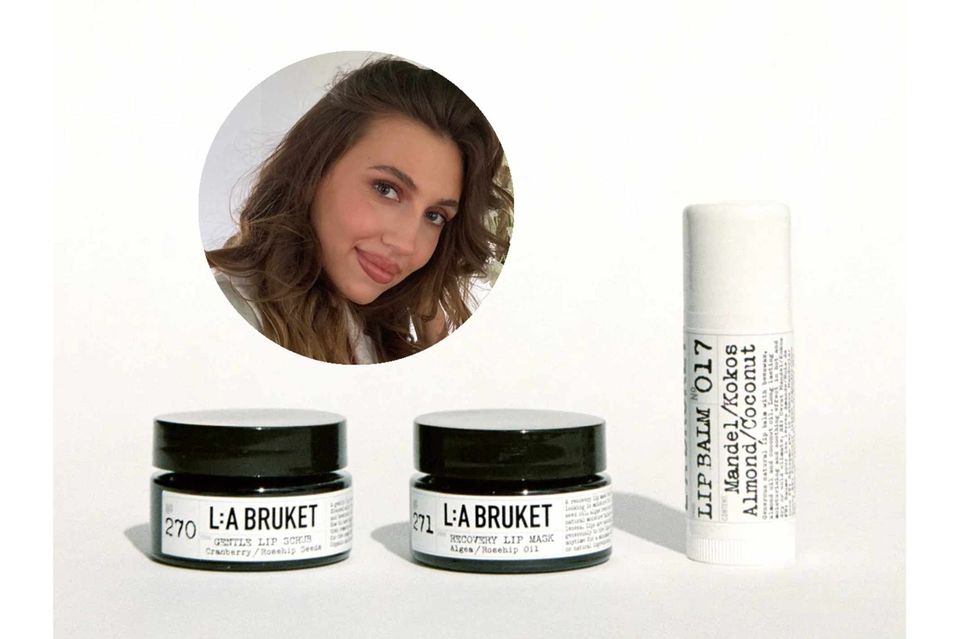 Product: 272 lip care set
Price: 71.40 euros
Application: When the lipstick no longer glides over the delicate skin, but begins to crumble and peel off unattractively, we know that it's time for a peeling. Especially in the colder months, extra care is needed in the lip area. The set consists of three products. The first is the "Gentle Lip Scrub" with cranberry and rosehip seeds that gently remove dead skin cells. Then the "Recovery Lip Mask" with algae and rosehip oil is applied. The little routine is completed with the "Lip Balm" made from an almond-coconut formula.
Result: These products are particularly suitable for people with sensitive skin. According to the manufacturer, the active ingredients are 100% natural and COSMOS-certified. Unnecessary additives and preservatives have been completely dispensed with. The first time you use the peeling, you will notice a difference. The lips feel soft and supplied with blood. The grainy texture is not aggressive and leaves a smooth base. I recommend removing the residue with a wet cotton pad. Then the mask is applied, the lips immediately looked plumper and shinier. If the mask is left on overnight, the algae complex can act for longer and effectively regenerate the skin. And finally, a touch of the lip balm on top. This layer makes the lips look healthy but not too glossy. I also used it everyday when I wanted to create a more natural look. What I particularly like are the subtle scents of the products. My conclusion: It suits every lip and every smile.
Salty and sweet!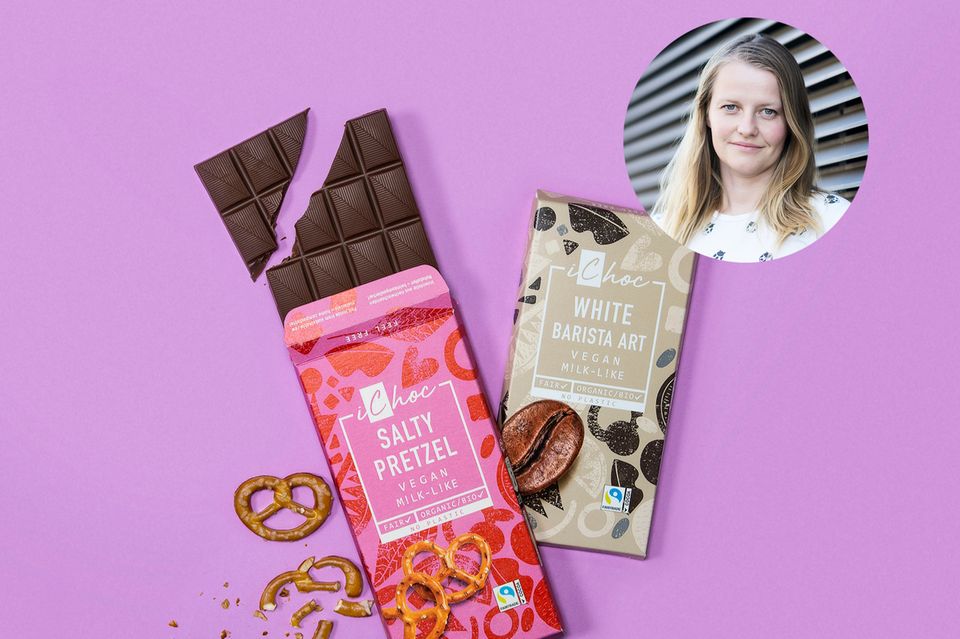 Product: "Milk-like" vegan organic chocolate iChoc in the flavors "Salty Pretzel" and "White Barista Art"
Price: approx. 2.29 euros
Application: mouth open pure chocolate Enjoy.
Result: As a chocolate lover, the new varieties from iChoc are perfect for me. I started with the "Salty Pretzel" variety, which immediately appeals to me with its combination of sweet and salty. After the first taste, I would hardly have guessed that it was vegan chocolate. In fact, the treat comes very close to classic milk chocolate. The salty pretzel crunch is just gorgeous. In addition, the chocolate is made with the finest organic ingredients and the cocoa is fair trade and comes from sustainably managed organic cooperatives. According to the manufacturer, the sweetness is made with climate-friendly regional beet sugar. The tender melt is achieved by valuable ingredients such as buckwheat and almond oil – unlike most varieties that are produced with a rice drink. Second, I dared to try the white version "White Barista Art", which has a lot to offer with espresso crisp and a touch of sea salt. The crisp is nice and crisp, but the coffee note is a bit too intense for me personally. A revelation in terms of taste for real fans of the bean drink. And another real plus of the iChoc chocolates, the packaging is plastic-free. It is made from wood fibers. Again, they are compostable. All in all, I can enjoy this sweet without regrets and recommend it with a clear conscience.
pantastic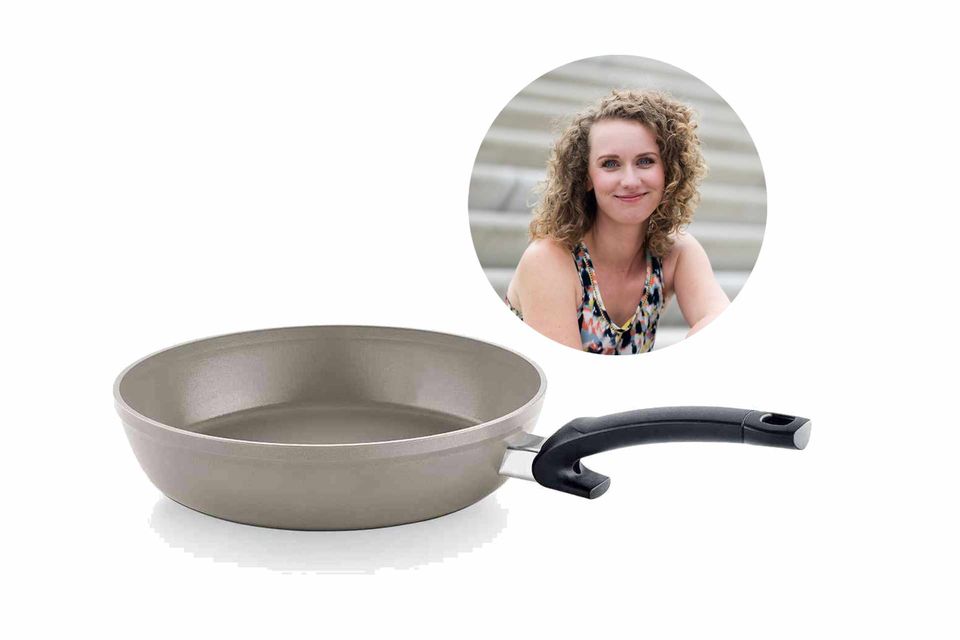 Product: Fissler Ceratal® Comfort pan
Price: 28 cm ø 3.2 for 109 euros
Application: Think about the recipe, put the pan on the stove, start cooking, be amazed.
Result: When the Fissler pan flew in to test it, my expectations were not overly high. It's just a pan, I thought to myself. First and foremost, it was important to me that I could fry well in it. And holla the forest fairy: I can do that! The Ceratal® Comfort pan scores above all with its ceramic, water-based and PFAS/PFTE-free coating, which not only does not burn anything and still delivers crispy results, but also reduces CO2 emissions by up to 70 percent during production, because far fewer solvents need to be used than with conventional coatings. In addition, the pan consists of up to 60 percent recycled aluminum, which corresponds to about 50 cans of soda. But not only from an environmental point of view, but quite simply from my point of view, I also find the pan aesthetically beautiful in its warm grey. What I also think is pretty nice: A lot goes into the 28 cm diameter at a height of 3.2 cm. Anyway, it was love at first sight. Sorry all you other pans out there, but I'm only frying with this one.
sustainable business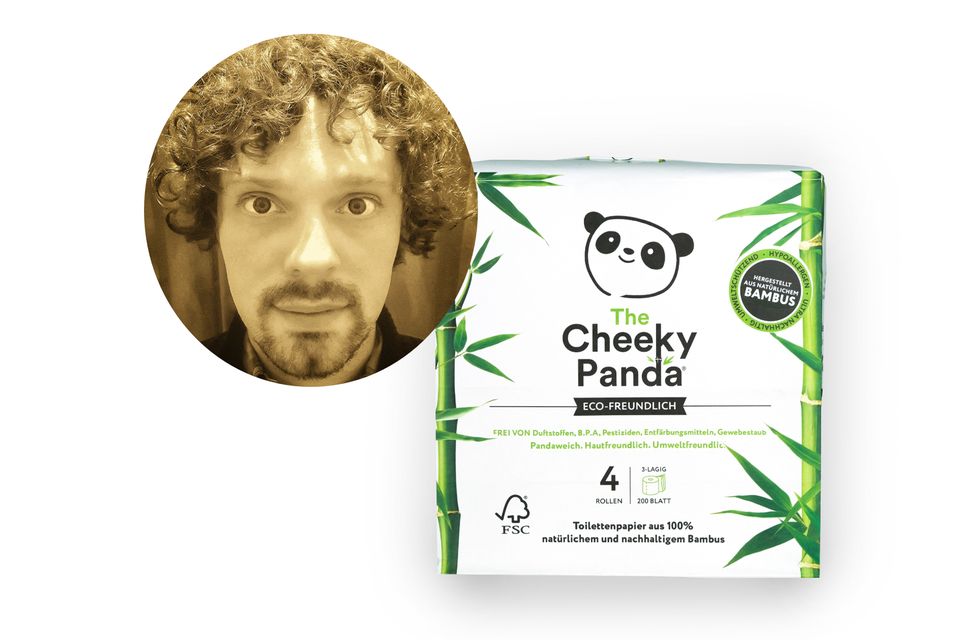 Product: The Cheeky Panda toilet paper
Price: about 10 to 30 euros
Application: It's toilet paper. It's easy to use and most of us learned it when we were little.
Result: The Germans have a very special relationship with their toilet paper, as the corona pandemic showed: while alcohol and condoms were becoming scarce in other countries, the local residents fought over pasta, yeast and toilet paper. Priorities! With the toilet paper from The Cheeky Panda, the whole thing is also environmentally friendly. The paper is made entirely of bamboo, with the company making sure that the CO2 emissions during production and transport from China are offset. Even plastic is completely avoided. Thanks to this and the harvesting of sustainable (and FSC-certified) bamboo forests, customers can do their large and small business without a guilty conscience. The paper impresses with its soft feel and is surprisingly robust at the same time. Definitely worth it – not just for the environment.
barbara
Source: Brigitte
Disclaimer: If you need to update/edit/remove this news or article then please contact our support team
Learn more
Add Then24 to your Google news feed.