29 Oct 2022 2:59 p.m

During her visit to Belgrade, Ursula von der Leyen called for Serbia to align with Brussels' policies and accept EU sanctions against Russia. Serbia must join the EU's foreign and security policy. Without the country, the Union is "not complete".
The President of the European Commission, Ursula von der Leyen, has campaigned in Serbia for the country's future EU membership. The European Union would not be complete without Serbia, she said, citing as an example existing cooperation on connecting Serbia to a gas pipeline from EU member Bulgaria, which is planned for next year.
Serbia must follow the foreign and security policy of the European Union if it wants to join the EU, von der Leyen said in Belgrade on Friday. This cloaked demand has been put forth by Brussels for some time to imply that Serbia should adopt EU sanctions against Russia, which Serbian President Aleksandar Vučić has so far refused to do.
Von der Leyen visited Serbia as part of what euronews described as a "charm tour" of the Balkans, and also inspected the construction site of a gas interconnector near the Bulgarian border. The EU-funded project is scheduled to be completed by September 2023.
"Not only do we want gas to flow from Bulgaria to Serbia, but this project is also a step to bring us closer together," von der Leyen said. "It will open Serbia's gas market to diversification, it will improve Serbia's energy security."
The EU has offered Serbia 165 million euros in energy subsidies. Belgrade currently relies on natural gas from Russia, which flows through the TurkStream pipeline. After meeting Vučić and Prime Minister Ana Brnabić, von der Leyen insisted that joining the EU meant "sharing our values", implying that Serbia would have to impose sanctions on Russia in order to join the Union. "It is important that Serbia is in line with our foreign and security policy," she told the press.
Vučić pointed out that Serbia had always supported Ukraine's territorial integrity, but added a scathing remark about the EU's double standards.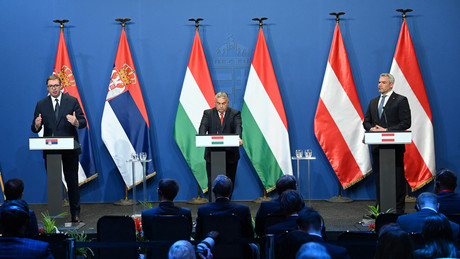 "Sometimes we wonder why Serbia's territorial integrity has not been respected," he said, referring to Kosovo, a Serbian province occupied by NATO in 1999 and later recognized as an independent state by 22 of the 27 EU member states . The EU has named the recognition of Kosovo's independence as one of the conditions for Serbia's membership in the EU.
Vučić also said that Serbia understood Ms. von der Leyen's message and that in response to this they would "come to terms with the EU's visa policy". The authorities in Brussels had previously complained to Belgrade that Serbia was allowing migrants from Burundi, Cuba, India, Tunisia and Turkey to enter the country, who would then travel on to the EU and apply for asylum there.
After the meetings tweeted von der Leyen took photos of himself with Vučić and Brnabić, writing that Serbia was "well advanced on its EU path" but that "further progress needs to be made". These advances are "alignment in defense of common principles and values" and "cooperation for security and prosperity".
The start of von der Leyen's trip to the Balkans began on Wednesday in North Macedonia, followed by stays in Kosovo, Albania and Bosnia-Herzegovina. Your tour ends on Saturday in Montenegro.
more on the subject – Serbian Interior Minister: Friendship with Russia is a prerequisite for the country's existence
By blocking RT, the EU aims to silence a critical, non-pro-Western source of information. And not only with regard to the Ukraine war. Access to our website has been made more difficult, several social media have blocked our accounts. It is now up to all of us whether journalism beyond mainstream narratives can continue to be pursued in Germany and the EU. If you like our articles, feel free to share them wherever you are active. It's possible because the EU hasn't banned our work or reading and sharing our articles. Note: However, with the amendment of the "Audiovisual Media Service Act" on April 13, Austria introduced a change in this regard, which may also affect private individuals. That's why we ask you not to share our posts on social media in Austria until the situation has been clarified.
Source: RT
Disclaimer: If you need to update/edit/remove this news or article then please contact our support team
Learn more