"Something terrible is going on inside of me and I don't know why," Thaovy Van, a 24-year-old living in New York, said in a TikToku video. "Every time I touch my nipples, I feel an" intense rush of sadness "flooding my body. Along with this sadness comes a feeling of anxiety, discomfort and hopelessness," she told huffpost.com.
"I thought I was the only one"

Van doesn't remember exactly when she first noticed it, but discomfort came every time the fabric of her bra or tight T-shirt teased her nipples. The woman admits that she initially did not pay attention to it, but when she began to experience it more and more often, she decided to talk about it on social media. The film, which was watched over 4.6 million times, gathered approx. 12 thousand people. comments.
"When my nipples touch my clothes or I touch them myself, I feel an uncontrollable sense of sadness"Van didn't expect other people to experience it as well." I thought I was the only one and there was something wrong with me, she said.
"Unhappy Nipple Syndrome"

Based on the number of views and comments under the video posted on TikToku, Van and many others realized that they were not alone. The Internet has called this the "unhappy nipple syndrome". It is unclear how common this phenomenon is, but it seems to affect women much more than men. People with this "condition" say that when their nipples are touched (whether it's accidentally changing clothes or during foreplay), feel a sudden rush of negative emotions. Those who experience "unhappy nipple syndrome" use phrases such as homesickness, fear, guilt, and sadness when describing sudden feelings. Some wrote that it was like "longing for a place that does not seem to exist."
Lucy H., a 24-year-old from Melbourne, also posted a TikTok video in response to a Thaova film, explaining how relieved she was to find out that others were struggling too. "Over the years, I have never told anyone about it. I just avoided knowingly or accidentally touching my nipples because the feeling was overwhelming"- she told HuffPost.
"Unhappy Nipple Syndrome" hasn't been studied, and many experts say they've never heard of it. Apart from anecdotal reports found on online forums and social media, little is known about him.
"One of the great things about social media is that women are able to share experiences and feelings that are taboo or overlooked in society"Lucy said.
Finding out that there are other women in the world who are experiencing the same thing makes it I feel less lonely.
Even 9 percent. breastfeeding women experience similar feelings

According to some, "unhappy nipple syndrome" may resemble a condition some breastfeeding women experience. The dysphoric milk ejection reflex (D-MER) is a phenomenon that accompanies some nursing mothers. It appears just before the outflow of milk from the breast and can be accompanied by such emotions as feelings of sadness, emptiness, hopelessness, fear, guilt, anxiety and frustrationand in extreme cases of self-harm or a sense of paranoia. It is estimated that D-MER can experience up to 9 percent. lactating women.
In the case of D-MER, a wave of negative emotions can occur with direct stimulation of the nipple during breastfeeding or pumping. But it can also occur before spontaneous flow of milk, when milk is released from the breast without any physical stimulation (e.g. when a woman hears her baby cry). Since D-MER is associated with the milk letdown reflex, it is believed to be a rather physiological response to breastfeeding due to hormonal changes.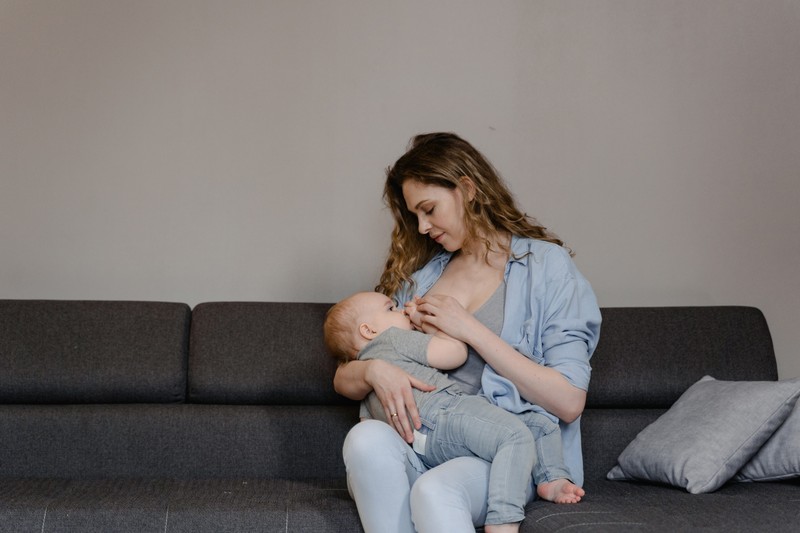 Photo: Pexels

What could be causing these phenomena?

Research on D-MER has only been conducted since 2008, so its exact mechanism is still unknown. Lactation experts Alia Macrina Heise and Diane Wiessinger – who coined the term D-MER – believe that it may be associated with a sudden drop in the dopamine hormone. Since "unhappy nipple syndrome" has not been studied, one can only speculate as to what may be causing it. Barry Komisaruk, a behavioral neuroscientist and professor of psychology at Rutgers University, has a theory about the mechanism behind D-MER and "unhappy nipple syndrome". Speaking to HuffPost, Rutgers said he thought the two phenomena are related to and may have an evolutionary basis for breastfeeding that applies to both nursing and non-lactating people.
"Stimulation of the nipples releasing oxytocin into the bloodstream. Oxytocin receptors are found in the muscle cells of the mammary glands. Circulating oxytocin stimulates the contraction of these cells, which helps to physically squeeze the milk from the breast into the infant's mouth. Most mammals cannot move while feeding their young, they must lie down to rest. As a result, a neural mechanism has developed which causes the mother to "slow down", remain still and calm while breastfeeding. This mechanism turns off activity in the sympathetic nervous system (which is responsible for fighting). This is important because stress releases adrenaline. reducing adrenaline »enables the milk ejection reflex«. "
People who experience D-MER or "unhappy nipple syndrome" they may see this mental tranquility as depression, hopelessness, or homesickness. While the process described above makes breastfeeding easier, Komisaruk says it can also occur in women who are not breastfeeding, and even in men.
See also:
Women Hear Public Breastfeeding Is Like "Pissing and Farting"
How to achieve a nipple orgasm? "Most women's breasts are just unawakened"
Source: Ofeminin
Disclaimer: If you need to update/edit/remove this news or article then please contact our support team
Learn more
Add Then24 to your Google news feed.