29 Oct 2022 3:47 pm

Shortly before her upcoming trip to Qatar on Monday, Federal Interior Minister Nancy Faeser sharply criticized the World Cup organizers. Among other things, she complained about human rights violations. Qatar has now summoned the German ambassador.
Qatar's foreign ministry has summoned the German ambassador and handed him a protest note on the recent statements by Interior Minister Nancy Faeser about the 2022 World Cup in his country. The Foreign Office in Berlin confirmed that the German ambassador was invited to the meeting.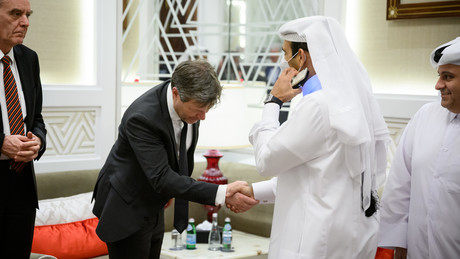 Faeser recently had in a ARD-Interview said that the awarding of major sporting events must be linked "to the observance of human rights, to sustainability principles". Commenting on the decision to have Qatar host this year's World Cup, the sports minister added: "There are criteria that have to be met and then it would be better that it wasn't awarded to such countries. " For the federal government, this is "a totally difficult award," said the SPD politician.
On Monday, Faeser wants to travel to Qatar together with the human rights commissioner of the federal government, Luise Amtsberg, the sports policy spokesman of the parliamentary groups in the Bundestag and a delegation from the German Football Association led by President Bernd Neuendorf. According to her ministry, meetings with top politicians and representatives of civil society are planned.
The World Cup will take place in the Gulf State from November 20th. The Emir of Qatar, Tamim bin Hamad al-Thani, complained on Tuesday that the country was facing an "unprecedented campaign" that no host country had ever experienced.
more on the subject – What are human rights against oil – Boris Johnson's failure in Saudi Arabia
By blocking RT, the EU aims to silence a critical, non-pro-Western source of information. And not only with regard to the Ukraine war. Access to our website has been made more difficult, several social media have blocked our accounts. It is now up to all of us whether journalism beyond mainstream narratives can continue to be pursued in Germany and the EU. If you like our articles, feel free to share them wherever you are active. It's possible because the EU hasn't banned our work or reading and sharing our articles. Note: However, with the amendment of the "Audiovisual Media Service Act" on April 13, Austria introduced a change in this regard, which may also affect private individuals. That's why we ask you not to share our posts on social media in Austria until the situation has been clarified.
Source: RT
Disclaimer: If you need to update/edit/remove this news or article then please contact our support team
Learn more