28 Oct 2022 10:33 am

Although there is repeated speculation in the Western media about Beijing's "distancing" from Moscow, the Chinese foreign minister demonstratively backed Russia in a telephone call with his Russian counterpart on Thursday.
In a phone call Thursday between Chinese Foreign Minister Wang Yi and his Russian counterpart Sergei Lavrov, China said it would support Russia in regaining its status as a major international power.
Beijing will "firmly support" the Russian side and help President Vladimir Putin in his efforts to "unite and guide the Russian people to overcome difficulties and eliminate interference." According to the report published by the Chinese Ministry of Foreign Affairs, Beijing will continue to support the realization of "strategic development goals" in order to strengthen Russia's status as a great power on the international stage.
Beijing's press release states:
"It is the legitimate right of China and Russia to realize their own development and revival, fully in line with the development trend of the times. (…) Any attempt to block the progress of China and Russia will never succeed."
The top diplomats reiterated their "mutual trust and firm support" and pledged to work together to take their two countries to the next level, not only benefiting both nations but also bringing "greater stability in the turbulent world." Lavrov also congratulated Xi Jinping on his recent re-election as General Secretary of the Chinese Communist Party.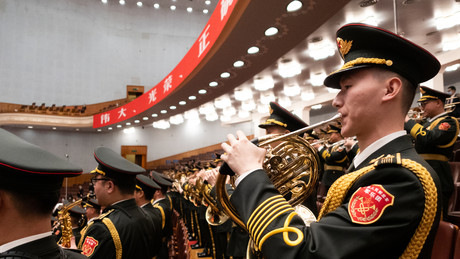 Beijing not informed about special operation in advance
According to the Russian Foreign Ministry, Lavrov thanked Beijing for supporting Russia's efforts to "fairly settle the situation around Ukraine." He also thanked Kiev for foiling alleged plans by Kiev to use a weapon of mass destruction in a false flag provocation to demand more pressure on Moscow and additional military aid from the West.
Russian President Vladimir Putin also said during the Valdai discussion club on Thursday that he had not informed Chinese leader Xi Jinping about the military operation in Ukraine in advance. That was not necessary either, since both Russia and China are sovereign nations and Beijing knows the situation in Ukraine very well, Putin continued.
"No," Putin replied to moderator Fyodor Lukyanov's question when he asked if he had told Xi about the military operation that began on February 24. The two heads of state met 20 days before the escalation. Xi was not upset or offended, the Russian President said.
"The Chinese leader is not the type of person to get angry about anything," said Putin, who described Xi as a "world-class" statesman. Regarding the advance warning, the Russian President stated:
"We have no such need. We make sovereign decisions, both Russia and the People's Republic of China."
more on the subject – Putin: "The game of the West is dangerous, bloody and dirty"
By blocking RT, the EU aims to silence a critical, non-pro-Western source of information. And not only with regard to the Ukraine war. Access to our website has been made more difficult, several social media have blocked our accounts. It is now up to all of us whether journalism beyond mainstream narratives can continue to be pursued in Germany and the EU. If you like our articles, feel free to share them wherever you are active. It's possible because the EU hasn't banned our work or reading and sharing our articles. Note: However, with the amendment of the "Audiovisual Media Service Act" on April 13, Austria introduced a change in this regard, which may also affect private individuals. That's why we ask you not to share our posts on social media in Austria until the situation has been clarified.
Source: RT
Disclaimer: If you need to update/edit/remove this news or article then please contact our support team
Learn more