Natalia is a student of literary criticism at the Jagiellonian University in Krakow. Until now, she worked in Cultural Institutions, dealt with, inter alia, creating audio scenarios for visiting museums. One and a half years ago, she broke up with her abusive boyfriend and lost the roof over her head. She had a job, but after the project was over, both work and savings were over. As a result of the ongoing case of abuse, which Natalia had committed to her ex-boyfriend, the girl's depression worsened and trauma was activated. Natalia was urgently looking for a job. She had to earn a living and medical treatment.
"Work as a consultant"

– I found information about the job on one of the classifieds websites. It was poor, and probably, if I had been in a better position, I wouldn't have paid any attention to it. They wrote that they were looking for a customer service consultant and that they would train from scratch. I sent my CV and waited – he says.
The next day, she received a text message saying that they are inviting her to an interview. It was emphasized that it was a consultant job and the address was given.
Photo: photo: courtesy of the author / Ofeminin

– I made an appointment for a specific day. I had such a feeling that I didn't know exactly what kind of employer he was and I would probably humiliate myself during the interview. I started looking for information. I entered the address in the search engine – it turned out that it is a marketing company that is in the process of being entered into the National Court Register. The red lights came on, but I thought maybe they were actually just starting. I went for an interview, I found the building. The intercom at the indicated number read "office". I had a feeling that something was wrong, but since I arrived, I decided to check it – says Natalia.
On the spot, in the office, she was greeted by a young girl. She asked some routine questions. – At one point she asked if I knew what streaming was. She explained that this job is about talking to American clients, but basic English is enough and that they provide equipment and a studio. Consultants are to interest the client and talk to him in such a way as to have an audience. She smiled when I asked about sample conversation topics. Then something dawned on me. I guessed it was the sex industry, webcams or porn movies, but I felt confused, lost. I started to get nervous. I was alone on the outskirts of the city, in a building with no neighbors, it is impossible to run into the corridor and alarm someone. In addition, the studio was to be shown to me by the manager waiting next to me, a man, which only increased my anxiety – he recalls.
Natalia decided to end the conversation. She said she was an introvert and did not see herself in such a job.
"I found myself stupid to say no to her." This woman was very persuasive and nice. She used round terms. She let go when I added that I am not open – adds Natalia.
They prey on girls in difficult life situations

After leaving the conversation, Natalia decided to share her experience on Instagram. Two girls who were on the same interview as she contacted her and confirmed that streaming is actually working on erotic webcams.
– In the next stage of "recruitment" they introduced them to this studio, where they saw ladies in skimpy outfits. It is all based on slippery manipulation. The ads are vague and structured to appeal to desperate girls who are looking for a job "already". I had the thought that if I had ended up there right after I broke up with my fiancé, when I had no roof over my head, I was desperate and broken, I do not know what decision I would make. They take advantage of girls in a difficult life situation who want to take control of their lives quickly. Fortunately, I am quite insightful and I know what trauma work in the erotic industry can end up with, concludes Natalia.
One of the people who contacted Natalia was Katarzyna Damps, a volunteer from the Association. Without. This initiative was created "to help women involved in the sex industry through crisis interventions, promoting appropriate legal models and creating space for a feminist voice on the Polish Internet" – reads the association's website on Instagram.
We warn against entering the sex industry

Katarzyna Damps says openly that she has experience with sex work. She went to a camera studio for an interview, encouraged by high wages and flexible working hours. The manager who recruited her mentioned that it was "Chaturbate" (from the words "chat" and "masturbate"), but stressed that you don't have to undress, just flirt to keep the conversation going.
– It's a lie. In order to make a living from working on webcams, you have to exceed your intimate boundaries. It starts with the ceiling "I will perform in underwear, I won't show my face", but a moment later a big tip is offered. The condition is: "you can do this and this or leave this chat". Out of a desire to maintain interest, the girls finally agree to, for example, anal shows. These are very young people who are easy to manipulate – explains Katarzyna.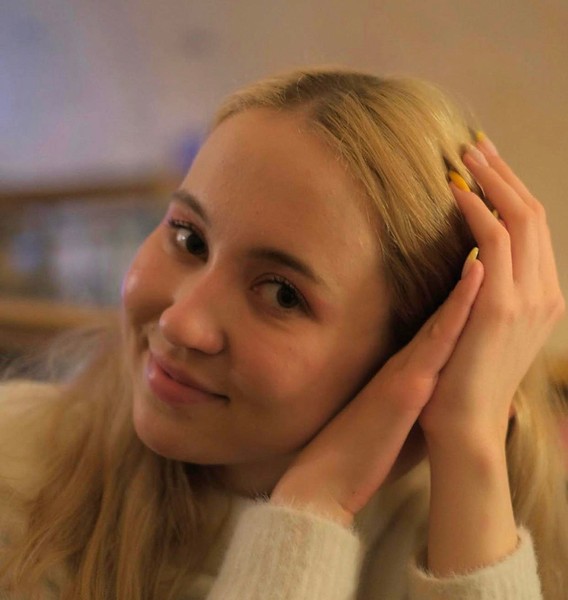 Photo: photo: courtesy of the author / Ofeminin

Kasia withdrew. She felt that selling intimacy would negatively affect her psyche and her relationship with her body. She became a volunteer of the Association. Without to warn other girls about getting into the sex industry.
– Such information about the job can be found on one of the advertisement websites, in the "Media art entertainment" tab, or on Facebook, on groups dedicated to students. The girls are tempted to work in modeling and in the art industry, promises high earnings, e.g. five thousand zlotys a week.
If one of them decides to do so, even on the first day of work they have no idea what they will be doing there. In this way, innocent, unaware girls are caught and gradually persuaded to exceed their limits
– says Katarzyna.
The crisis is conducive to recruitment in this industry

Association. He tries to become aware of the consequences of entering the sex industry. And these, unfortunately, are very serious. – We rely on research conducted among sex workers. A significant proportion of the girls were diagnosed with depressive and anxiety disorders, PTSD, and further addiction to psychoactive substances, because somehow you have to deal with the fact that we exceed our limits at work every day. We fight the narrative dominating in the media that "sex work is work". We believe that with the rising cost of living, many desperate women who are caught by pimps on such portals will choose to do sex work.
Photo: photo: courtesy of the author / Ofeminin

– We have recently had a special e-mail box dedicated to victims of sex work. You can get support there without being judged. We work with various specialists, lawyers and psychologists. We advise you to read all the information carefully before deciding to enter the sex industry – explains Katarzyna Damps.
See also:
Fake pornography. "Someone pasted my face. Yours could be next"
Source: Ofeminin
Disclaimer: If you need to update/edit/remove this news or article then please contact our support team
Learn more