They don't want to be treated as a curiosity. They don't need pity. They are extremely talented and present professional art at the highest level. There is an ongoing social campaign for inclusiveness in the play "I am an artist!". Its aim is to draw attention to artists and artists with disabilities. However, it is not their disability that should be in the foreground. Only their creative achievements. The campaign is organized by the British Council.
"It's a kind of rebellion against discrimination"

What do we see first – talent or their physicality? Do we allow artists and artists with disabilities to express themselves creatively? Or maybe we see them through the prism of barriers and limitations. How many times have we thought that their art is only a form of therapy? Or that their achievements must be assessed according to a reduced tariff? It is these stereotypes and our internal limitations that the campaign implemented by the British Council confronts us. Its aim is to show a human being – an artist and an artist. Causing reflection in us, perhaps causing shame, and certainly forcing us to look deeper, beyond the visual envelope. It is also a kind of rebellion against discrimination and the reproduction of stereotypes about people with disabilities.
"Thanks to our projects related to art and disability, we can see with our own eyes the incredible creativity and innovation of people with disabilities in Poland. Despite this, these artists are still little recognized on the mainstream stages and in artistic institutions. this campaign will contribute to changes in this area and will help show them as one of the most important Polish artists and artists currently working in dance, theater and performance, "says Ewa Ayton from the British Council.
Six amazing heroes

The protagonists of the campaign are six artists with various types of disabilities, incl. a short-grown person, with alternative motor skills, with cerebral palsy or Down syndrome. Independent, courageous, self-confident. They pursue their artistic goals. The actors Filip, Patryk, Dominika and Maja, the dancer Tatiana and the performer Katarzyna prove that limitations exist mainly in the minds of the audience.
"The artistic world is constantly looking for new forms of expression, innovative approach, and yet it strongly refrains from artists and female artists with disabilities. The campaign aims to highlight artists who, thanks to their non-normative bodies, can enrich the means of artistic expression. Today our activities are referred to as This erroneous assumption blocks us from showing our professionalism and from entering a world where imperfect bodies are rejected. the creators "- says Tatiana Cholewa, one of the protagonists of the campaign.
The protagonists of the project

Dominika Kozłowska – actress, deaf person. She has performed, inter alia, in the play "War in Heaven" directed by Dominika Feiglewicz at Cricoteka in Krakow. The performance received an award during the 2nd edition of the "The Best Off" competition for the best independent theater performance. Currently, he plays the main role in "Opowieści z Wielki blocks" directed by Marta Streker at the Puppet Theater in Wrocław. She appeared in the films "Loneliness", in the video-art "Oj, chmielu" and "And this is just in Poland" realized by the Migawka Foundation.
"Why did I take part in this project? It means who I really am? Because I am deaf, I am an Artist. Of course I am a professional actress.
Know yourself and the whole world will be open to you. The deaf can create art that is accessible to all. Deaf artists have their own history, culture and identity. It is also a search for new, intriguing forms of artistic expression. "
Photo: press materials / Ofeminin

Filip Pawlak – a graduate of the Film School in Katowice and the Academy of Fine Arts in Wrocław, associated with Nowy Teatr in Warsaw, ambassador of the international project "Europe Beyond Access", aimed at increasing the accessibility of the performing arts sector for people with disabilities.
"» I am an artist ". Saying this sentence can be a turning point in life for many people. A sentence which, when said, publicly changes reality. Our passion becomes then treated as work, and amateur interest in art – everyday practice. this is what we strive for.
Unfortunately, people with disabilities often do not get to this point – due to social and systemic limitations, they do not even start to think that they can be artists. That is why I am taking part in this action – to support all non-normative people with courage. We can be artists. Our art is unique. We have the same right to learn, develop and create, and our perspective is unique. "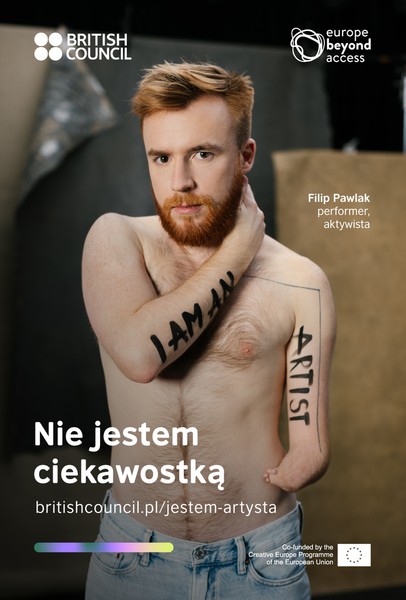 Photo: press materials / Ofeminin

Katarzyna Żeglicka – genderqueer artist with disabilities, feminist and activist, performer and culture animator. She took part in the series of dance laboratories "Dance and disability – crossing borders". She appeared in the plays: "Movement" (chor. Zofia Noworól), "PokaZ 21" (dir. Justyna Wielgus) and "Rafał Urbacki: Solo" and the anarchist version of the Quarantine Project.
"A fit, white or slim body is to some extent" transparent ", it is less often the object of giving it additional meanings. The appearance of a non-normative body on the stage creates a lot of tension, even if the artist does not want it. (…) The disabled artist has to balance between what is visible and invisible, what is efficient and ineffective, and must be aware of potential prejudices and stereotypes of the audience.
Artists with disabilities cannot study in art schools, they are not on the mainstream stages, they are not recognized as professionals. Our work is assessed in the category of art therapy and choreography, not art. If we appear on stage, we are not treated as people with various motor vocabulary, but objectified and re-enactors, reduced to the role of curiosities, whose bodies can be manipulated on stage in any way. For me, the campaign is a form of theater into public space. It provokes the audience to look my way and reflect. I am not in the theater, I will be at the buildings and stops. It's impossible not to look at me for a second. "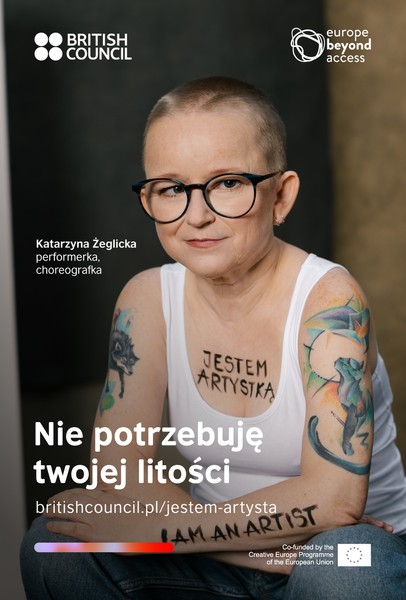 Photo: press materials / Ofeminin

Patryk Krause – theater artist with cerebral palsy. Together with two professional actors, Grażyna Wydrowska and Janusz Stolarski, he played in 2015 in the play "Wklęsły" in Poznań. He is also a competitor of RaceRunning – a run with a three-wheeled bicycle without pedals. In this competition, at a distance of 800 meters, he set a world record. "I certainly would like people not to see us as someone else. So I go to the theater for a performance – no matter who is playing. The most important thing is art. It is also important for people who are at home, because they can see in it a chance for themselves. Theaters should be more accessible to disabled artists and audiences so that more people have the chance to fulfill their dreams. "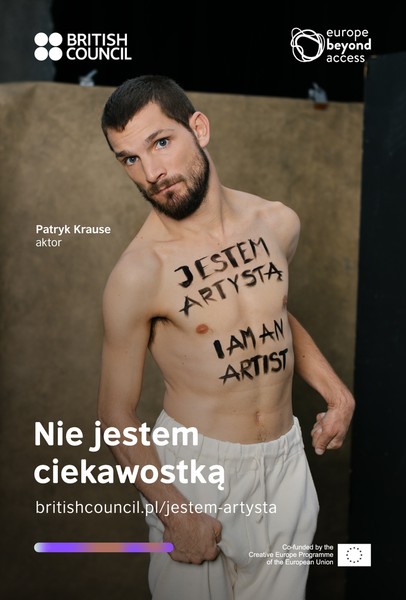 Photo: press materials / Ofeminin

Maja Kowalczyk – actress, dancer and artist with Down syndrome. She appeared, inter alia, in the Polish version of the play "Gala" by Jérôme Bel, during the Body / Mind festival in Warsaw and the project "Survival Strategies" by Teatr 21 and the Inclusive Arts Center. Since 2006, she has been implementing theater projects with Teatr 21, but also took part in the play "Constitution for the Choir of Poles" directed by Marta Górnicka at Nowy Teatr in Warsaw. "I want to show that I can do a lot, I like theater, I like to compose music, improvise on the saxophone, dance, sing, paint. I like to give people joy".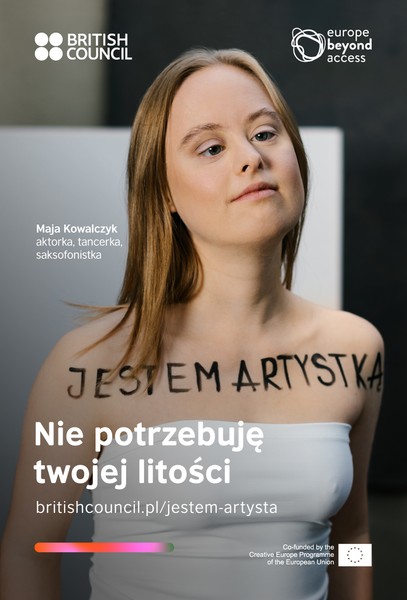 Photo: press materials / Ofeminin

Tatiana Cholewa – he moves in a wheelchair and is one of the few dancers in Poland with alternative motor skills. He plays in shows in Poland and abroad, conducts workshops, combining a variety of bodies. Works for artists with disabilities.
"Information about the creation of a campaign for Artists with Disabilities was an incredibly euphoric message for me. Receiving an offer to participate in this campaign, I did not think long, knowing how important it is for Artists in wheelchairs. Many theaters do not have facilities adapted to artists. with motor organ dysfunction and for this reason we are excluded from the possibility of showing our own creativity or taking part in recruitment to dance and theater groups. Many minds open to our otherness, but it is not enough to be able to talk about equal access to creating or participating in the world The campaign allows you to show creative people who professionally deal with art, regardless of their limitations.
Identifying myself as an artist, I would like my work to be assessed through the prism of the artistic message, and not by my defective body. I would like to talk to institutions, not starting with the question – is he available for an artist in a wheelchair? And characterize your disability in terms of physicality, just talk about artistic message.
I sincerely hope that the campaign will have a positive response in the art world, which will result in equal rights in art creation and accessibility without excluding ".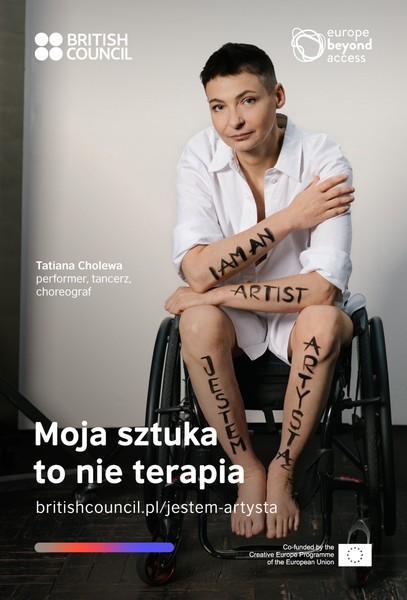 Photo: press materials / Ofeminin

The campaign is organized by the British Council, an institution representing the United Kingdom of Great Britain and Northern Ireland in the field of cultural and educational cooperation. The organization is active in the effective management of diversity and the promotion of equal opportunities.
The campaign slogans are:
I am an artist. I'm not a curiosity
I am an artist. My art is not therapy
I am an artist. I don't need your pity
You can read more about the project on the website: https://www.britishcouncil.pl/projekty/sztuka/jestem-artysta
See also:
Disney introduces a fat heroine. Teenager suffers from dysmorphophobia
Source: Ofeminin
Disclaimer: If you need to update/edit/remove this news or article then please contact our support team
Learn more