The National Institute against Discrimination, Xenophobia and Racism (inadi) and the advocacy of Public of Services of Audiovisual communication together launched a Handbook of recommendations for the journalists that will cover the World Cup of Soccer Qatar 2022. Through it, it seeks to promote the positive impact of coverage and prevent the reproduction of prejudice, fake news and violation of rights.
In total, the document, which can now be downloaded from the official website of the agencies, has 21 pages. In addition, in its development four axes are touched: racism and xenophobia, violence in the game, discrimination and gender and sexual diversity. For the first, they recommend that African American or African soccer players not be characterized as "black" or "dark skinned", and avoid phrases such as "negative acts or illegal or clandestine practices".
The second axis of the manual consists of violence around football. There they request not to say sayings that promote aggression against the protagonists or arbitral bodies and even the dissemination of violent images. This is where one of the curious points comes in, such as the suggestion that songs such as "Brazil tell me you feel" (popularized in the 2014 World Cup in Brazil) should not be used, since it is "an aggravating song that the fans remind the rival fans of their 'paternity'".
For the third axis, the agencies in charge of Victoria Donda and of Miriam Lewis address the topic of discrimination and gender. In this regard, they express the need not to use insults such as "he can't jump or run that fat" or "he is more attentive to the hairdresser than to training". Finally, the fourth axis reflects the expressions that should not be used since they call into question the sexual diversity of the person.
One of them, for example, is "today we expect to see a team of men, well planted, who demonstrate their manhood." However, one of the most curious and almost unusual points is found at the end, when the sources consulted are shown. It is that it can be observed that of the eight, three belong Wikipediathat is, the publication runs the risk of lacking exact data since it is a site that allows anyone to modify its content.
In fact, this last point was highly questioned by users of the social network Twitter. "Good job, but the next time it doesn't look like a TP (practical work) of admission to the UBA (University of Buenos Aires) that was put together a day before the delivery date…", ironically a user commented on the publication of the manual by the Ombudsman. Another, meanwhile, asserted: "I like that it says consulted sources and most are Wikipedia."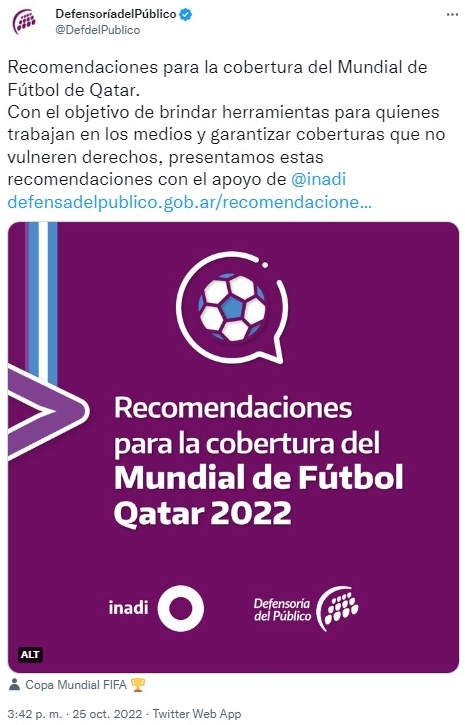 ? INADI protocol for the Qatar World Cup: advice for rapporteurs and commentators

? Schism and Xenophobia: "It is advised not to use the word 'black' or the construction 'dark skin'".

? I followed #Argenzuela with @rialjorge [EN VIVO] https://t.co/9fxDe5Kt8s pic.twitter.com/QAEInTk17r

— C5N (@C5N) October 27, 2022
Source: Elintransigente
Disclaimer: If you need to update/edit/remove this news or article then please contact our support team
Learn more