Ofeminin

Lifestyle

Culture

The saga of the Tyszkowski family is a daringly written romance by Magda Skubisz seasoned with a pinch of herbalism and a handful of feminism!
The first volume of the series, "Atekarka" tells the story of Ekaterina. Katja is a herbalist. The best in the area, and maybe in the whole of Galicia. Plants talk to her (not really, plants can't talk), the girl has a medical instinct, and she prefers herbariums to romance. And this causes her problems, because in the 19th century even a doctor cannot appreciate knowledge and logic.
Especially an arrogant pig like Dr. Roztworowski. When you add character and a sharp tongue, it is easy to imagine what Katja goes through in your courts or in sick shelters, where whispering rules. To make things more difficult, the girl received a pre-eminent feminist upbringing from her adoptive father, the herbalist Batka, who used to dry mushrooms on the pages of guides for well-mannered virgins. In a word: Katja often has to mentally say a prayer to the patroness of the patient, so that she will not get the usual human damn. And this one most often finds her in the company of a self-righteous, malicious and handsome nobleman. His wit is as sharp as her intelligence, and her pugnacious character is as tough as his military skill.
The second volume, "Devil's Garden", told from the perspective of Tyszkowski, allows you to step into the skin of a haughty nobleman – which is undoubtedly a nasty experience – and with him go on a daring journey through the meanders of the nineteenth century – which is certainly an unforgettable experience.
Katja slips out of Antoni's hands as a result of a noble intrigue. Torn by the pain of a hopeless feeling for a wench of the people, thrashing from love to hatred and from contempt to adoration, the tormented Tyszkowski does what he knows best: he ruthlessly torments others. The swift turn of the impossible relationship between these two is enriched by a brilliant moral background: the fashionable hobby of a nobleman-moron from a neighboring manor house, scary female practices and nineteenth-century kidnaping.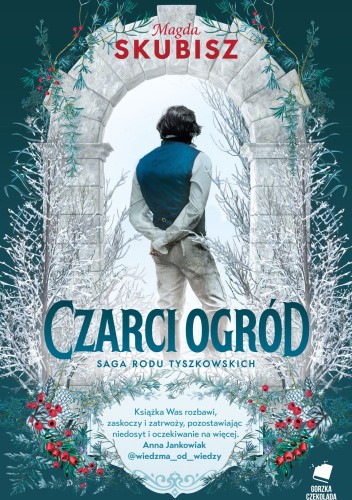 Photo: Media Family Publishing House

Source:

Press material of the company Media Rodzina
Source: Ofeminin
Disclaimer: If you need to update/edit/remove this news or article then please contact our support team
Learn more