Many of us have heard about the acronym AZS, but there is no point in deceiving ourselves – although we can know what is behind these three letters, our knowledge of the disease itself and its course can be really scarce. What can make atopic dermatitis worse? What myths have arisen around him? And most of all – why reach out to bring relief not only to the skin, but also to yourself? We asked our specialist about all this and more.
Although the acronym acronym only consists of a few letters, the course of the disease itself, its genesis and how to deal with it are a bit more complicated. Expert – Monika Homzwhich deals with the treatment of acne, scars, baldness and general solving of skin problems on a daily basis, we asked her to tell us about atopic dermatitis in a simple way and explain the most important aspects – so that the nuances of this disease could be read by others only the people who suffer from it, but also those around them.
What have we learned?
Karolina Reszkowska: Although the term AZS is known to some too well, how can you explain the simplest way to the rest of the people, what is behind this abbreviation?
Monika Homza: The simplest way to say that behind this abbreviation is itchy and excessively dry skin. Atopic dermatitis, or atopic dermatitis, is the body's lack of resistance to a given allergenic factor.
What are the most common symptoms of atopic dermatitis, and which we may not have heard of so far, although they indicate this condition?
The most common symptoms, which may not be that well known, include itching of the scalp, feet and hands, and dry and itchy bends of the elbows and knees. It is also worth mentioning the general itching of the body, which intensifies at night, as well as itchy skin on the eyelids and bacterial, fungal and viral superinfections.
What can make symptoms worse?
All symptoms of the disease can be exacerbated by, inter alia, stress and numerous environmental factors, which include e.g. contact with allergens, inadequate clothing and disturbed intestinal and skin microbiome.
How can we alleviate the symptoms of AD? What advice would you describe as the most effective and universal?
First of all, I would advise you to avoid washing yourself with alkaline soaps, I would also advise against hot baths and staying in too dry or too humid air. Cigarette smoke and smog, as well as clothing made of synthetic and wool fabrics, also work to the disadvantage of people suffering from AD. It is also important to use strong detergents, in the composition of which we can find numerous dyes and fragrances. It is also worth avoiding antibiotics in early childhood.
If we reach for cosmetics, what properties and ingredients would it be worth looking for?
When caring for AD skin, we use cosmetics with moisturizing, soothing, oiling and anti-itching properties, with ingredients such as sunflower oil, vegetable glycerin, macadamia oil, squalane, beta-glucan, cottonseed oil, canola oil, olive oil, EFAs, lanolin, vitamin B3, mineral salts, hyaluronic acid, ceramides and d-panthenol.
People who value comprehensive solutions will certainly be pleased that these ingredients can be found, among others in cosmetics that are part of the dermatological treatment Ziaja skin care with AD.
Should skin care for a person with AD should change depending on changing weather conditions? What products can we supplement our care with to properly care for our skin with AD in winter?
People with AD can make a huge difference by changing or adjusting their care to changing weather conditions. In winter, in order to properly care for your skin, we can supplement the care with two-phase products, i.e. hydro- and lipophilic.
What are the myths surrounding the disease itself? Both in terms of how it is perceived by others and in terms of what to use to mitigate its effects?
There are many myths around the disease itself. Among them we can mention, for example, the one that says atopic dermatitis is contagious, the one that says that people with AD must constantly change their skin care cosmetics, the one that says that atopic dermatitis cannot be used in a swimming pool, or the one that suggests that AD can be cured acupuncture, bio-currents and massage.
Can the proper care be supplemented with other, perhaps even home remedies that would help bring relief to the skin and people suffering from AD?
Of course. The mere fact of ensuring the right temperature and air humidity can bring relief. The same applies to a diet rich in omega-3 and 6 fatty acids (e.g. evening primrose oil) and the application of vegetable oils such as black seed oil or coconut oil to the skin.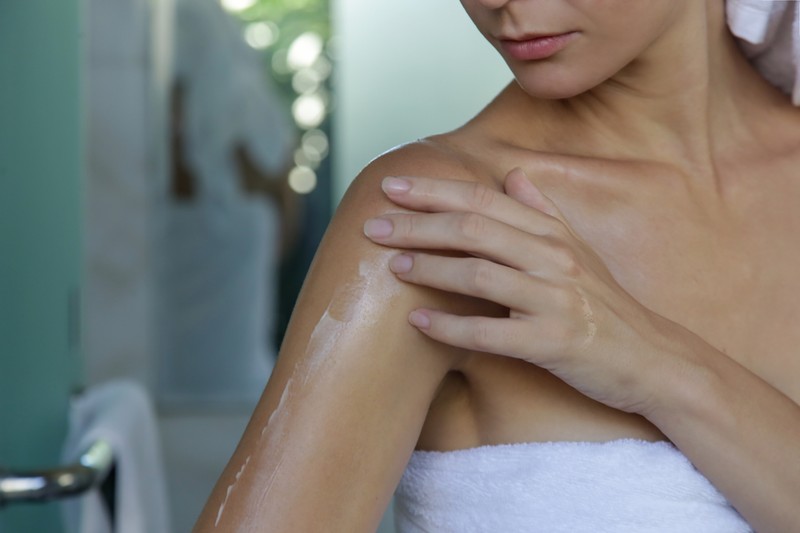 Photo: Ofeminin

Source: Ofeminin
Disclaimer: If you need to update/edit/remove this news or article then please contact our support team
Learn more