23 Sep 2022 10:11 p.m

With the announcement of referendums in southern and eastern Ukraine, Russia has decisively changed its approach in Ukraine. Gevorg Mirsayan, a political scientist, thinks it's time for the West to shake off its illusions and rethink its current strategy.
By Gevorg Mirsayan
The events of September 20 and 21 – the announcement of referendums in the liberated areas and Putin's speech – fundamentally changed the whole diplomatic environment of the military special operation. They have shattered Western illusions about the operation that have so far dominated how Europe and the US view events in Ukraine.
First, the illusion that Russia is not ready to go to the end. The status of the military special operation, Moscow's unwillingness to increase military contingents, demonstrative willingness to talk, refraining from attacking decision-making centers in Kyiv in response to Ukrainian shelling against Russian areas – all gave the impression that Russia was a return to the status quo at the price of recognizing Crimea and, possibly, Donbass.
And if sober, cautious politicians were running the West, they might have done just that. But today's US and EU leaders essentially grew up in times of a unipolar world. In the 1990s, when Russia was weak and timid, when his voice could not be heeded. And Moscow's caution in the first months of the military operation was interpreted as weakness, of all things. Western politicians thought they could return to the 1990s comfortable way of dealing with Russia, exerting pressure, issuing ultimatums, etc. And that was done – immediately after the successful Ukrainian counter-offensive in the Kharkov region, Chancellor Olaf Scholz and other Europeans called Politicians approached Vladimir Putin and suggested that he give up. "Give up" meant nothing more than a capitulation – a return at least to the borders of 2022. In such a case, however, millions of citizens in the currently liberated areas would be subject to reprisals by the Kiev regime.
But Putin has rejected the proposal, and his rejection has taken the form of an announcement of referendums. In less than a week, all Liberated Territories whose residents will vote to join the Russian Federation will become part of Russia. This means that peace on the terms of the February status quo will be impossible. For Russia's constitution expressly prohibits even negotiations on the ceding of any Russian territories. What's more, those areas that are currently occupied by Ukrainian troops – such as the cities of Slavyansk and Zaporozhye – will also become part of Russia. This means that Russia will fight for their liberation or demand that Ukraine hand them over without a fight. Anything else would directly contradict the Russian constitution.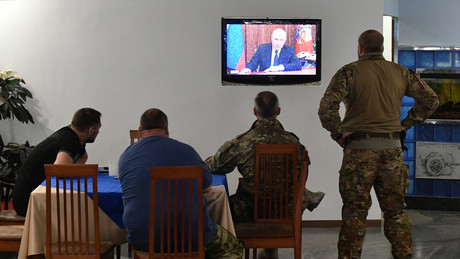 The second illusion now shattered was that supporting Ukraine would have no consequences for the West. Actions by the US and EU on arms shipments over the past few months have been like walking through a minefield. The scope and range of weapons supplied were successively increased. They waited for the moment when Russia would react decisively, when the proverbial penalties for crossing the red lines would come. The West went all the way from supplying non-lethal weapons and equipment to handing over kamikaze drones and 155mm howitzers to the Kiev regime. Incidentally, the cities of the DVR and LVR are regularly shelled with the latter.
And now Vladimir Putin has indicated that the Russian Federation will use all available weapons, including nuclear ones, to protect against attacks on its national sovereignty and territorial integrity. The President did not elaborate further. But it will seem obvious to many that the shelling of a Russian city of Kherson or Donetsk from a HIMARS multiple rocket launcher or a CAESAR howitzer supplied during the conflict to the Kiev regime by the US and French governments, respectively, constitutes just such an attack could be rated.
Of course, Kyiv still demands new arms supplies, and even makes business proposals. Deputy Defense Minister of Ukraine Vladimir Gavrilov announced:
"If you have any ideas or pilot projects that need to be tested before mass production, you can send them to us and we will explain what to do."
But such proposals risk retaliation from Russia. And now the Western leaders have to decide how to act under the new conditions, how to continue participating in the Ukrainian campaign.
Of course, their official statements sound cheerful. Some are announcing new sanctions. The chief European diplomat Josep Borrell announced:
"Additional restrictive measures against Russia will be presented as soon as possible in agreement with our partners."
However, he did not explain what the sanctions were. Because all sorts of sanctions have already been imposed, which Borrell himself admitted at an earlier point in time. And imposing new sanctions is problematic, especially given the growing dissatisfaction of Europeans. The first demonstrations against including Europe in a conflict with Russia and the associated decline in the quality of life have already begun.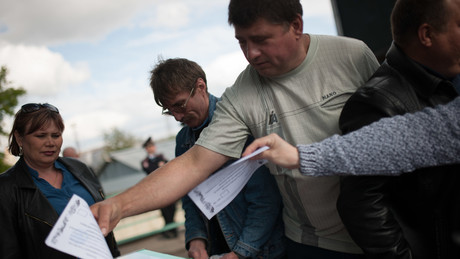 The other European leaders grumble about the referendums. It was "very clear that these sham referendums cannot be accepted," Olaf Scholz claimed. Emmanuel Macron called the referendums a "parody" after Vladimir Putin refused to interview him. But everyone understood very well that from the beginning Moscow did not care whether the foreign-controlled Western governments would recognize the referendums in the DPR and LPR, in Zaporozhye or Kherson.
A third group of politicians even assured that they would continue to arm themselves. British Prime Minister Liz Truss said:
"Ukrainians are not just defending their country, they are defending the values ​​and security of the whole world. That's why we must act. And that's why Britain will spend 3 percent of GDP on defense by 2030 and remain the security leader in Europe."
But for God's sake let them rearm. Moscow has not and does not intend to attack NATO. And if Britain wants to challenge the EU for regional supremacy under the pretense of alleged Russian aggression, that's just a problem for Europe's wannabe power players. And as long as they keep to themselves, it's none of Russia's business.
Sometimes constructive suggestions are made. Emmanuel Macron said:
"Everything must be done to return to negotiations on Ukraine."
But the question is, under what conditions? If Europe is ready to unconditionally recognize the transition of the DPR, LPR, Kherson, Zaporozhye and Crimea to Russia, then we can certainly negotiate. And if they are not ready, we can wait until the remaining US and EU illusions are gone.
Translated from Russian.
Gevorg Mirzayan is a lecturer at the Department of Political Science at the Financial University of the Government of the Russian Federation.
more on the subject – The end of all illusions: the West wages a war to destroy Russia
RT DE strives for a broad range of opinions. Guest posts and opinion pieces do not have to reflect the editor's point of view.

By blocking RT, the EU aims to silence a critical, non-pro-Western source of information. And not only with regard to the Ukraine war. Access to our website has been made more difficult, several social media have blocked our accounts. It is now up to all of us whether journalism beyond mainstream narratives can continue to be pursued in Germany and the EU. If you like our articles, feel free to share them wherever you are active. It's possible because the EU hasn't banned our work or reading and sharing our articles. Note: However, with the amendment of the "Audiovisual Media Service Act" on April 13, Austria introduced a change in this regard, which may also affect private individuals. That's why we ask you not to share our posts on social media in Austria until the situation has been clarified.
Source: RT
Disclaimer: If you need to update/edit/remove this news or article then please contact our support team
Learn more