What seemed like a meme is taking less time than expected. The race to bring Dynamic Island to Android already has several participants. The iPhone 14 Pro, regardless of how much sales volume it ends up having (which aims to be quite high, unlike the base models), will mark a path in the design line both from the manufacturers that join the trend of the island and from the developers, who are already bringing it to Android.
The democratization of AMOLED and the central holes in the screen allow this idea to be relatively easy to imitate at the software level, and in just two weeks since the concept of the Island was made public, we already have similar proposals from various fronts.
Developers are giving everything to bring the Island to Android
Just a couple of days after the arrival of the iPhone 14 Pro, developers external to Xiaomi began creating themes and APKs with the integration of this island. For obvious reasons they are still betas and first versions still in development, but they were the first participants in the race to copy this function.
It is expected that, within a few weeks, we will find the Xiaomi theme store (as well as that of other manufacturers with theme engines adapted by third parties, although approved by the OEM itself), will begin to have these functions. But the thing is not only about topicsand it is that the first applications in early access are already appearing in the Play Store.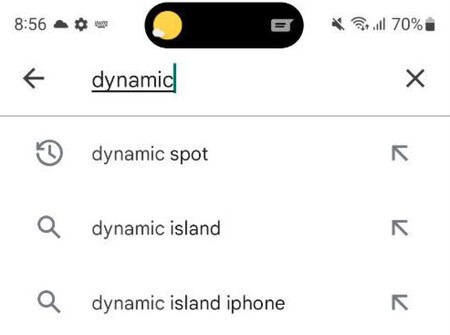 If we write "Dynamic" in Play Store there is already an extensive list of results with the searches that users start doing. There is interest in the feature, and most users want it on their phone. Dynamic Spot has been the first to reach the Play Store (in early access), but it won't be the last.
And not everything is software. The next Xiaomi CIVI will leave behind the holes in the screen that we have been seeing for years to imitate this island pattern, simulating it by software and joining the space between the different sensors. It's just the beginningand it is that the iPhone 14 Pro have not been on sale for a month.
The dark side of having this feature on Android
The arrival of Dynamic Island on Android comes from the hand of a small problem, and that is that this type of app need the accessibility permission. This is Android's biggest security drawback and how hackers start infecting Android 13.
On paper, there shouldn't be much of a problem if we download this type of app from the Play Store, always keeping in mind that we are granting them full permissionsas they need permission to overlay on top of other apps, as well as access to notifications.
Source: www.xataka.com
Disclaimer: If you need to update/edit/remove this news or article then please contact our support team
Learn more