It is at 2:00 p.m. today that PICO, the Chinese manufacturer, gave its first press conference in Europe. After a great communication campaign via numerous teasers, the all-in-one virtual reality headset PICO 4 has just been revealed. After the PICO Neo 3 Link, released a few months ago, this new helmet is also positioning itself as a direct competitor to the Meta Quest 2 on the VR autonomous (without the need for a PC, console or smartphone to operate). The first remains on sale and is aimed more at advanced users who want a wireless headset to connect to their PC, while the PICO 4even if he too can do it, really aims at the user casual wanting to have fun, work, dive into a metaverse or play sports VR without headaches or additional equipment.
The PICO 4 is therefore a helmet VR standalone running Android. It allows you to dive into virtual reality via its catalog of dedicated applications, videos and games (almost 300 to date) accessible via the Pico Storebut also to take advantage of the catalog SteamVR thanks to its Wi-Fi connection if you have a PC gamer. PICO also announced a partnership with the platform wave which offers online entertainment, which should allow owners of PICO 4 to attend live concerts. Fitness is another focus of the PICO 4 and it will offer user fitness tracking via the program Pico-Fitness. Thus, it will be possible to consult the history of energy expenditure during game sessions or applications in VR through motion tracking. During 2023, connected bracelets will be available and can be used with the PICO 4. A priori, the latter may even recommend certain exercises to users according to the objectives they have set. Fitness content will include Les Mills Body Combat, All-in-One Summer Sports VRand Just Dance VR (Ubisoft) which will be exclusive to Store in 2023.
Other content is planned in the areas of fitness, games, video and social networks. This includes the groundbreaking PICO Worlds project, which will arrive in 2023 to provide a more realistic physical interaction experience by implementing an avatar-like system capable of recognizing over 80 dimensions, as well as exclusive documentaries in partnership with Discovery. Channel.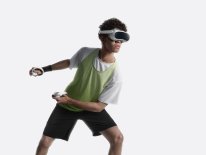 Compared to the various models existing to date, it is lighter (295 g) and above all much thinner (35.8 mm in its thinnest part) thanks, among other things, to the use of lenses pancakes which allow the screens to be placed closer and, consequently, to considerably reduce the thickness of the helmet. It is equipped with the chip Qualcomm Snapdragon XR2 (Adreno 650 GPU), a 4K+ display (1200 ppi) with a refresh rate of 90 Hz, a field of view of 105° (FOV), four tracking cameras, 128 or 256 GB of storage and a battery 5,300 mAh with fast charge (Qualcomm Quick Charge 3.0) placed at the back of the head, for better weight balancing. The inter-pupillary distance (IPD) is manually adjusted step by step between 62 and 72 millimeters via a motor. Finally, augmented reality vision (Seethrough at the house of PICO, pass-through at the house of Meta) will deliver vivid colors thanks to the onboard 16MP RGB camera. Of course, the headset allows you to draw a play area either stationary or for free movement and the controllers, which are very beautiful, offer haptic feedback which seems to have been improved compared to the previous generation.

On the comfort side, it is equipped with an adjustable ratchet strap, a facial interface (supporting a spacer for spectacle wearers) with a fabric cushion SuperSkin allowing users to stay cool and dry, and a PU coating on the back cushion. A whole range of accessories compatible with the PICO 4 will be available in 2023. The connected bracelets, a carrying case and a dongle Wi-Fi to simplify and optimize the connection to a PC.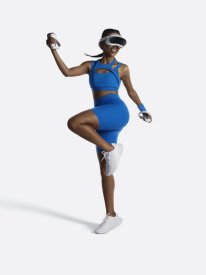 Note, on the good news side, there are ventilation grilles on the front of the helmetwhich suggests that, as with its big brother the PICO Neo 3 Linkduring hectic gaming sessions or fitness sessions, fog will not be present. On the negative side, there is no jack which means that it will not be possible to add a wired headset. Knowing that the connection Bluetooth is not advertised as being in low latency, it will be impossible to play with a sound delayed by one or more seconds. The only hope for those who don't like to annoy people around them with the sounds of their games: the use of a USB Type-C to "Audio and charge" adapter if it works or even the announcement of a dedicated headset, if possible. It must be admitted that this absence of a headphone jack is quite surprising and could well put some people off.
Here are the technical characteristics of the Pico 4:
PICO 4 (standard model):

Dimensions : 255 (Min) / 310 (Max) mm (L) -163mm (W) – 83.5mm (H)
Weight : 295 grams (without the strap) – 586 grams in total
Chip : Qualcomm XR2, 8 Cores 64 bit, 2.84GHz, 7nm process technology – CPU: Kryo 585 –

GPU: Adreno 650

Storage : RAM: 8GB LPDDR4X, 2133MHz / ROM: 128GB/256GB, UFS 3.0
Display : 2 LCD screens of 2.56 inches – 1200ppi – 72Hz and 90Hz
Definition : 4320 x 2160 (2160×2160 per eye)
FOV (field of vision): 105°
Lenses : pancakes
IPD : adjustable step by step from 62 to 72 mm
Blue light protection : TÜV Rheinland Low Blue Light certified (software solution)
Speakers : 360° surrounding stereo, with spatial 3D sound
Microphone : Dual Mic up to 30dB noise reduction and 50dB echo cancellation
Cameras : 4 Fisheye tracking cameras, an internal 16MP RGB camera
Helmet sensors : 9-axis sensor, P-Sensor, Hall Sensor, Motor Driver
Controller sensors : 6-axis sensors (Gyroscope Accelerator)
Type of controllers : 2 x 6DoF broadband haptic motion controller
Buttons : Joystick / Trigger / Grip / Menu / Capture / Home / X/Y (left hand) / A/B (right hand)
Engines : Broadband Motor, 50~500Hz, vibration support up to 2.8G
Headphone battery : 5300 mAh – 2.5 to 3 hours of battery life – Quick charge QC3.0 – Rear positioning for better weight distribution
Controller batteries : two AA batteries – 80 hours of battery life (Laboratory data. In actual use, the vibration frequency of different scenes may be different and there may be variations)
Wireless : Wi-Fi 6, 2.4GHz/5GHz dual-band support
Bluetooth: Bluetooth 5.1 support
Operating system : PICO OS is developed on the basis of Android and is an operating interface system specially designed for all-in-one virtual reality. PICO OS has been deeply optimized for VR games, audio and video, and interactive operations to make the experience of using virtual reality devices easier and smoother.
The PICO 4 will be available on October 18 in thirteen European countries at the recommended price of €429 including tax for the 128 GB and €499 including tax for the 256 GB. It is therefore less expensive than its competitor the Meta Quest 2, which should motivate many buyers who found the helmet of Facebook too expensive. Moreover, its catalog is filling up at the speed of light, since the developers are helped by PICO and do not have much to do to carry out a port (same basic architecture). In the end, only the exclusives of the Meta Store (Beat Saber, Population One…) will not be able to arrive on the Storebecause the studios in charge of these titles have all been bought by Meta but they are not legion. Besides, this shouldn't bother users too much who can still access these titles via SteamVRif they have a PC. The European members of the program PICO Neo 3 Link Beta will be able to pre-order this new helmet from September 23 via bestware, VR Expert, XR Shop and System-Activewhile the general public will have to wait until October to be able to have fun via Amazon, Mediamarkt, Elkjop, The Very Group and coolblue.
Update 1: the prices given are indeed inclusive of VAT and not exclusive of VAT as initially indicated in Pico's press release.
Update 2: Addition of the complete PICO 4 technical sheet.
Source: gamergen.com
Disclaimer: If you need to update/edit/remove this news or article then please contact our support team
Learn more