The front of all on the Chamber of Deputies requested this Friday removal of Joseph Louis Espert from his bank for a tweet. Through a letter signed by the head of the block, German Martinez, Paula Penaca Y Jose Luis Gioja, the legislators sent the request to the head of the enclosure, Cecilia Moreau. In it, they argued that the referent of Liberty advances adopted a position of "moral inability".
The ruling coalition questioned Espert for his controversial statements in which he called for "jail (6 months to 3 years) or bullet" for the Sutna protesters who took the fourth floor of the Ministry of Worked in the framework of joint negotiation. Given this, the ruling bloc expressed its "absolute repudiation of the expressions" and pointed out: "Enough of violence and threats issued by leaders with institutional responsibilities."
Protected by Article 66 of the National Constitution and Article 188 of the Regulationthe Frontodist legislators requested the formation of a Special Commission to evaluate the conduct of the libertarian deputy accused of "systematically requesting death as a response to any conflict, contrary to all the democratic and constitutional principles that he must comply with."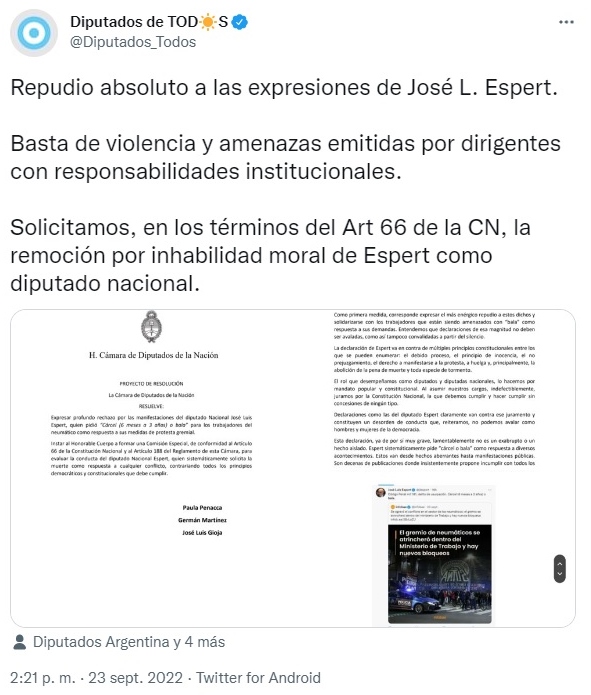 Along the same lines, the 118 indicated that Espert's expressions should not be endorsed or "validated from silence." "Espert's declaration goes against multiple constitutional principles, among which can be listed: due process, the principle of innocence, non-prejudice, the right to demonstrate, to protest, to strike and, mainly, the abolition of the death penalty and all kinds of torture," they argued.
Likewise, they pointed out that this is not an outburst or an isolated event, but that the economist "systematically asks for jail or a bullet in response to various events." "There are dozens of publications where he insistently proposes to breach all constitutional principles," they stressed.
For their part, they framed the statements in the national context marked by Fernando Sabag Montiel's assassination attempt on the vice president, Cristina Kirchner, and called for reflection by political actors against acts of violence and for the preservation of the democratic pact. "It is the very delicate context that our democracy is experiencing that aggravates these demonstrations," they asserted.
And they added: "The assassination attempt against the Vice President of the Nation just three weeks ago should call all those who exercise political representation to reflection. Explicit violent actions that attempt against the democratic pact that cost our country so much take place in enabling climates, in frameworks where expressions of hatred, denigration and dehumanization of the other are naturalized.
Finally, they demanded that the Special Commission be able to propose the disciplinary sanctions "that the case demands." "It should be noted that the same slogan, 'jail or bullet', also appeared in demonstrations by violent groups prior to the attack. It is necessary for our institutions to repudiate hate speech and take action to generate a climate of dialogue that strengthens our democracy against those who seek to aggravate it", concluded the Frente de Todos.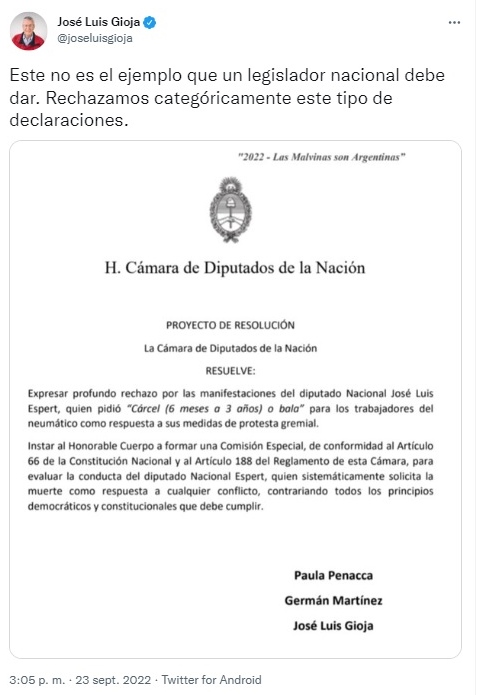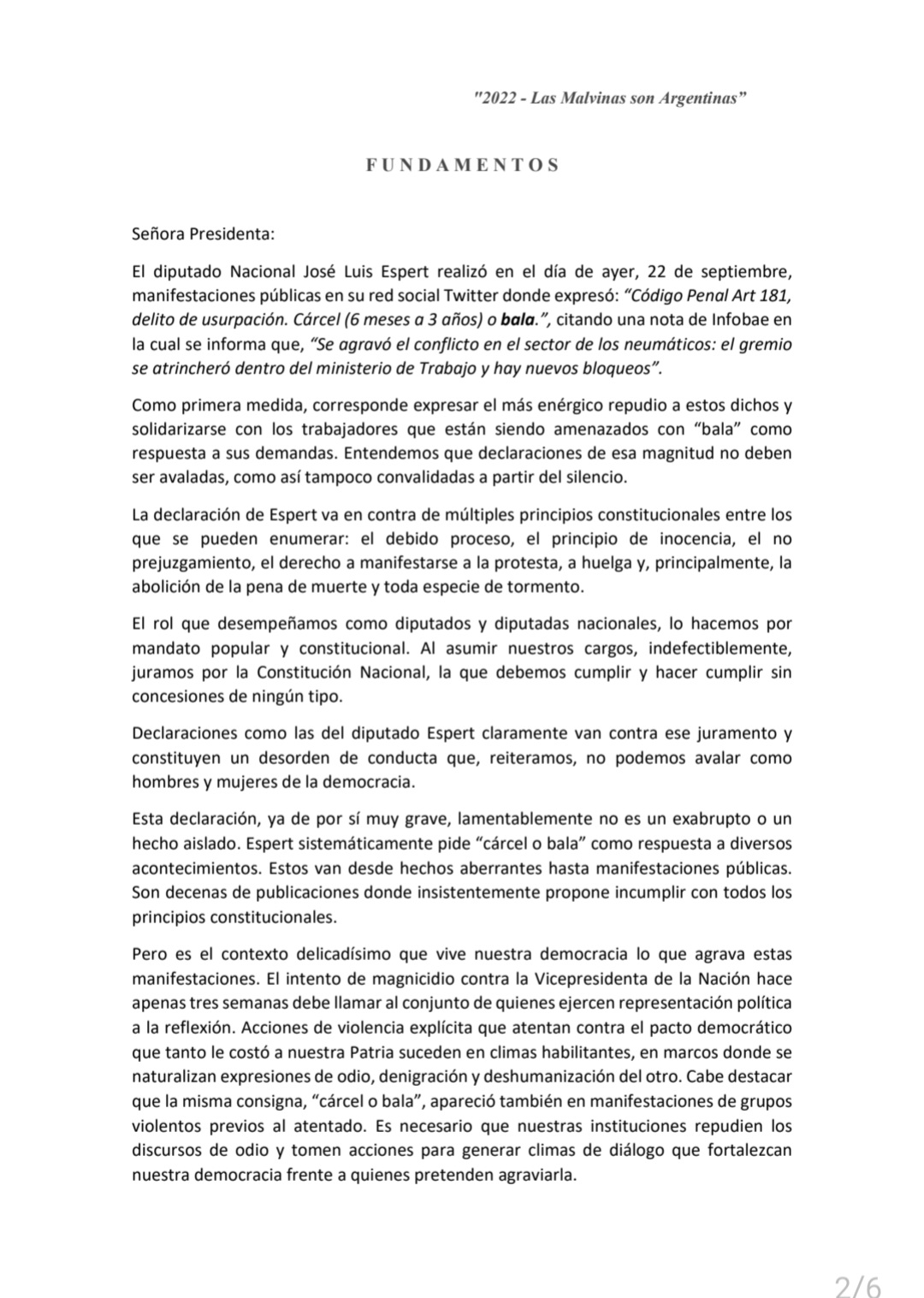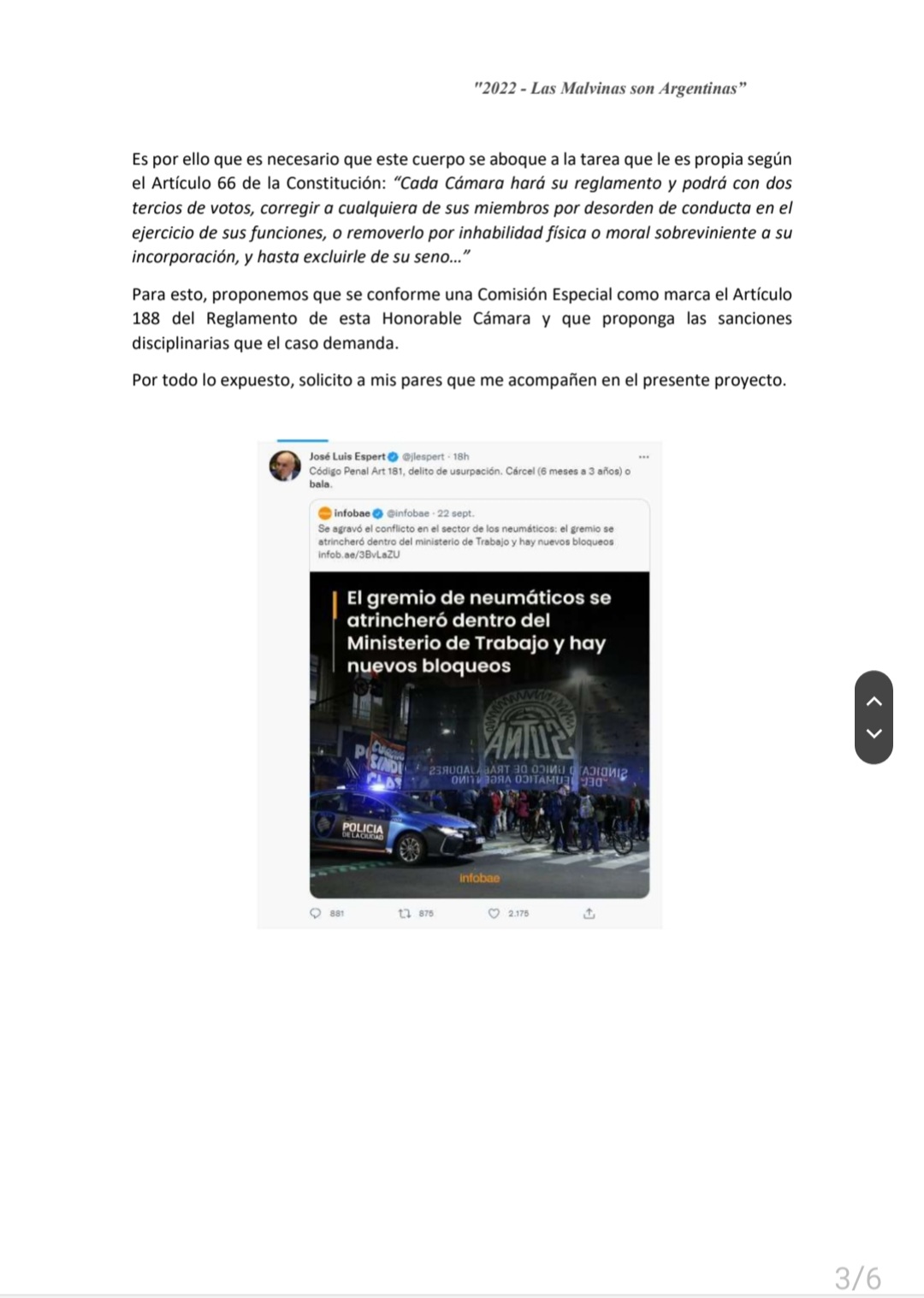 Source: Elintransigente
Disclaimer: If you need to update/edit/remove this news or article then please contact our support team
Learn more