You never know how far you're going to get. Or with whom? September 2, forbes magazine published its new edition. In it, the renowned business and innovation firm brought out one of the most recognizable lists in the world of money, the list "The hundred most creative in the business world".
The list, which in this edition carries on the cover the Argentine producer Bizarrap – co-author, together with quevedo, of staythe most played song on digital platforms so far this year – mentions some of the newest minds, disruptive or original making moneyeither for their crazy ideas when it comes to increasing turnover or for having set up an original and, above all, profitable project.
writers bestsellersfilm directors, creators of startup or R&D directors are some of the names that appear on its pages, as well as singers, such as the Catalan Rosaliaor high-end chefs, such as the cook Quique Dacosta. However, who said that it was not possible to reach Forbes by dedicating oneself to the undervalued Spanish primary sector?
Beatrice Pablos He spends a lot of time in the field. Sometimes alone. "When you spend so much time up and down with the animals, it is normal that you think a lot," she says. Although, as much as she thought, she also assures that she never imagined that she would appear in the pages of Forbes. Beatriz is from Trujillo 38 springs who has become the first woman to own the Pablos Ranch, a family business with 120 years of trajectory that lives rooted in the province of Cáceres.
Two years ago, shortly before the pandemic, he took over the cattle ranch and decided to continue with the family business. Now, he has made it to the pages of the largest business publication on the planet for his regenerative farming. A project in which they use herbivorous cattle, soil and grassland. "By moving these three elements, we improve our soils in terms of water retention and carbon sequestration," he says. In this way, they get more and higher quality pastures for their cows, which causes a favorable economic impact"
Beatriz, after finishing studying cooking in Seville –it was the year 2014–, moved to Madrid to work in the kitchens of some of the most renowned restaurants in the capital, such as the famous Zalacain. Later, he spent some time working aboard the Donostia-based Mirador de Ulía, from which he jumped back to the capital in search of setting up his new project. However, everything took a turn in his life.
"At the end of 2019, I was in Madrid looking for places to set up my own restaurant. Cooking is something that I am passionate about and to which, I do not know in what form, I will return, "he tells EL ESPAÑOL in a telephone conversation.
"However, everything changed when My father got very ill and passed away. Our family has always been closely linked to the countryside, so I returned to Trujillo to take a year for myself, to reflect. But not to the town itself, but to a house that the family has in the middle of the field".
For most, changing the constant noise of the city sidewalks for the cold silence of the countryside can be a complicated decision, almost unthinkable; in fact, many of those who try, after a short time, decide to return to the cities. But not Beatrice.
"In my case, the transition from the city to the countryside was not very complicated. The truth is that she was already tired of the stress of the city and gastronomy. Although I often miss the hustle and bustle of a kitchen, it is a very stressful world."
In fact, Beatriz's immersion in the isolation of the field caught her at a time when all the rest of us also had to isolate ourselves: "I started very shortly before the Covid began. I can say that I gained in quality of life, because I was outdoors".
"Taking advantage of the arrival of the pandemic, I signed up for all the regenerative livestock courses that I found. I fully immersed myself in this world with the help of my manager Juan Manuel, who knows a lot about the field, and my brother Maxi, who supported me a lot".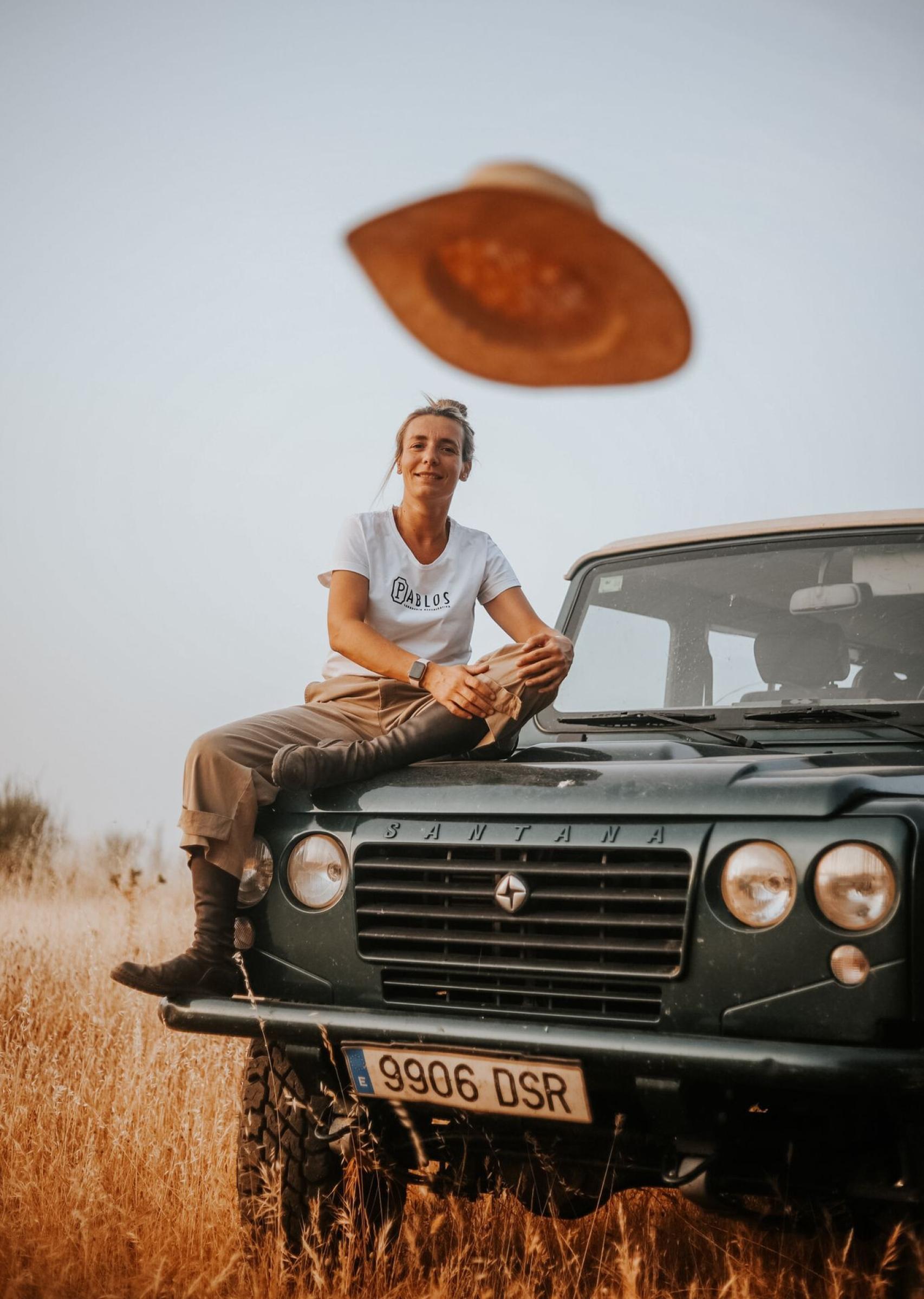 Although this young woman from Extremadura has become famous and has entered one of the most prestigious lists in the world thanks to a job as noble as it is ancient, her business model is based on regenerative livestock farming, a novel proposal based on sustainability and regeneration of the fields thanks to the animals. "This type of livestock goes beyond ecological, it is a higher level."
While, for example, to maintain and feed a cow farm you need a space in which the animals live and another in which what will be their food is grown (with the ecological impact that this entails), regenerative farming is based on his model in grazing and the freedom of animals.
This, in addition to causing a much smaller impact on the ecosystem, can help clean and maintain the field, since planned grazing allows, for example, animals to naturally clean a meadow. In many areas of Spain, in fact, the transhumant grazing as a fire prevention measure.
This novel union, that of traditional meat production combined with ecological awareness, is what has made Beatriz go from discreetly running her farm to appear in Forbes and collect headlines. However, the manager of Pablos does not boast of her position or attack other methods of meat production when asked about the macro-farms, the controversial massive centers for raising animals for human consumption: "The macro-farms have been criminalized a lot without to know".
"The first thing to ask is what they are. A macro farm is nothing more than a livestock farm very large with high density of cattle. Of course, this means that there are large monocultures with which to create the fattening that is going to be given to the animals, however, in other smaller livestock farms they do the same".
"If the production model is the same, it doesn't matter if it's a macro farm, because the animals will continue to be fattened in the same way. In fact, in smaller intensive farms, it is possible that sanitary measures are not complied with that in the macro-farms they are not, because they have the magnifying glass on them all day. Although it is something that I do not do, I respect this business very much, because it is a way of life for many people, as well as a source of affordable protein for everyone."
Although she has nothing to criticize intensive farms, Beatriz also assures that it is possible to transform the production system so that all farms are sustainable: "You just have to change the perspective, become aware. It is necessary to change the large fields of cultivation for livestock areas where the animals are loose and can graze.
Whether or not the production system can be changed, the fact is that Beatriz has managed to appear on one of the most prestigious lists in the world thanks to a business model based on traditional livestock, but from an ecological and sustainable point of view.
"When they called me to tell me about it, I couldn't believe it. The truth is that they do not give you any trophy or anything", he continues between laughs, "it is only an interview. For many of the people on the list, this won't matter, but for me it's great. They have a lot of visibility, but I was an unknown. Being in something like that has given a lot of credibility to what I do. We have not yet commercialized the product, but we already have future clients contacting us".
Who knows how many Forbes colleagues will eat Beatriz's meat without knowing it.
Follow the topics that interest you
Source: Elespanol
Disclaimer: If you need to update/edit/remove this news or article then please contact our support team
Learn more