In a calm and at times pleasant way, the Belgian leaders have sworn their oath before the written press of the whole world. Coming Sunday, Wout van Aert and Remco Evenepoel promise to ride in perfect symbiosis: for each other, for Belgium and for the team. "We would be stupid if we didn't join forces," he said.
About form: "More energy"

The international press hung on the lips of our Belgian leaders. Some of the press, yes. Because due to too much interest, only the written press was allowed.
The crowds in the hall were quickly transformed into tranquility by the signs of Belgian cycling.
Wout van Aert and Remco Evenepoel clearly feel at home after 10 days in Australia: "It was hard work in Canada, I was really tired. But I feel ready for this World Cup, I have built up to this," said Van aert.
Evenepoel sounded similar about his form: "I feel more energy in my body than last week. I'm finally sleeping well too. My body is finally acclimated."
About the duo-leadership: "Profit from it"

Wout van Aert did not hide his ambitions: "It is therefore my biggest goal for the rest of the season."
And praised the national coach for his selection, with two leaders: "We have a strong team. And a very good co-leader, everyone has seen that in the Vuelta. I am looking forward to it. We have to take advantage of it."
"Not many countries will have two more riders in the final. We have to keep both options open. Everyone thinks I will wait for my sprint, but I could also just attack. But I want to show myself as late as possible."
Of course we ride for each other, we will have the same jersey on Sunday.
And whether the collaboration will go well, Van Aert was clear: "It's exactly as if we have to make our vows, like at a wedding. Yes, I want to!"
Evenepoel laughed: "Of course we ride for each other, we wear the same jersey during the race on Sunday."
Van Aert added: "We would be stupid if we didn't use our strengths together, because then we have a better chance of winning."
About ideal scenario: 1st & 2nd

Evenepoel gave his ideal scenario with a grin: "Stay together and become first and second." Van Aert nodded and chuckled.
Evenepoel quickly softened his answer: "Thin out on Mount Pleasant and with a leading group of 8 towards the finish."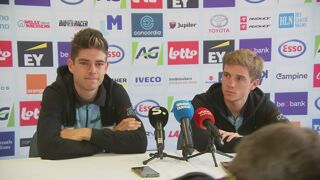 Source: Sporza
Disclaimer: If you need to update/edit/remove this news or article then please contact our support team
Learn more