Even though she is only 13 years old, she has already experienced the hell of war and felt the fear that accompanies a man when he has to fight for his life. Asia and her family were forced to flee their family home, and now the girl and her relatives are in Iraqi Kurdistan. The sadness and despair caused by living in a hostile, strange place were intensified by the dramatic news. It turned out that Asia suffers from a rare autoimmune disease.
Everyone had to flee

13-year-old Asia has been living with her parents and six siblings for three years in the Baharka internally displaced persons camp in Iraqi Kurdistan, near Irbil. Until 2014, the family lived in the city of Sinjar, but on June 5, 2014, as a result of ISIS air strikes, they were forced to leave their place on Earth. They were more fortunate than their neighbors, whose house was completely destroyed and almost all residents died.
Asia and her family fled to Syria, then to Turkey, and finally ended up in Iraq, where they come from. The girl remembers how afraid she was while fleeing to Syria. In this country, they only spent a few days before moving on to Turkey, where they spent the next several years, learned the language and the children went to school.
After some time, the father of the family decided that it would be better to return to a familiar place, close to the family home.
The girl and her family are currently in a displaced persons camp

Photo: Polish Medical Mission / Ofeminin

The Polish Medical Mission helps in the treatment of the girl

In Turkey, Asia's mother noticed spots on her daughter's skin, which, in the dermatologist's opinion, turned out to be the body's reaction to the enormous stress experienced by the bombing. A rare autoimmune disease required specialist treatment. Unfortunately, the problem was even paying for the cost of travel to the city, which the girl's family could not afford. Thanks to the support of the Polish Medical Mission, the 13-year-old finally started treatment in a local hospital, going for laser treatments twice a week and taking medications regularly.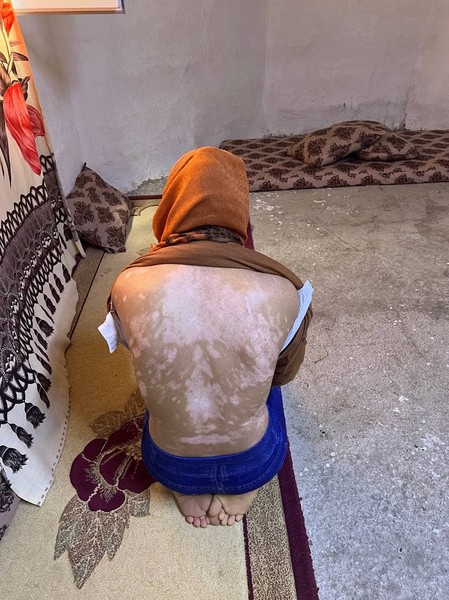 The spots on the girl's body are the body's reaction to the stress experienced by the bombing

Photo: Polish Medical Mission / Ofeminin

After a few weeks, you can see a clear improvement in the condition of the skin, and Asia herself says that in the future she would like to become a doctor and help other children. Optimism and hope for a better tomorrow reappeared in her life.
See also:
A protest at Chopin Airport stopped the deportation of a Kurdish woman with two children. "They are in mortal danger in Iraq"
Atopic girls. "Sometimes I cry, sometimes I scream, sometimes I hate myself"
Watch also:
Source: Ofeminin
Disclaimer: If you need to update/edit/remove this news or article then please contact our support team
Learn more