22 Sep 2022 2:44 p.m

A routine exercise of the NATO-led peacekeeping force KFOR will take place in Kosovo until November. British soldiers have arrived in the breakaway Serbian province for this purpose. In view of the tensions, the alliance could, according to its own statements, increase its troops.
NATO has moved reserve troops to Kosovo for an upcoming exercise, increasing the transatlantic alliance's presence in the breakaway Serbian province by up to 1,000 troops. With political tensions simmering between Pristina and Belgrade, an alliance commander said more NATO troops could be deployed in the near future.
Colonel Christopher Samulski, a US commander in the region for the NATO-led peacekeeping mission KFOR, told reporters on Wednesday that the soldiers had been deployed "as part of normal contingency planning." According to a news agency report Reuters The US officer did not give any specific figures as to how many reservists have now arrived in Kosovo. Speaking to reporters at Camp Bondsteel, a US base in the breakaway Serbian province, he said it was a battalion-sized unit.
A battalion usually consists of between 500 and 1,000 soldiers. Samulski also explained that the First Fusiliers, a British Army infantry regiment, would be taking part in the exercise, among others.
Normally, almost 4,000 soldiers from abroad are stationed in Kosovo at the same time. The Serbian province declared its independence from Belgrade in 2008, almost a decade after NATO waged an illegal war against what was then Yugoslavia on behalf of Kosovo Albanian separatists. For 78 days, the transatlantic military alliance carried out airstrikes on modern-day Serbia. Areas in present-day Montenegro were also bombed. Kosovo's independence, declared by the separatists, is recognized by 97 countries among the 193 UN member states, most of which are considered US allies. Serbia itself – along with Russia and China, but also five EU members – is among the states that do not recognize the independence of the breakaway province.
Tensions between Pristina and Belgrade escalated in August this year after the Kosovan side enacted a law banning Serbian entry documents and license plates on their territory. Pristina attempted to enforce the new measure by sending heavily armed special police forces north to seize control of the Serbia-Kosovo border line. Local Serbs, who make up the majority of the region's population, fought back by setting up roadblocks and violently clashing with Pristina's special forces.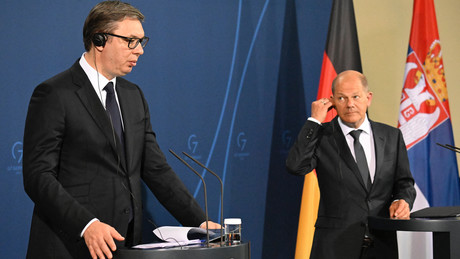 Recently, a compromise was reached regarding the documents to be recognized as valid: Pristina agreed to keep the identity documents issued by Serbia for the Serb population throughout the territory. For its part, Belgrade is now allowing holders of ID cards issued by the breakaway province to travel freely to all the rest of Serbia's territory. So far she had to obtain provisional Serbian documents.
But when it comes to license plates, the dispute has not yet been completely resolved. The government in Pristina declared in June that all citizens – including ethnic Serbs in northern Kosovo – must have number plates issued by their institutions. The law is scheduled to go into effect on October 1. Looking ahead to that date, US Colonel Samulski said yesterday that "other reserve forces that are present outside of Kosovo" could be made available "if we deem them necessary given the current situation on the ground."
NATO Secretary General Jens Stoltenberg had already declared in mid-August that if tensions in the region escalated, the troops of the transatlantic military alliance in Kosovo would be increased. As Stoltenberg said at a press conference with Serbian President Aleksander Vučić in Brussels:
"If necessary, we will move troops, deploy them where they are needed and increase our presence. We have already increased our presence in the north. And we are ready to do more."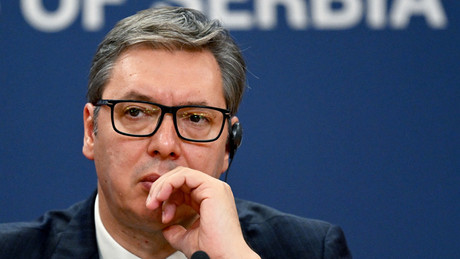 The Serbian President recently accused Pristina of endangering his country's security by sending special forces to the border regions. After previously promising to protect "our people" in Kosovo from "persecution and pogroms" if necessary, Vučić warned MPs in Belgrade on Tuesday that "the danger is imminent, objective and serious."
The announced training of the reserve troops is to last from September 27th to November 2nd. According to the plan, the forces that have arrived should then withdraw from the region again, according to the announcement.
more on the subject – Why are Serbia and Kosovo again on the brink of war?
By blocking RT, the EU aims to silence a critical, non-pro-Western source of information. And not only with regard to the Ukraine war. Access to our website has been made more difficult, several social media have blocked our accounts. It is now up to all of us whether journalism beyond mainstream narratives can continue to be pursued in Germany and the EU. If you like our articles, feel free to share them wherever you are active. It's possible because the EU hasn't banned our work or reading and sharing our articles. Note: However, with the amendment of the "Audiovisual Media Service Act" on April 13, Austria introduced a change in this regard, which may also affect private individuals. That's why we ask you not to share our posts on social media in Austria until the situation has been clarified.
Source: RT
Disclaimer: If you need to update/edit/remove this news or article then please contact our support team
Learn more