Months ago, the cartoonist Nick had denounced the Minister of Security, Aníbal Fernández, for threats via social networks. But this week, to the creator of cat he was charged with a bullet point that he published for a Buenos Aires morning paper. She makes a joke about him. try of assassination against the vice president Cristina Kirchner and criticizes both her and the president Alberto Fernandez. That is why the former president's lawyer, Gregorio Dalbonwent out to cross the cartoonist and stated that he will initiate a lawsuit against him, who did not remain silent and answered him.
It all started on Sunday night, when Dalbón posted a photo of the Nik vignette in question on his Twitter account. In it, titled "Banda", Gaturro is seen, as a spectator, together with a policeman who is talking to a journalist. "Two lunatics with an impossible, ridiculous, implausible plan… a man and a woman who put all of Argentina in danger," says the uniformed man.
Given this, the journalist, believing that he was referring to those detained for trying to assassinate Cristina, asks: "The 'Banda de los Copitos'?" "No," the policeman replies. It is that behind them Cristina Kirchner and Alberto Fernández appear, the first leading the second by the leash. The auction alludes to Nik's clear position on who he thinks he "rules" in the government, in addition to making clear the joke he wanted to point out.
"This is not a joke. For this reason, in my own name, in the absence of a 'prosecutor', I will initiate the corresponding complaint. Enough gratuitously disrespecting President Alberto Fernández and Cristina Kirchner. I hope the Human Rights organizations will accompany us," Dalbón wrote. In the same post, he mentioned the Secretary of Human Rights of the Nation, Horacio Pietragalla.
The next morning, Nik's response came: "Gregorio Dalbón, Cristina's lawyer, wants to take me to court for this joke. I hope I do. It would be historic and an unprecedented global scandal. Never in modern history has freedom of expression been punished. This is how Dalbón and Cristina want us, gagged, "said the cartoonist.
And he continued: "As a society, tired as we are of so many abuses of our freedoms, our rights… Shouldn't we explain how freedom of expression works? They impoverished us, they did NOT take care of us in the Pandemic… Now they also want to take away our freedom to express our opinion?", assured Nik, whose first name is Cristian Dzwonik.
Next, the cartoonist continued his defense with another vignette of his most famous character: "Dalbón, with freedom of expression, no. Nerd". "Now they want to curtail freedom of expression. FIRST, they mess with your CHILDREN, now they mess with your work, with the freedom to express an opinion. Every time they GO FOR MORE ", Nik continued, remembering the crossing he had with Aníbal Fernández.
Dalbón took note of Nik's reply and redoubled his bet: "The attack on @CFKArgentina was not a joke, you are going to learn to respect women. You can apologize publicly. Otherwise, don't worry that no one curtails your freedom, I continued to disrespect the President and Cristina, it won't be free, you made an ugly mistake, "warned the lawyer.
Next, Dalbón himself quoted a phrase that he attributed to former German Prime Minister Angela Merkel, captivating the cartoonist: "Freedom of expression has its limits and those limits begin when HATE spreads." "Mr. Dalbón, if you are going to quote, quote well and add the context", Nik objected. And he explained: "Angela Merkel was talking about the resurgence of Nazism and fascism in Europe."
"What does that have to do with a picture of political humor in Argentina?" he raised. Later, Nik published a photograph where he and different figures of Gaturro are seen with their mouths covered with tape. "Dalbón wants me imprisoned, or silent, or gagged with the warning: 'You made an ugly mistake, it's going to be very expensive.' With freedom of expression, NO", said the cartoonist. And this Wednesday, finally, he published a new vignette, where a drawn Nik is seen, covering Gaturro's mouth, who remarks that "today there is no joke, as Dalbón wanted."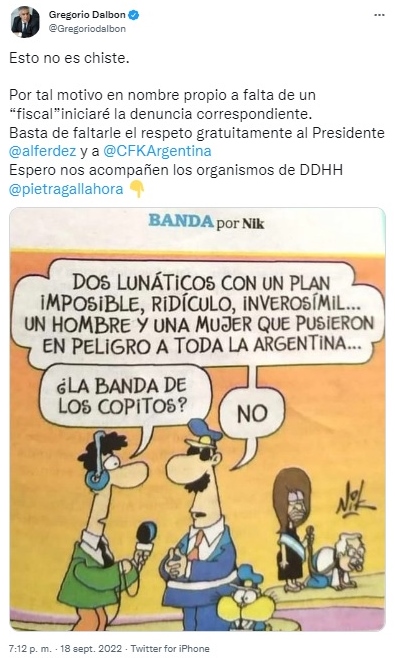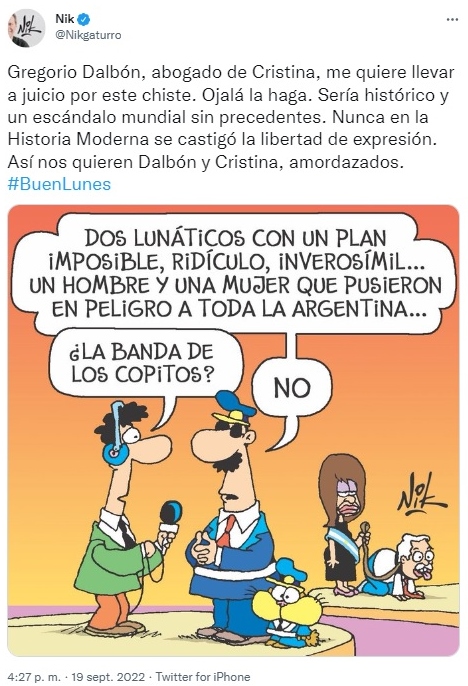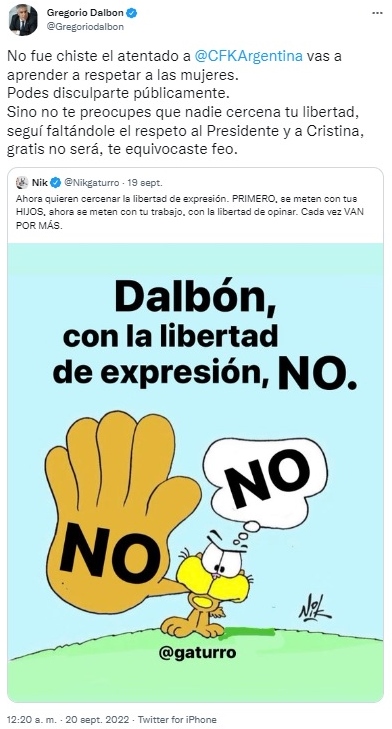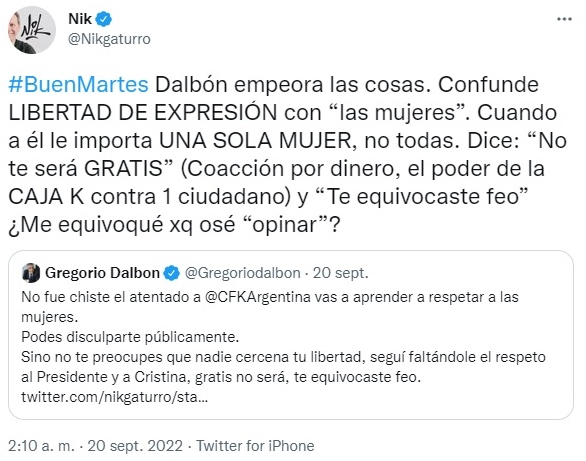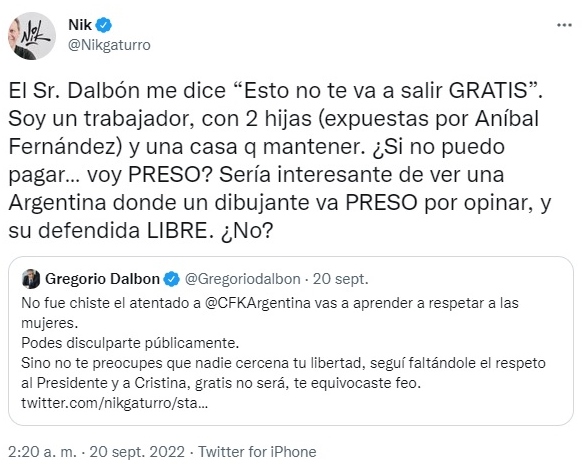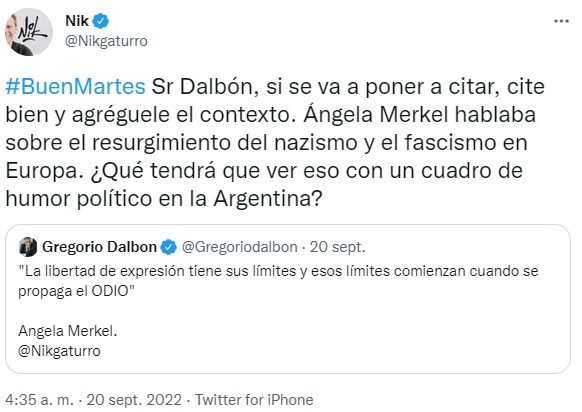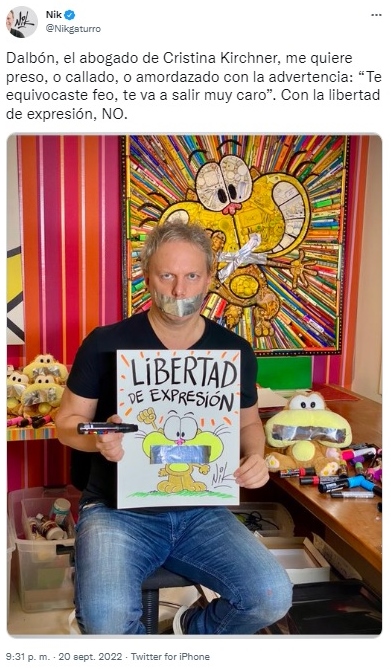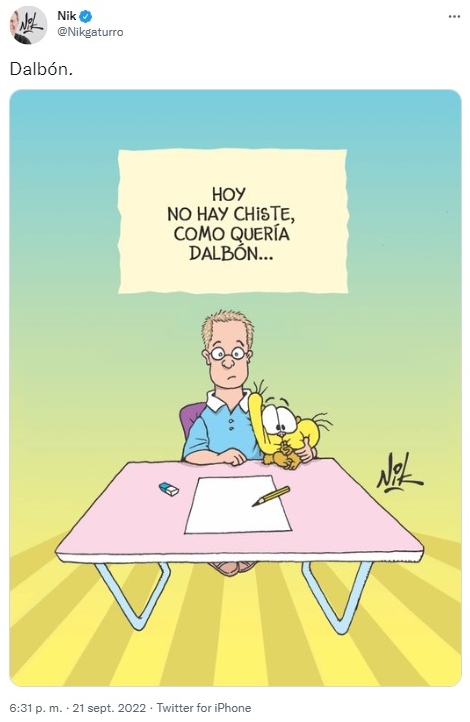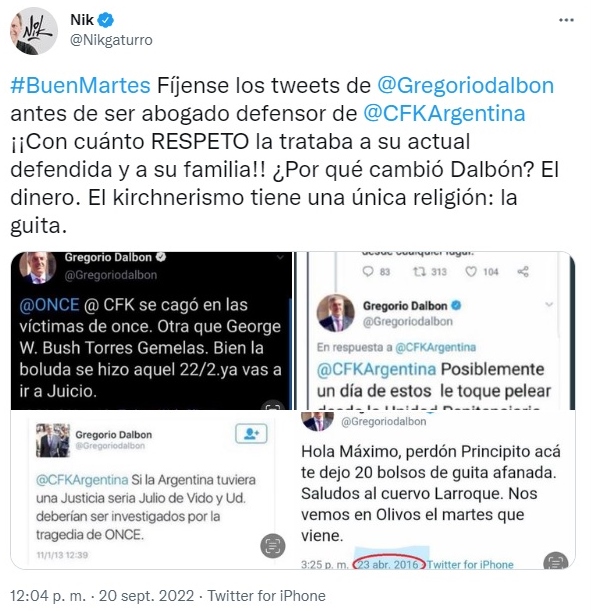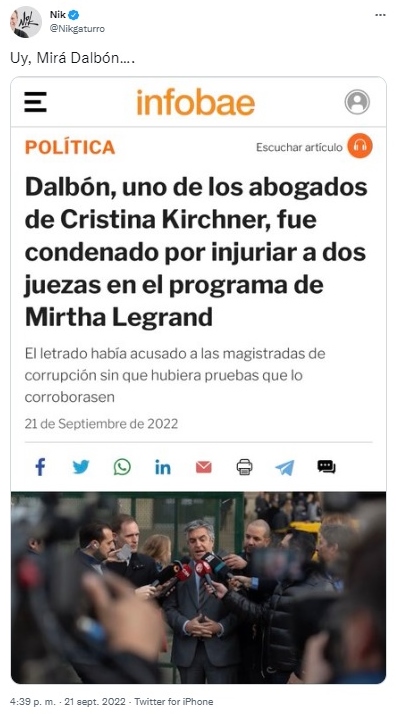 Source: Elintransigente
Disclaimer: If you need to update/edit/remove this news or article then please contact our support team
Learn more