Jeffrey Dahmer is one of the most famous serial killers in US history. Between 1978 and 1991, Dahmer murdered at least 17 men, mostly gay and colored. After torturing and murdering his victims, he used their bodies for sexual acts, ate their remains, and kept parts of their bodies in his apartment. The daring escape of one of his potential victims led to the fact that in 1991 the police knocked on the door of Dahmer's house.
In Dahmer's kitchen, four severed heads were found, and bagged organs and body parts
Jeffrey Dahmer confessed to the murders, although the defense wanted him insane
Both the prosecution and the defense appointed chartered psychiatrists and doctors who ruled that Dahmer suffered from multiple mental disorders, including schizotypal disorder, borderline personality disorder, and obsessive-compulsive disorder
The man was a necrophiliac and paraphilist
On Netflix, you can watch the true crime series "Dahmer – The Monster: The Story of Jeffrey Dahmer", which focuses on the crimes of a cannibal and a murderer
You can find more such stories on the Onet.pl homepage
Jeffrey Dahmer: "The Milwaukee Cannibal" from Netflix

Dahmer's parents said he had a relatively normal childhood. They later admitted that they saw early signs of a mental disorder early on when, as a boy, he became fascinated by dead animals, which he dismembered and preserved in formalin. In high school, Dahmer increasingly isolated himself from his peers, was not friends with anyone and had a reputation for being a recluse. During this time, he also discovered that he was gay, although he hid his sexual identity from himself and the world. At the age of 14, he began to abuse alcohol. After graduating from high school, he enrolled at the University of Ohio but quit after the first semester. In 1978, at the urging of his father, he enlisted in the army and shortly thereafter was sent to Germany. Earlier, he had managed to murder his first victim.
Jeffrey Dahmer in 1982. Bureau of Prisons / Getty Images

Photo: Getty Images

Jeffrey Dahmer. The first victims

Between 1978 and 1991, Jeffrey Dahmer murdered 17 men. He carefully selected his victims, most often they were marginalized, whose disappearance did not arouse suspicion and reduced the likelihood of his capture. He lured them to his home by promising money or sex, and then strangled them.
He committed his first murder in June 1978, right after graduating from high school. The victim was Steven Hicks, a hitchhiker, whom Dahmer picked up and took home to his parents. He then got him drunk, and as the man tried to walk away, Dahmer killed him by hitting him on the head and choking him with a barbell. Dahmer dismembered the body of his first victim, packed the body parts in plastic bags and buried it behind his parents' house. Later, he exhumed the remains, crushed the bones with a hammer and scattered them in a forest ravine. After being expelled from military service (possibly for raping two soldiers), Dahmer fell into conflict with the law. First he was arrested for exposing himself in public, then for masturbating in front of two boys. While waiting for the sentence, he murdered a second time.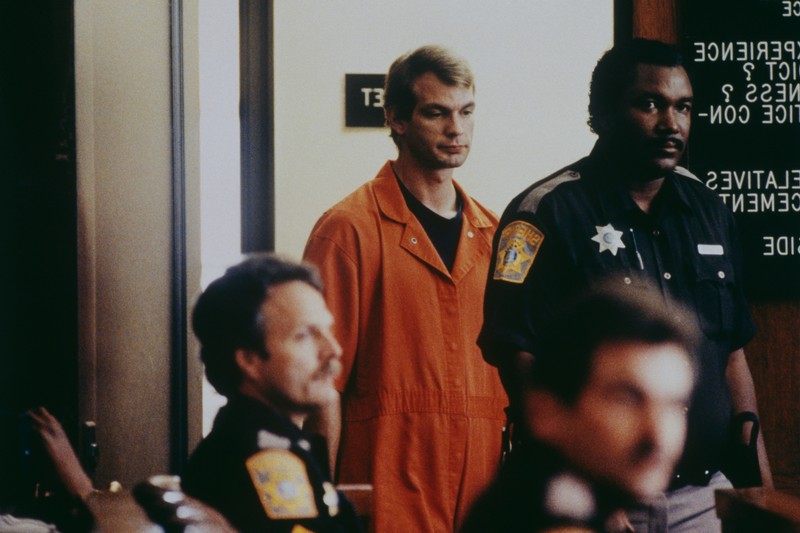 At the trial, Dahmer was found to be "charming" Fig. Marny Malin / Sygma via Getty Images

Photo: Getty Images

The next victim was Steven Toumi, murdered in 1987. The men checked into a hotel room, and the next day Jeffrey bought a large suitcase to hide and transport Tuomi's body to his grandmother's basement, where he dismembered it and disposed of the remains. In his grandmother's house, Dahmer killed two more victims. The old woman had no idea what was going on under her roof, but tired of her grandson's drunkenness, she forced him to move out.
Jeffery Dahmer. The Milwaukee monster

In 1989, Dahmer met a 13-year-old Hispanic boy. This time he was accused of sexual abuse and second degree sexual assault. He pleaded guilty, claiming that the boy looked much older.
While awaiting trial, Dahmer reused his grandmother's basement for gruesome purposes. He lured, drugged, strangled, then photographed and dismembered the body of Anthony Sears, an aspiring model.
In May 1989, Dahmer was brought to trial for molesting a minor. At the trial, he regretted, arguing that his arrest was a turning point in his life. His lawyer explained that the man needed treatment, not prison. The judge granted the defense's request. Dahmer received a five-year suspended sentence and one year in prison. He left two months before the end of his sentence.
Over the next two years, the number of Dahmer's victims increased from four to 17. The man also began experimenting with chemical agents that allowed him to get rid of the remains of the victims, and increasingly consumed their bodies. Dahmer also lobotomized his victims by drilling into their skulls while they were still alive and injecting them with hydrochloric acid.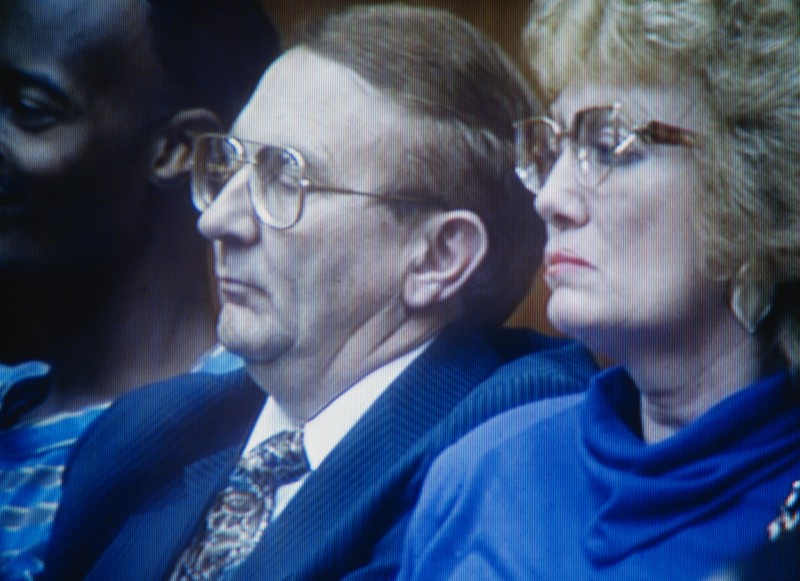 Dahmer's parents at his trial Fig. Ralf-Finn Hestoft / CORBIS / Corbis via Getty Image

Photo: Getty Images

On May 27, 1991, Dahmer's neighbor, Sandra Smith, called the police to report that a naked Asian boy was running down the street. The boy was shaken when the police arrived at the scene, so officers believed Dahmer's translations, who said he was his 19-year-old lover. In fact, the boy was 14 years old and the brother of a teenager whom Dahmer had molested three years earlier.
The police escorted Dahmer and the boy home. Apparently not wanting to get involved in a domestic row, the officers did not look around the apartment. If they had conducted even a basic search, they would have found the body of Dahmer's twelfth victim Tony Hughes. After the police left the room, Dahmer killed a 14-year-old boy. Before he was arrested, he murdered four more men.
The arrest of the monster

On July 22, 1991, the police entered Dahmer's apartment. Earlier, two Milwaukee officers picked 32-year-old Tracy Edwards off the street, an African American who was wandering the streets with handcuffs dangling from his wrist. They decided to confirm the testimony of the man who told about the "strange guy" who drugged and tied him. This led them to Dahmer's apartment, who calmly handed them the keys to the handcuffs. Edwards claimed that the knife that Dahmer had threatened him with was in the bedroom. When the officer went inside to confirm the statement, he noticed photos of dismembered bodies lying on the floor. On another search, the severed head was found in the refrigerator, three more in the freezer, and a catalog of other horrors, including preserved skulls, jars containing genitals, and an extensive gallery of macabre photos of the victims.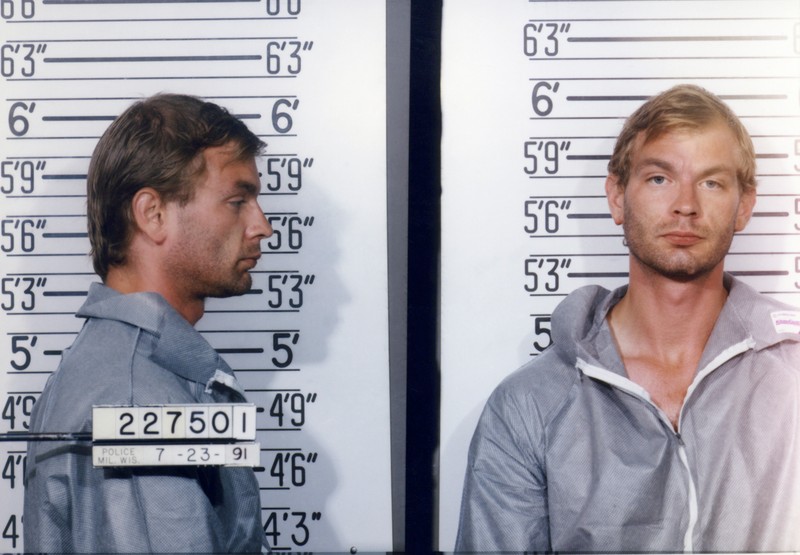 Jeffrey Dahmer in 1992. Curt Borgwardt / Sygma via Getty Images

Photo: Getty Images

The cannibal trial. 937 years' imprisonment

At the first hearing in February 1992, Dahmer pleaded guilty, but the defense cited insanity, arguing that only an insane person could commit such horrible acts.
Both the prosecution and the defense called up chartered psychiatrists and doctors who ruled that Dahmer suffered from a number of mental disorders, including schizotypal disorder, borderline personality disorder, and obsessive-compulsive disorder. Both sides agreed that Dahmer was a paraphilist (ie, he had sexual deviations) and a necrophile (he had sexual attraction to dead bodies). The defense claimed that the man was not in his right mind when he committed the crimes, while the prosecution explained that preparing for the murders and concealing evidence meant that Dahmer knew what he was doing.
Ultimately, the jury concluded that the man was sane enough to be accountable for his actions. The man received a total of 15 sentences of life imprisonment.
How did Jeffrey Dahmer die?

Jeffrey Dahmer was murdered at the Columbia Correctional Institution on November 28, 1994. He was in solitary confinement for his first year in prison because it was feared he would be murdered by fellow inmates. At Dahmer's request, he was transferred to the general block. Other prisoners repeatedly attempted to murder Dahmer. Eventually, Dahmer was killed by another doomed murderer who tortured him with dumbbells in a prison gym. Dahmer was hospitalized but died an hour later from his injuries.
See also:
She killed because she felt unloved. She put flowers in the suitcase with the dismembered body
They got into the mysterious "Black Volga" and disappeared. Some died in dramatic circumstances
Source: Ofeminin
Disclaimer: If you need to update/edit/remove this news or article then please contact our support team
Learn more