Yesterday, NVIDIA presented all the news that it will bring with it GeForce RTX 40 Seriesamong which the new and ultra-efficient architecture stands out Ada Lovelace of NVIDIAwhich will incorporate the new generation of DLSS 3 and a new era of real-time ray tracing and neural rendering, which uses AI to generate pixels.
It is because of that ASUS next to the ad NVIDIAtook advantage of presenting the new graphics cards ROG Strix Y TUF Gamingstarting with the high-end models GeForce RTX 4090 24GBRTX 4080 16GB and RTX 4080 12GB.
Note that graphics cards ROG Y TUF Gaming they combine that powerful processing power with a stack of innovations to deliver even higher performance, cooler temperatures, and greater reliability for work and play.
ROG Strix GeForce RTX 4090
The ROG Strix GeForce RTX 4090 It will include new cooling, specially designed to offer better airflow, this thanks to a new vapor chamber and 30% more surface area for heat dissipation than the previous generation of the ROG Strix GeForce RTX 3090.
However, this is no ordinary steam chamber. To provide better heat transfer, this patented vapor chamber design adds milled channels under the heatpipes. Instead of the tubes lying flat against the surface, they sink into the vapor chamber, allowing heat to be transferred more efficiently to the four 8mm and three 6mm heatpipes and travel to the heatsink fins. When subjected to a thermal load of 500 watts, this powerful pairing can achieve temperatures 5°C cooler than a conventional steam chamber design.
ASUS has also upgraded Axial-tech fans, featuring a thicker design with seven blades and full barrier rings that provide 23.8% more airflow and 19.3% more pressure than previous generation fans. used in the ROG Strix GeForce RTX 3090. With these improvements, ASUS was able to keep GPU temperatures and acoustics at similar levels as the previous generation model, despite the added power.
Speaking of power: this is an absolutely monstrous gaming card, which is why ASUS has included a 12+4 phase system made up of 70 amp power stages. With two power stages per phase powering the GPU, the total number is 24+4. The on-board digital controller offers higher power sensing accuracy, as well as better power conversion and balancing to reduce noise and signal interference.
All of this comes with the same high-end features that ROG Strix cards are known for. An ARGB backlight works with Aura Sync to deliver custom lighting throughout the build, while two FanConnect II headers allow case fans to be controlled via GPU temperature readings using new ASUS GPU Tweak III software. For those who don't want to dig in and tweak too much, the Dual BIOS switch allows you to choose between a maximum performance mode and a quieter mode. Though thanks to ASUS 0dB technology, the card will be silent at low loads no matter which mode is chosen.
Lastly, like other ROG cards, the Strix GeForce RTX 4090 was built with the ASUS Auto-Extreme manufacturing process that minimizes human intervention, so users can expect reliable, long-term performance right out of the box. cash register.
TUF Gaming GeForce RTX 4090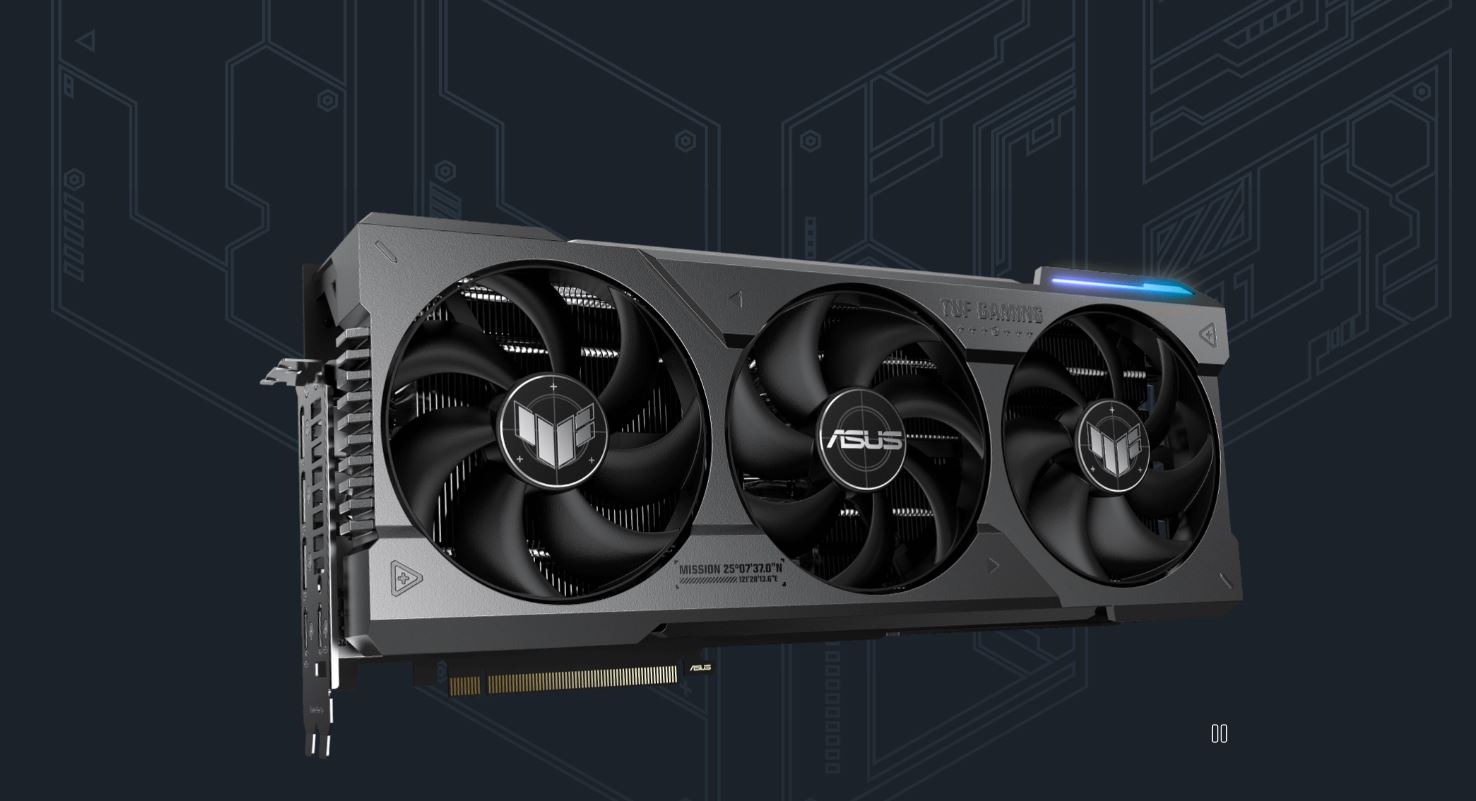 For exceptional performance with a robust design, the TUF Gaming GeForce RTX 4090 has users covered. Slightly thicker than its ROG sibling, at 3.65 slots, the TUF model measures slightly less at 348mm for greater case compatibility, with excellent performance, cooling, and power management.
The TUF Gaming GeForce RTX 4090 uses a die-cast unibody shell that mates directly to an aluminum backplate to reinforce the overall structure and protect the PCB from sagging, while providing plenty of airflow. An updated 3D acrylic TUF logo along the cover provides Aura Sync compatible ARGB lighting, while a detachable velcro loop offers additional cable management options. A huge vent on the edge of the backplate allows even more air to flow through the larger Axial-tech fan fins, providing 20% ​​more airflow than the TUF Gaming GeForce RTX 3090 Ti from the past generation.
Like the Strix variant, ASUS has also redesigned the TUF Gaming card's cooling with a new vapor chamber to greatly improve heat transfer. While it doesn't use the same milled design as its Strix sibling, the eight heatpipes – five 8mm and three 6mm – offer a huge leap in cooling potential, with 35% more contact area compared to the TUF. Gaming GeForce RTX 3090. However, like its Strix siblings, you can choose between silent and performance modes with the integrated Dual BIOS switch or tweak the card's performance via the new GPU Tweak III software.
To supply the necessary power, the TUF Gaming GeForce RTX 4090 uses the new 16-pin power connector of the PCIe 5.0 standard, which supplies a robust power system, with 20K capacitors and a set of high-current power stages arranged in a 10+4 configuration. Plus, the Auto-Extreme manufacturing process offers robust longevity that lives up to the TUF name, so you can be sure your high-end card will power games for years to come.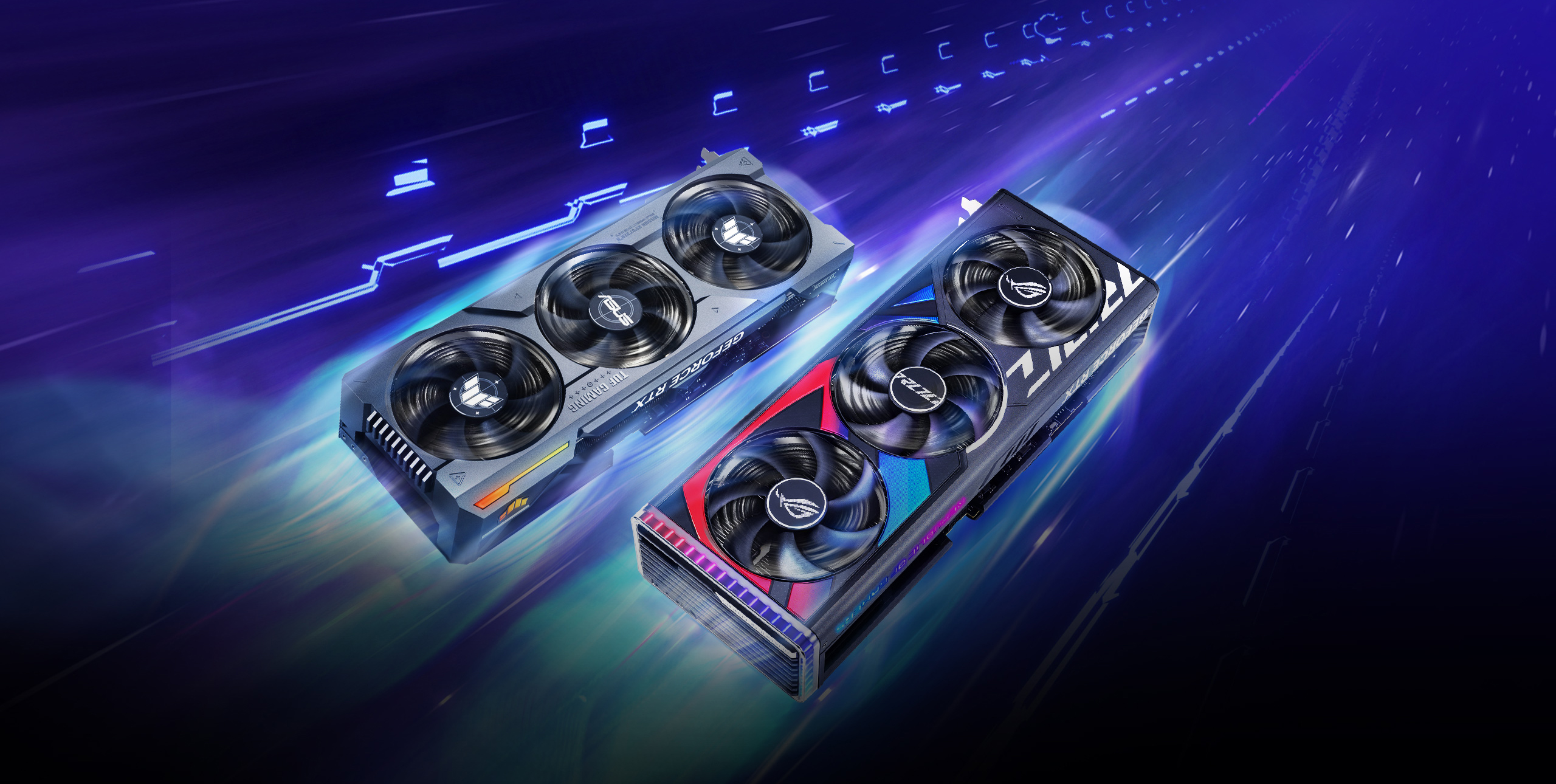 Additionally, the brand will also have the following models:
ROG Strix GeForce RTX 4090 OC Edition
ROG Strix GeForce RTX 4090
ASUS TUF Gaming GeForce RTX 4090 OC Edition
ASUS TUF Gaming GeForce RTX 4090
ROG Strix GeForce RTX 4080 16GB OC Edition
ROG Strix GeForce RTX 4080 16GB
ASUS TUF Gaming GeForce RTX 4080 16GB OC Edition
ASUS TUF Gaming GeForce RTX 4080 16GB
ROG Strix GeForce RTX 4080 12GB OC Edition
ROG Strix GeForce RTX 4080 12GB
ASUS TUF Gaming GeForce RTX 4080 12GB OC Edition
ASUS TUF Gaming GeForce RTX 4080 12GB
Source: Beahero
Disclaimer: If you need to update/edit/remove this news or article then please contact our support team
Learn more