Making history, the expression is being sent out into the world very quickly these days. But the bronze medal of Febe Jooris (17) in the World Championship time trial in Wollongong is a milestone for Belgian women's cycling. Who is the number 3 of the junior time trial?
The bronze of Febe Jooris does not come completely out of the blue: the multiple Belgian champion on the track and in the time trial has made a lot of progress in a year.
Last year Jooris was allowed to taste the championships for the first time. At the European Championships this resulted in an 11th place in the time trial, at the World Cup in our own country the spontaneous, cheerful and eloquent East Flemish became 9th.
"I can only be happy with this. This is the icing on the cake after a difficult year," she exulted in Bruges in 2021.
Jooris felt like a child in a candy store during that World Cup in his own country. "I am still young and someone like Wout van Aert is an example. We are a bit of fangirls here."
Bronze at European Championships, academic year has just started

This year the rider made the switch to the youth team of the AG Insurance-NXTG, the project that Patrick Lefevere supports and where Jolien D'hoore is team leader.
In January she won the Belgian team race championship with Hélène Hesters, iIn May, the young woman from Astene extended her Belgian time trial title in nearby Gavere.
Jooris commutes from the road crew to the piste core. Jooris won two bronze European Championship medals in Anadia, Portugal. One in the time trial and one on the track in the team race with Hélène Hesters.
As a 17-year-old, she started her first year of orthopedagogy yesterday: "I have a top sports status and will therefore go a little slower. It will be a difficult job."
D'hoore: "Febe Jooris is very driven"

Sports director Jolien D'hoore is no surprise that Febe Jooris was able to show herself at the World Time Trial Championships. "She is very driven, she is really very busy with the time trial", says D'hoore.
"Before the Belgian Championships in Gavere, she explored the course so much: she knew every bend, every centimeter of the course. It is impressive to see that she is already working on it so professionally at her age."
D'hoore also describes the 17-year-old as "a cheerful figure". "She is also very level-headed, she comes across as very mature. She is also very easy to deal with."
Although appealing to Vuelta winner Remco Evenepoel in Australia turned out to be a barrier for Jooris. "That scares me," laughs D'hoore. "Normally she talks to everyone. But Remco is of course one of the greatest riders in Belgium."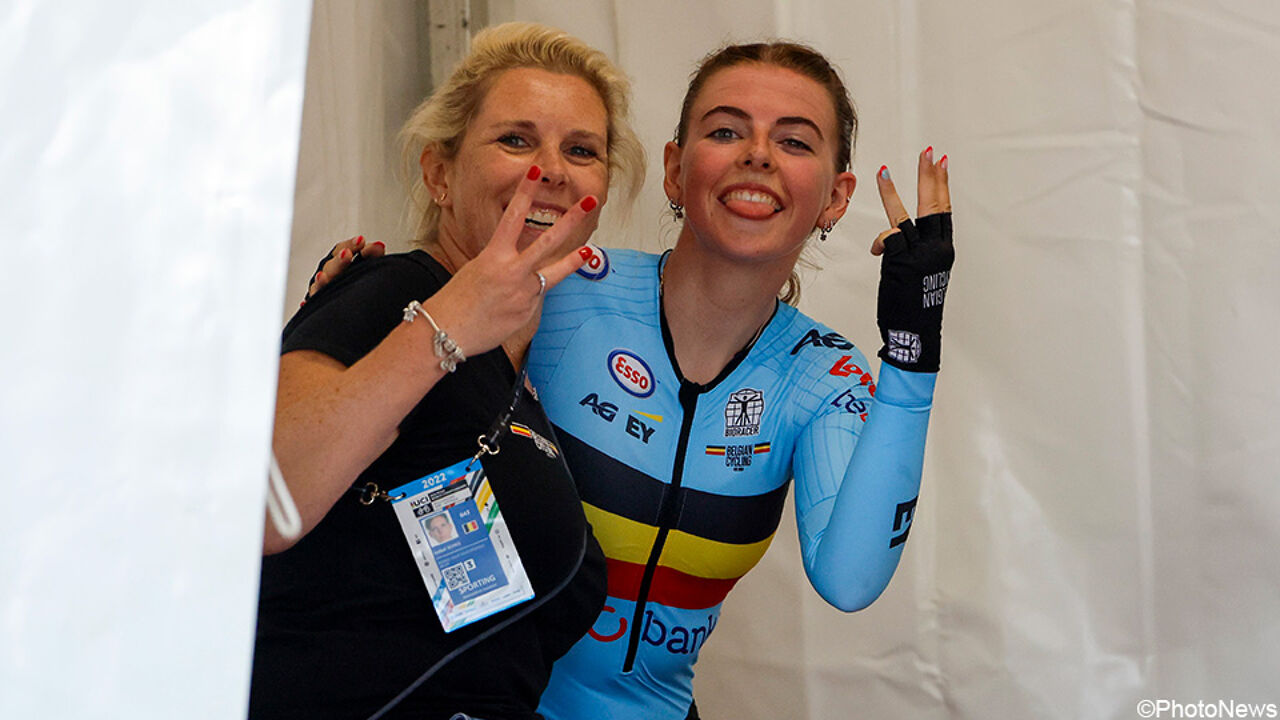 Jooris is already making history by becoming the first woman to win a World Cup medal in time trial. "We can estimate that very highly," says D'hoore. "It's telling."
"Whether she can become a topper? That would be typical Belgian to put a stamp on it now. I think: let them grow. Next year she will compete as a first-year pledge against the elite. It will not be against clappers like Lotte Kopecky obvious."
"I know her personality and character: it's good in the head, the rest will come. I look forward to working more intensively with her, so that we can put Lotte to the fire at the BC."
Can she become a topper? That would be typically Belgian to put a stamp on it now. I think let them grow.
Watch the finish of Febe Jooris here:

Source: Sporza
Disclaimer: If you need to update/edit/remove this news or article then please contact our support team
Learn more