World Cycling Junior Men's World Championships
Individual time trial
28.8 km
5:20: Wollongong – 9:00: Wollongong
end
Joshua Tarling has given Great Britain a second junior title. A few hours after Zoe Bäckstedt, the top favorite – who started last – shot dominantly to the victory. Australian Hamish McKenzie, who spent hours in the hot seat, still had to run off. The ambitious Jens Verbrugghe was lost in advance, his bike was rejected. Duarte Marivoet rode to eighth place.
Great Britain has had a great day in Australia. After Zoe Bäckstedt, Joshua Tarling also fulfilled his favorite role in the
junior category.
However, the gold seemed to be going back to its homeland for a long time – a very long time in fact. Hamish McKenzie was the fourth starter of the day, but went straight to an absolute record time. Many favorites bit their teeth on the
surprising Australian who spent about three hours in the hot seat.
Next to him, a Belgian was also shining in third place for a long time. Duarte Marivoet rode a good time trial and eventually finished 8th.
Painful afternoon for Verbrugghe

A little more was expected from the other Belgian participant Jens Verbrugghe, but an unexpected problem threw a spanner in the works. His time trial bike was rejected just before the start because of too much acceleration, which meant that Verbrugghe had to start on a replacement bike of the team.
It was a painful afternoon for Verbrugghe, who was even overtaken by top favorite Joshua Tarling. The Brit – who will play for Ineos next year – was runner-up last year, but this year only had one goal: to take the gold.
And Tarling did not disappoint. He was the first to beat McKenzie's times. After a well-arranged time trial, the Briton had 19 seconds left over the Australian. Emil Herzog received the bronze medal.
Verbrugghe had to reel off the time trial on a replacement bike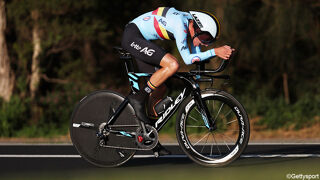 results world time trial juniors (m)
1.
Joshua Tarling (GrB)
28.8km in 34'59"
2.
Hamish McKenzie (Aus)
at 19″
3.
Emil Herzog (Germany)
33″
4.
Jan Christen (Zwi)
59″
5.
Romet Pajur (Estonian)
1'07"
8.
Duarte Marivoet
1'40"
26.
Jens Verbrugghe
2'58"
Duarte Marivoet (8th): "I didn't reach the wattages I had in my head"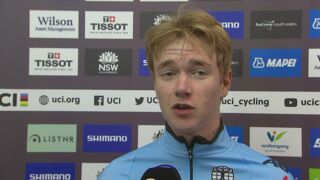 Duarte Marivoet sat in the hot seat for a long time, but it was not as pleasant to be there as you might think. "I was shivering the whole time. It was more like a cold seat," Marivoet laughs.
His time trial didn't go perfectly: "My time trial wasn't great, but neither was it
bad. I didn't always get the wattages I planned in my head,
But there can always be an explanation for that."
"I had nothing to prove here as a freshman. I just wanted to do my best and show what I'm worth."
Marivoet's eighth place does open up perspectives for the future. He realizes this himself: "I am already looking forward to next year, where I may start as one of the favourites. But that is still a long way off and eventually
new men will be added next year. So I focus on other goals first."
Tarling: "First a good result in the road race and then home and celebrate"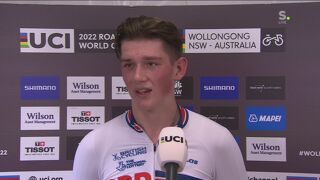 Tarling fulfills favorite role, Verbrugghe also crosses the finish line

Tarling passes Verbrugghe: "This is really going to be crazy"
Source: Sporza
Disclaimer: If you need to update/edit/remove this news or article then please contact our support team
Learn more