The friends of Milestone Srl invite us to play "SBK 2022", the Superbike simulator that returns after 10 years of absence after launching the 2012 version of it. Remembering SBK 2012, while the game was quite fun, it was complex and challenging. What will they bring us again in this version, 10 years later?
Milestone Srl is known for developing various racing games, from simulators such as Moto GP, to more Arcades, such as Hot wheels Unleashed, so we can hope that there is a product with a seal of quality and seriousness that only a studio with so much experience could give ourselves up, and I happily feel that the game lives up to that.
The game welcomes us with the classic screen and interface settings to continue customizing our Superbike rider. Although the game includes several options for this, it is not an entirely relevant aspect, since the character will always be wearing a helmet and riding the Superbike. Once we have this ready, the game will immediately launch us into the tutorial to understand the controls, and this is where the important details begin to jump out.
SBK 22 graphics: "Good visuals accompanied by an invasive but useful HUD"
The first thing that we will see, obviously, is the visual aspects of the game and that is that the people of Milestone have completely taken care of making this not just a game, but actually the simulator of the SBK championship, giving us beautiful visual aspects. and gleaming, feeling almost realistic even with the speed that the vehicles in the game can reach.
The first person perspective for when you fall or have accidents feels like you're really in the pilot's shoes, which is also made with tremendous dedication noting his falling animations, and it does look quite human, when point where some falls can include ridiculous accidents and create quite amusing images in passing.
While the game looks pretty good, its HUD is quite large, so it feels somewhat cumbersome but still useful, as you don't necessarily have to look away from the center of the screen to understand what's going on. what's happening with your vehicle, and that's where the other key part comes in, keeping in mind that it's a simulator, the HUD works in such a way that you can easily understand all the parameters that your Superbike's dashboard manages, which makes it quite friendly and accessible, especially for those who are not so devoted to Superbike simulators.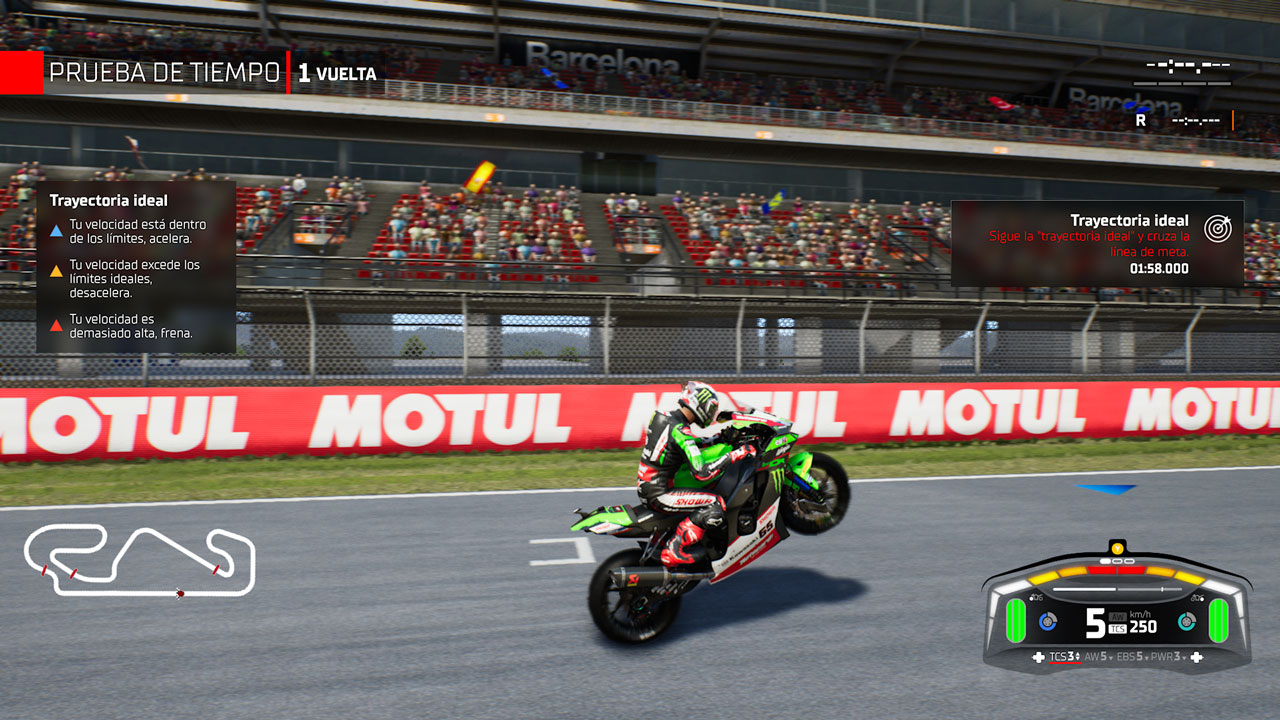 As a separate fact, when the wheels go through different terrains, materials stick to the wheel, which causes it to have changes in color, performance and visualization, doing an impeccable and striking job.
SBK 22 Gameplay: "Realism doesn't always mean fun."
As for controls, the game is presented with three possibilities; Casual, Standard and Expert, varieties that are increasingly complex but that allow greater control of everything that happens with your vehicle in the most realistic way possible. Using the casual parameters, we find a series of standard inputs today in the racing game industry, so it is easy to take control and know what to do from a base. This is where, little by little, the game begins to gain difficulty.
Although the controls are simple, being a Superbike simulator, you have to be completely attentive to the speeds, brakes and curves, so we have to treat the handling with practically the same care that we would have with a real vehicle, this implies moving the analog carefully and not from the center to the extreme immediately, as well as regulating the triggers to be able to use the speed in our favor to avoid accidents and complete the laps as soon as possible, a task that is repeated a lot in the tutorial mainly due to the difficulty to master these controls.
This game, as simple as it is, includes a learning curve that once you start to understand and handle it better, it feels tremendously satisfying. This is where this game achieves a direct effect with its players, and that is that it ends up being quite easy to get hooked when the improvement is evident. Unfortunately this will require some patience, so the first crashes are inevitable and probably frustrating, as these being Superbikes, these are built specifically for high-speed racing, and the handling of these is not as consistent as other types. of motorcycles.
It should also be noted that the game has an artificial intelligence system that understands how you play and molds the rest of your opponents around that, but not specifically so that you win, but so that you have the need to improve by learning from them. Milestone intends to take this to another level, also adding the results of the actual SBK 2022 championship races, performing analysis to the way they participate and shaping the characters as the actual championship unfolds. A very promising feature, which promises to improve the game for the rest of the duration of the championship.
The game, while it can be fun for motorized racing fans, doesn't include a good amount of content, having only Quick Race modes (Single Race, Weekend Championship and Time Trial), Story Race (Que It consists of having to hire people to maintain your motorcycle, people to take care of your publicity for the championship, modify your vehicle, among other activities that feel more bureaucratic than fun to even be able to start your first activity as a rider, which also does not necessarily it will be a race per se) and an online mode that will allow you to upload your Time Trials times, in addition to racing against other players.
Unfortunately, the game doesn't have much of a variety of modes, so it's not far beyond being what it explicitly sells; A simulator, but with this we also get a lot of possibilities when it comes to improving or customizing our vehicle, adding a bit of content to a game that, sadly, feels empty and becomes monotonous after a short time, especially when What you hear the most are the engines, the wheels and nothing else.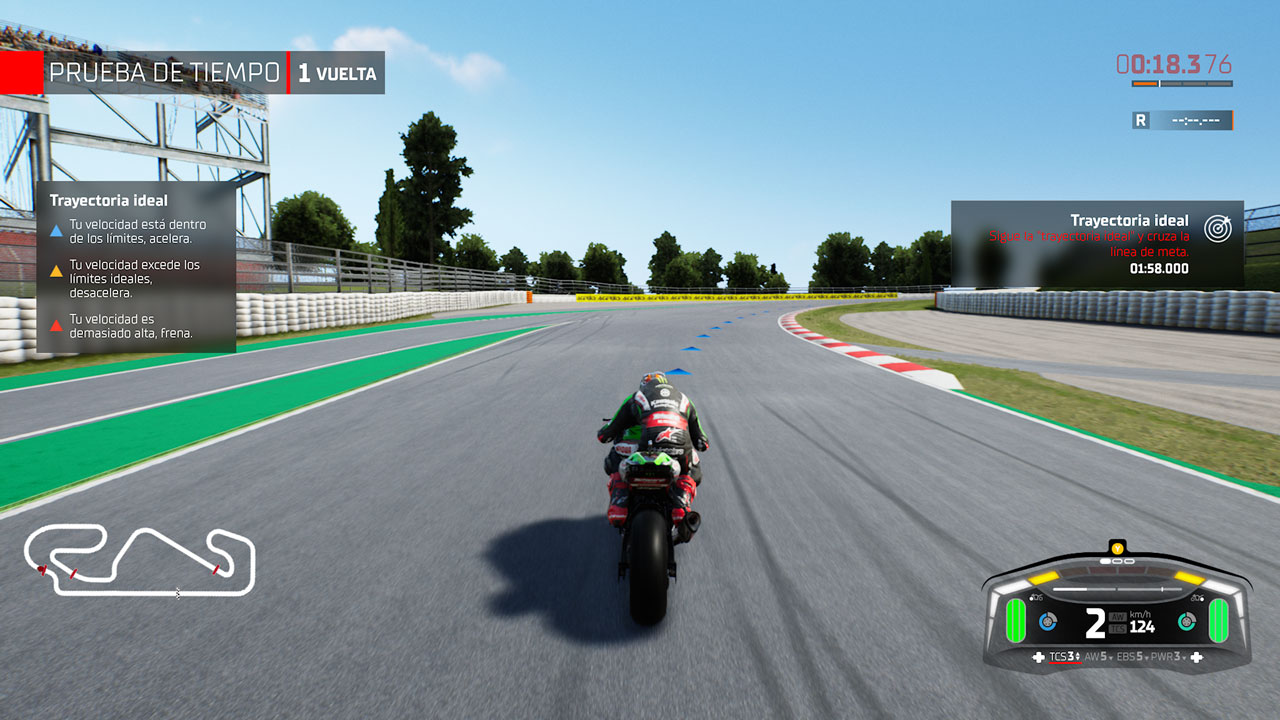 Sound of SBK 22: "Enjoy the silence"
During game time there is a lot of detail during races that seemed more than strange to me; And it is that there is not even a narrator for a simulator of a competition that does have this one. The game has a serious problem with sound issues, and if it's not outside the gameplay itself, we have practically nothing more than engines and wheels in terms of sounds (And the odd collision, depending on how well you play ).
Although the sounds of the bikes are clearly real, this does not compensate for the rest of the musical and sound interactivity that the game does not have, a detail that complements the fact that the rest of SBK 2022 feels empty and lacks content. There is not much to talk about in this area, other than highlighting what has been discussed during the review; It is a simulator that is quite faithful to what it means to drive a Superbike.
Duration of SBK 22
The game has a short duration in terms of things to do, as it also relies on parallel playback of the tournament in real time in order to fully realize the potential of the game. Unfortunately, it is a game whose duration is already planned unless the game is updated for future championships, and if this is not the case, we would find ourselves with a game whose life and updates will last until the end of the SuperBikes championship this year.
Outside of this content, which will certainly have a small expansion, the game does not offer much more than the three main modes (Career, Solo and Multiplayer, as mentioned in the gameplay section), which are tremendously short and repetitive once you dedicate a few hours to the gameplay outside the tutorial.
conclusion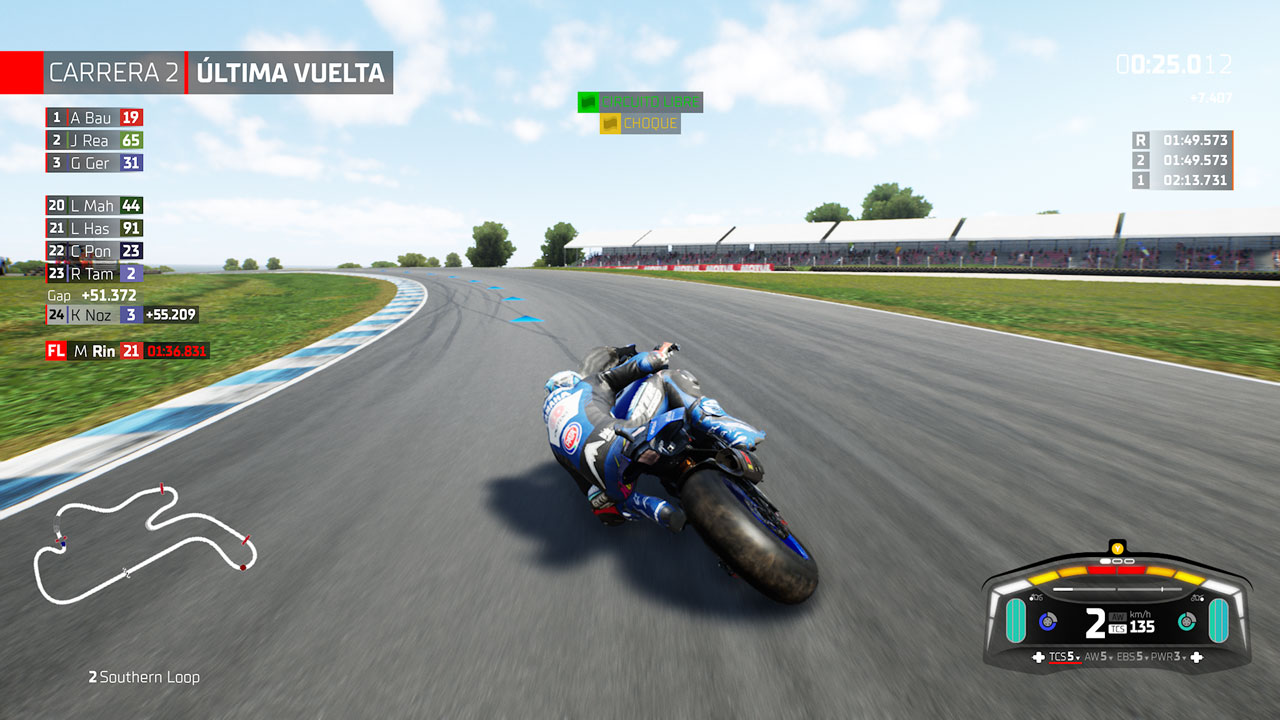 SBK 2022 is not a game for everyone, and you have to be extremely clear before buying it; This is not just a game, it is fully a simulator as previously mentioned throughout the review. The game itself is not bad, it fulfills what it promises to be, but particular points such as the learning curve (Although satisfactory once you manage to understand and handle the game as discussed in greater depth in the gameplay section), the little variety of tracks, the null presence of music or sound activity during the game except for the real sounds of the vehicles, all this makes it feel poor as a video game itself next to many proposals that give us something much more complete and less complex. SBK 2022 is far from being a game that can stand out today, and it seems that Milestone kept all the aspects of a video game saved considering that the rest of its catalog is much more diverse and fun.
In conclusion
PROS
A very real simulator and attached to being a Superbike racer.
Controls, although complex, satisfactory once mastered.
The game can level itself around your performance, just as it does with the actual SBK 2022 tournament at the same time.
CONS
The lack of music or sound interactivity with the user.
The learning curve of the game is incredibly steep. The game requires handling that will need some practice time, without a doubt.
Few clues, all with similar appearances if not the same.
The lack of content and modes makes the game feel repetitive very quickly, although the game itself is not intended to go beyond simulation.
Most of the things to get started in a race feel more bureaucratic than anything else. The system for racing becomes cumbersome.
Evaluation Points
Graphics


0

gameplay


0

Sound


0

Duration


0
Source: Beahero
Disclaimer: If you need to update/edit/remove this news or article then please contact our support team
Learn more