20 Sep 2022 12:29 p.m

US President Joe Biden has promised Taiwan military support, including US troops, in the event of a Chinese attack. With this statement, the aged head of state caused great irritation in Beijing.
US President Joe Biden gave the US broadcaster CBS as part of the broadcast 60 minutes a longer interview on September 15th. Biden had come under criticism because he had not been able to prove any talks for months. Since February 2022 he has not had a single one with American press representatives interview given in front of a camera. In addition to the main topic of a fragile US economy with steadily increasing inflation, Biden surprised at the beginning of the conversation with his statement that the corona pandemic was over.
In the foreign policy block, the 60 minutes-Moderator of the active massive US support for Ukraine thematically in the Asian region. Due to Vladimir Putin's recent meeting with Chinese leader Xi Jinping, "there is concern that Russia's war in Ukraine could inspire China to launch an attack on the island of Taiwan," the broadcaster explained on its website. When asked: "What should Chinese President Xi know about your commitment to Taiwan?", the US President initially replied cautiously:
"We agree with what we signed long ago. And that there is a one China policy, and that Taiwan makes its own decisions about its independence. We're not moving — we're not encouraging them to be independent . We don't do that, that's your choice."
The one China principle is the basis of all sovereignty issues for the Chinese Communist Party. Accordingly, there is only one China, including the regions of Taiwan, Hong Kong and Macau. In response to the moderator's first forced question as to whether "the US forces would defend the island (Taiwan)", Biden added the answer:
"Yes, if there was actually an unprecedented attack."
To the moderator's unequivocal phrasing, "Unlike in Ukraine, to be clear, sir, would US forces, US men and women defend Taiwan in the event of a Chinese invasion?", Joe Biden replied with a resounding "Yes ".
The broadcaster reports on its website that following the interview, a White House official commented on Biden's statement:
"US policy towards Taiwan has not changed. Officially, the US maintains a "strategic ambiguity" about whether American forces would defend Taiwan, but the Taiwan Relations Act obliges the US to help Taiwan defend itself ."
In this regard, the news agency informed Reuters early September:
"The US State Department has approved a potential sale of $1.1 billion worth of military equipment to Taiwan, including 60 anti-ship missiles and 100 air-to-air missiles, with China threatening countermeasures."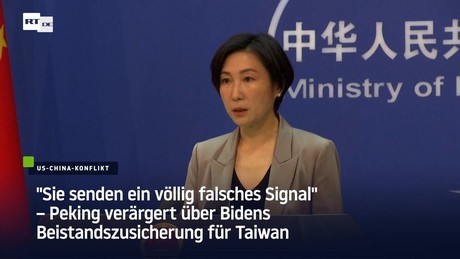 According to media reports, China reacted "angry", according to the daily Daily Sabah. the Foreign Ministry spokeswoman Mao Ning told the press in Beijing on Monday:
"The comments are a 'serious violation' of the 'one China principle' and the US commitments to Beijing. The US side is sending 'a completely wrong signal' to the pro-independence forces in Taiwan. China is firmly opposed ."
Voice of America (VOA) informs of the fact that the US President's recent statement on the Taiwan issue has happened "for the fourth time since he took office in 2021", to quote Mao Ning as saying:
"We stand ready to do our best to seek peaceful reunification. At the same time, we will not condone activities aimed at secession. There is only one China in the world, Taiwan is part of China, and the government of the People's Republic of China is the only legitimate government in China."
Several experts by VOA "Other than China's angry response, Biden's comments are likely to do little to change Beijing's expectations of what would happen in the event of a conflict over Taiwan," the article said.
more on the subject – Putin: Russia and China "stand for a just, democratic, multipolar world order"
By blocking RT, the EU aims to silence a critical, non-pro-Western source of information. And not only with regard to the Ukraine war. Access to our website has been made more difficult, several social media have blocked our accounts. It is now up to all of us whether journalism beyond mainstream narratives can continue to be pursued in Germany and the EU. If you like our articles, feel free to share them wherever you are active. It's possible because the EU hasn't banned our work or reading and sharing our articles. Note: However, with the amendment of the "Audiovisual Media Service Act" on April 13, Austria introduced a change in this regard, which may also affect private individuals. That's why we ask you not to share our posts on social media in Austria until the situation has been clarified.
Source: RT
Disclaimer: If you need to update/edit/remove this news or article then please contact our support team
Learn more