On this occasion, we bring Better Connected a Charles Costaformer professional tennis player of great renown in the 90s and current manager of Rafael Nadalas well as Head of Business Development of the Rafa Nadal Academy by Movistar.
Costa tells us throughout this interview the importance of the different factors when developing the sporting talent of young people. Factors that range from the family environment to the good selection of professionals, passing through mental health. Join us and discover them with us.
How to develop the sports talent of young people
During Costa's youth, the training of young sports talent was not at all as we know it today. At that time, it was common to find tennis coaches who, although it is true that they dominated the theoretical concepts of sportThey hadn't been professional. Thus, they were not capable of transmitting knowledge and experiences typical of a professional.
Costa tells us that, in his case, in addition to not having a former professional tennis player as a coach, the rest of the preparation was somewhat archaichaving to prepare physically, for example, with an athletic trainer.
This is all very different today.. Currently, tennis players and most athletes have the help and advice of expert coaches in your sportwho in addition to knowing the fundamentals of sport, also know everything that an athlete goes through, the good and the bad timesas well as how to deal with them.
Factors that affect the development of sports training
The environment It is, without a doubt, one of the fundamental factors that affect the development of sports training, as well as being a fundamental factor for lead a good life, in general. In the case of tennis, have a family that supports you and know how to transmit some good values from childhood is essential.
It is also important that this familiar surroundings don't meddle too much the training and development of their children. In the end, the role of parents is to find the best option for their children, and once they have decided to hire technical team of adequate professionalsit is very important to let these act, since they know better than anyone how to promote the sporting talent of the youngest.
Another factor that affects the development of sports training, as well as in personal development, is the search to train people before athletes. This may perhaps seem contradictory if we are talking about try to train the sports talent of young people, but it is essential. In Costa's words: "If you only train the athlete and not the person, this can play against their sports development."
East growth as a person It also goes through the mental health of the athlete. Throughout his training and his career as an athlete, it is common to go through times of crisis and ups and downsand having the support of a professional can be very beneficial for the athlete's development: learning to lose, managing frustration, overcoming complex situations… fundamental aspects for sports and personal development.
Carlos Costa already says: "before the athlete is the person, but the important thing is the person, if we train athletes who are not good people, it is very difficult for them to have a long life as athletes."
The sports references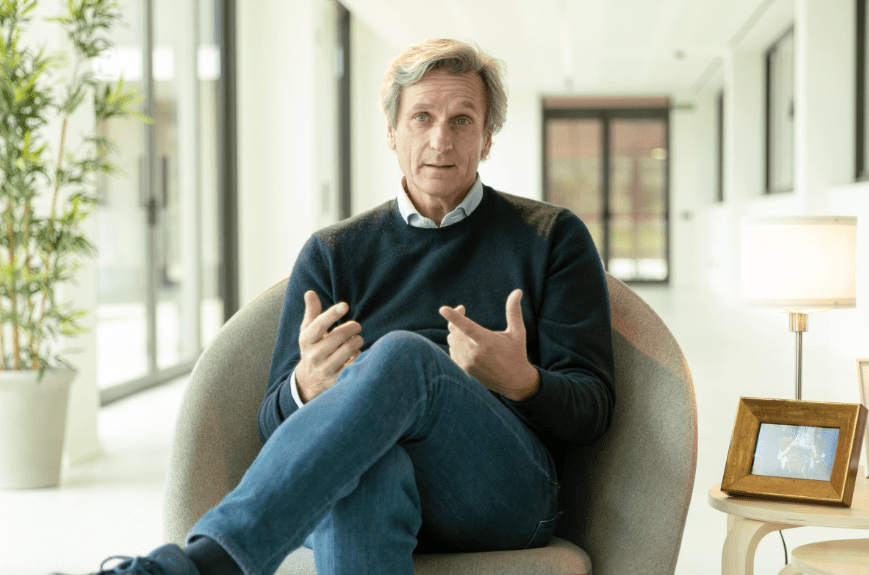 Costa emphasizes the difference between sporting references and having "Mirrors". Sports references are fundamental, and if they are teammates, people with whom you have grown as an athlete and playereven more.
In his case, he had great sports references such as Manolo Orantes or Manolo Santanabut he always highlights the importance of Emilio Sánchez, a great exponent of Spanish tennis and training partner of Carlos Costa.
Costa summarizes this process as follows: «It is good to have references, but it is not good to compare yourself with the one next door. In the end you have to focus on your training, listen and talk to the people around you so you don't get stuck as an athlete and improve.
What is Better Connected?
Better Connected is a Telefónica content platform where successful personalities such as Rafa Nadal, Amaya Valdemoro, Ferran Adrià, Gustavo Dudamel, Teresa Perales or María Zabala they perfectly portray the idea that "when we connect, we are capable of amazing things", which is the universal truth on which this campaign is launched. as stated Jose Maria Alvarez-Palletepresident of Telefónica, "we want to make our world more human by connecting people's lives".
«At Telefónica, we believe in a more humane world. A world that moves thanks to the talent of people. That is why we support talent as we know best: connecting it. Better Connected wants to be a place where you can be inspired, meet, connect and achieve incredible things", explains Rafael Fernández de Alarcón, director of Brand, Sponsorships and Media at Telefónica.
What can we find in Better Connected?
In section 'get inspired' We can find testimonials from personalities such as the aforementioned tennis player Rafa Nadal, chef Ferrán Adrià, Paralympic swimmer Teresa Perales, triathlete Javier Gómez Noya or former basketball player Nacho Azofra. In addition, they also tell the story of Javier Perea, from a Wayra start-up, or Kamran Omarli, a violinist from the Telefónica Violin Chair at the Reina Sofía Music School.
'learn'offers us a series of small "master classes" in which great figures such as Perico Delgado, Toni Nadal, Iñaki Gabilondo, María Zabala or Amaya Valdemoro They offer us, in the first person, advice and reflections that will serve to inspire us, learn and, ultimately, establish better relationships in our day to day.
Source: Okdiario
Disclaimer: If you need to update/edit/remove this news or article then please contact our support team
Learn more