20 Sep 2022 6:28 p.m

A gunman has taken hostages at a Bank of Georgia branch in the city of Kutaisi, western Georgia. The perpetrator demands a ransom of two million dollars and threatens to blow himself up with the hostages. The crime scene has now been surrounded by the police.
A kidnapper has taken 30 people and is now demanding a ransom of two million dollars. This was reported by the Russian daily newspaper Kommersant on Tuesday.
The incident happened in the third largest city in western Georgia, Kutaisi. At around 9:00 a.m. ET, a masked man, gun drawn, stormed into the local branch of the country's largest bank, the Bank of Georgia (BoG). He threatens to blow himself up with the hostages if the money isn't brought to him. He also attached explosive devices to the walls of the branch.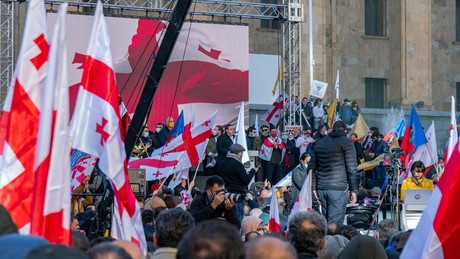 According to the Georgian Interior Ministry, twelve people are currently being held hostage in the building. The authorities are taking all necessary measures to free them quickly and safely. Interior Ministry special forces surrounded the crime scene.
In recent years, the BoG had already been attacked several times. The most high-profile bank robbery was the hostage-taking at a bank branch in the city of Zugdidi, near the border with Abkhazia, on October 21, 2020. At that time, former Georgian army soldier Badri Esebua took dozens of customers hostage, obtained after lengthy negotiations paid the authorities a ransom of $500,000 and disappeared into the woods – along with a large bag full of money. To date, the perpetrator has not been caught.
more on the subject – Attempted assassination of Argentina's Vice President: Police arrest suspected gang leader
By blocking RT, the EU aims to silence a critical, non-pro-Western source of information. And not only with regard to the Ukraine war. Access to our website has been made more difficult, several social media have blocked our accounts. It is now up to all of us whether journalism beyond mainstream narratives can continue to be pursued in Germany and the EU. If you like our articles, feel free to share them wherever you are active. It's possible because the EU hasn't banned our work or reading and sharing our articles. Note: However, with the amendment of the "Audiovisual Media Service Act" on April 13, Austria introduced a change in this regard, which may also affect private individuals. That's why we ask you not to share our posts on social media in Austria until the situation has been clarified.
Source: RT
Disclaimer: If you need to update/edit/remove this news or article then please contact our support team
Learn more