If nothing serious intervenes, Marko Arnautovic will be Austria's new record national player at the end of this week.
On Thursday in France he would (very likely) play his 103rd international match and draw level with Andreas Herzog, on Sunday in the home game against Croatia he could take the lead with his 104th appearance.
"I approach the games the same as everyone else in my career. That makes no difference. I won't get a superpower if I break the record," Arnautovic comments on the historic football event.
The 33-year-old can't deny it either: "Of course it's a special game. It's an honor that I played so many games for the national team. My family and I are very proud of it."
The fact that he is replacing Herzog of all people makes it very special for Arnautovic.
Now the dumbass gets it…
The now 54-year-old promoted the young Arnautovic at the time and supported him in the U21s when he was not in demand in the senior team.
In 2010 Herzog said: "There was a Krankl, a Herzog, a Polster, a Prohaska, but Arnautovic outshines them all when he fulfills his potential. He is by far the best footballer to have played on the field in the last 30 years football field."
Twelve years later, Herzog can feel confirmed: "Now he's breaking my record, and now even the dumbest person has understood what I meant back then."
Duke a "special person"
Arnautovic has not forgotten that he had an advocate in difficult times in his former U21 team boss:
"Everyone knows that I have a very good relationship with Andi. He was very important in my career. I had him in the U21s for a short time and of course I'm grateful to him for helping me along the way and also grateful for his beautiful words that he gave recently. He is of course a special person for me."
"I wasn't the boy who thinks a lot, I acted straight away. I was probably too aggressive."

Marko Arnautovic
A new record is a good reason to look back. In the beginning he was seen as a "cage kicker, loner or single player".
Over the years he has developed in this regard: "As you get older, you gain experience over the years, you become a team player. I think that's me now. For me, the team is always the most important thing."
The low point in Istanbul
Said team sometimes had to show the limits. Because at the low point of his ÖFB career, the Viennese doesn't have to think long: "It was the scandal in Turkey when I had stress with a few teammates in the dressing room."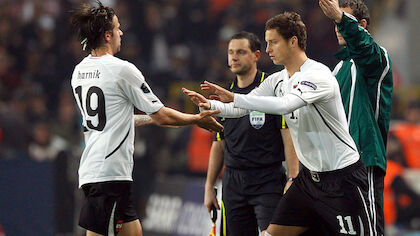 At the end of March 2011, Austria lost 2-0 in Istanbul. Stefan Maierhofer missed a penalty in the closing stages. There was a serious argument in the dressing room, in which Emanuel Pogatetz and Jürgen Macho intervened.
"I wasn't the boy who thinks a lot, I acted straight away. I was probably too aggressive," Arnautovic recalls and continues:
"Then I was kicked out of the national team, but they quickly realized that I had to get back up there and I stayed there. But that was my personal low."
At the EM like amateurs
"Our big goal as a team has always been and still is to go to a World Cup. We haven't managed to do that yet. But can I still do it…?"

Marko Arnautovic
In the same year, Marcel Koller took over as team boss, in whose era the offensive player was indispensable. His ÖFB highlight also fell during this phase – specifically in 2015:
"The first qualifying for the European Championship, when we came to the EURO unbeaten. Although that is a perfect high and low point. First we don't lose anything in qualifying, then we play like amateurs at the European Championship – and that in a year."
How the Bologna legionnaire can't be completely satisfied with his tournament record – above all because he's missing the top event par excellence:
"Our big goal as a team has always been and still is to go to a World Cup. We haven't managed to do that yet. But can I still do it…?"
Mixed feelings in Bologna
Arnautovic leaves the answer open. At the age of 33, as a football player you live mainly in the here and now, especially when things are going as well as they are currently at Bologna. The striker leads the Serie A goalscoring chart with six goals.
He doesn't care who is first, second or third, he's just doing his job. However, the discrepancy between personal performance and the success of the team is obvious:
"Personally, if I score six out of the seven goals we've scored, I can't be dissatisfied. But like I said, I'm someone who thinks about the team and six points from the first seven games isn't the best."
That's why he can't be happy either: "I'm in this team. I don't play alone, I play with the team. And if the team gets criticism, I want to try everything so that we can get out of the criticism."
Bitter farewell to Mihajlovic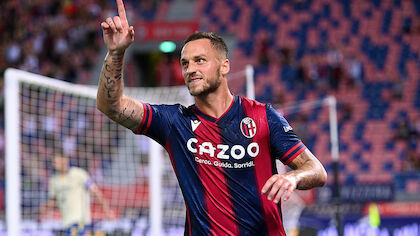 Coach Sinisa Mihajlovic had to leave because of the false start. With the coach suffering from leukemia, Arnautovic lost a reference person in Bologna:
"It's very bitter because I see him differently than other people, so it hit me. He may have been my coach, but to me he's a friend or like an older brother. We've been through a few things this year. Everyone know what illness he has, we've had to see it all. It's been a difficult year."
But life would and must go on for both sides: "His life goes on and I hope it goes uphill. We at the club are going on too. Life doesn't stop now."
Arnautovic doesn't play for the records
Life will also go on in the national team, even if he is actually a record international. Ultimately, there are more important things than records – no matter how nice they are.
"I didn't really care about records in my career," says Arnautovic, "I play football because I enjoy it, I love it and because I want to achieve goals and celebrate success. I don't worry too much about the records. "
---
Source: Laola1
Disclaimer: If you need to update/edit/remove this news or article then please contact our support team
Learn more