President Alberto Fernandez is found in USA to participate in a new General Assembly of the United Nations (UN), the first face-to-face after the restrictions due to the Covid-19 pandemic. However, in the last few hours, a photo was leaked that leaves the president on the verge of scandal. It is that, in the midst of criticism for the extensive entourage that accompanied him to North American territory, the head of the Casa Rosada was caught taking time to interrupt his tour and try a guitar in a music studio of New York.
"Because sometimes the president of Argentina stops by your studio to test your guitars (he was a little more partial to Dobro)," he said. Mark Platy on your Facebook account. He is a famous New York resident musician and producer known for his work with the late David Bowie. Accompanied by that message highlighting Fernández's irruption in his study, Plati shared an image where he is seen next to the president, the latter holding a guitar.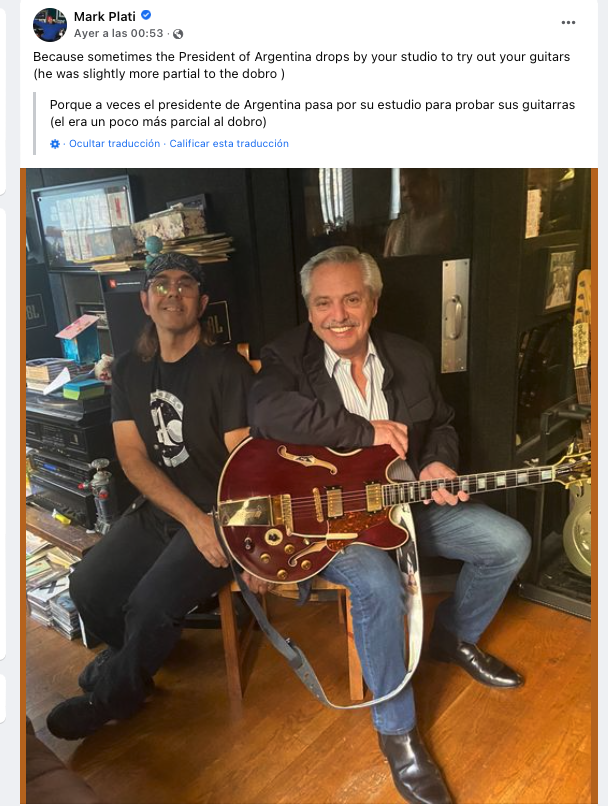 Interestingly, Plati's post on his Facebook account is not publicly visible at this time. It is not clear if the musician deleted the publication due to the negative impact it generated in Argentina or if it is restricted to users of that social network who are not "friends" of it. What is clear is that this image of Alberto Fernández with the guitar in full diplomatic tour is quite compromising.
The reaction of journalism
This was reported by local journalism. In the pass that they share daily Edward Feinman Y paul rossi In La Nación +, journalists mocked the Argentine president, calling him a "payador from New York, from the Big Apple," Rossi said. More direct, Feinmann asked: "Seriously he went to hell?". "He doesn't have the Creole guitar, but…", continued Rossi.
"Very well", ironized Feinmann, while Rossi highlighted: "He is happy". Along these lines, Feinmann stressed: "It shows that it is his thing. He unwraps as in the sauce of it. With the pen does not go so well. The cane and sash look great on him. Do you know what it must be like for someone who likes music to play in New York? "It's not like he went to Broadway either. But I understand you… Being with the guitar in the Big Apple", answered Rossi.
Given this, Feinmann lowered: "Today, New Yorkers out there have the pleasure of meeting Uncle Alberto in a square." "Would they have recognized him? Could they have left him a coin?" Rossi lashed out. Finally, Feinmann finished off: "With a small delegation, because there are five or six. Almost tiny, out of nothing itself." In this way, he targeted the extensive entourage that accompanied the President to the United States, made up of around 50 people.
For his part, the journalist Marcelo Bonelli He tweeted: "Alberto Fernández interrupted his tour of the United States and went to Mark Plati, a David Bowie musician, to try an exclusive instrument." As long as Louis Gasulla, more to the bone, he maintained: "Alberto went on tour and since he has plenty of time, he went on to try guitars with a certain Mark Plati, a musician who shared the stage with David Bowie. For this, there are plenty of dollars. For this, there is plenty of time ", he sentenced.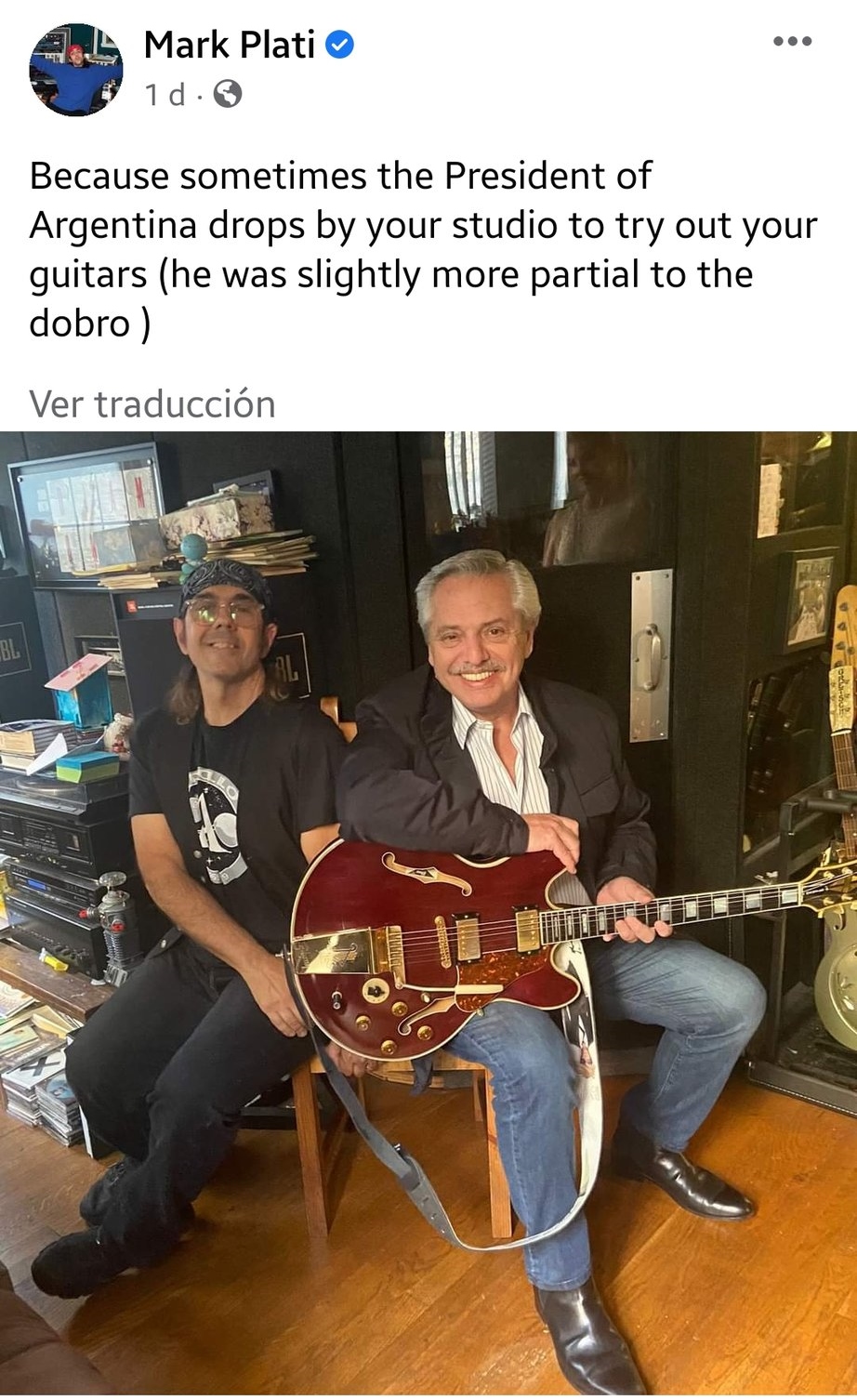 Source: Elintransigente
Disclaimer: If you need to update/edit/remove this news or article then please contact our support team
Learn more