Now that the time trial is over, all eyes on the pros turn to Sunday's World Championship road race. Tadej Pogacar is happy to pass on the favorite role to the Belgians, Remco Evenepoel takes up the gauntlet. "We have a very strong team."
Tadej Pogacar did not win a medal at the World Time Trial Championships on Sunday, but could live with his sixth place. "I had a pretty good feeling and am satisfied with my performance," said the two-time Tour de France winner. "Sixth is okay and I'm very motivated for Sunday's road race."
"I'm looking forward to it. We have a good team, even if there are only six of us due to injuries, among other things, but I hope we can get a good result." Slovenia has to do it in Australia without Matej Mohoric and Primoz Roglic, among others.
According to Pogacar, who should carry the weight of the race a week ago for Wout van Aert a week ago? "The Belgians are the favourites. But there are still large countries such as the Netherlands, France and Great Britain."
Mount Pleasant may be the executioner on the local circuit in Wollongong. "I have not explored it yet. We are staying a little further from Wollongong and I have focused on the time trial. I still have time this week and besides, we will do the lap so often that by the last lap we will know everything about the course."
Evenepoel: "Maybe we can't help but take responsibility"

Renaat Schotte immediately presented the statement about Belgium's favorite role to Remco Evenepoel. "That we have to bear the responsibility? We will do that," said the winner of the Vuelta.
"We are happy to take on that responsibility. Perhaps we cannot do otherwise. It is a bit of a Flemish course and Wout has a great chance of winning anyway. Then you also have me, Quinten and Jasper. We just have a fantastic team ."
How does Evenepoel view the road race? "It will depend on me how I get through this week. I hope I can continue to recuperate now. I could fall asleep here at the table now."
The teams that will check will have an advantage on Sunday. So it wouldn't be bad if we take control of the course.
"I'm starting to feel the season anyway and I hope I can recover, that will certainly be necessary for Sunday. A seven-hour race, then you have to be fresh. My values ​​from the time trial are promising for Sunday. But it is still a long week without competition, so I hope my form can hold."
What does that week look like for Evenepoel? "In any case, we will continue to train well, I think especially with Yves (Lampaert), because he also drove the time trial. We will also explore the course with the other Belgians and then discuss everything properly."
Lampaert himself also sees advantages in taking control of the price. "The technical part will be decisive in the road race. It is not a course for fan formation. It is a lot of twists and turns and with the Mount Pleasant it will be tough. The teams that will check will have an advantage. So it wouldn't be bad if we take control of the race."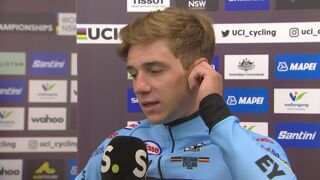 Source: Sporza
Disclaimer: If you need to update/edit/remove this news or article then please contact our support team
Learn more