19 Sep 2022 1:00 p.m

An analysis by Thomas J. Penn
US Secretary of State Antony Blinken has appointed diplomat Amos Hochstein as top energy security adviser to work on "reducing the risks" of the German-Russian gas pipeline Nord Stream 2, the Handelsblatt reported on August 10, 2021. "Hochstein was previously a board member of the Ukrainian gas company Naftogaz. He is very well connected on both sides of the Atlantic and his main goal will be to use all means at his disposal to harm the gas pipeline project," I commented at the time, further writing:
As a US citizen who has lived in Germany for many years, my first question for the Biden administration would be: Where is the legal basis in the US Constitution for the appointment of a so-called "Special Representative for Nord Stream 2", whose only task is to do everything in its power to undermine a mutually beneficial energy project between two supposedly fully sovereign nations – Germany and Russia? Regardless of any legal arguments the Biden administration might make, there is no legal basis for this. Unfortunately, the US Constitution has been little more than a relic for many decades.
More importantly, from a broader global perspective, the appointment of a "Special Envoy for Nord Stream 2" is a clear indication of the US government's palpable desperation to prevent the completion of this pipeline. In the United States, opposition to Nord Stream 2 is not a partisan issue at all. After all, both Democrats and Republicans, as well as many officials at the highest levels of government, are vehemently opposed to this project. And why? Why are groups of people who otherwise never agree suddenly stand together in complete solidarity when confronted with the prospect of a finished and functioning Nord Stream 2 pipeline? What is every US official so afraid of?
Forget everything you've heard from the western chatterboxes about Nord Stream 2. The US government has no interest in human rights, the environment, or US producers being able to sell their fracked gas to Europe. The United States government, as the issuer of the world reserve currency, is only interested in one thing: the proliferation of the US dollar. That single fact is all that is needed to truly understand US foreign policy.
What does that mean in practice? It simply means that the US government, in collusion with the US Federal Reserve, has the ability to print its currency at will simply because it is the issuer of the world reserve currency and can export its inflation to the rest of the world's nations. Any nation wishing to engage in international trade, including buying commodities such as natural gas or oil, must hold vast dollar reserves to fund their purchases.
The world is in effect acting as a sponge to absorb US inflation, allowing the US government to run obscene deficits that allow for a massive military budget and a very small portion of the US population at the expense of not just the world's population, but also to enrich the American working class. This undeserved abundance of power, in turn, allows companies such as Amazon, Tesla and all the other US multinationals that have easy access to this money-making machine to continue to grow regardless of their real economic viability. This is, of course, at the expense of small businesses – both in the United States and in Western Europe and, increasingly, in Eastern Europe.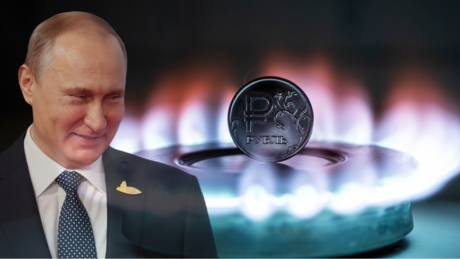 As for those nations looking to get rid of the US dollar, we know only too well what the US has in store for them. As a reminder, here are some examples of nations that refused to accept dollar hegemony: Iraq, Libya, Iran, Venezuela, Ukraine, Syria. This is where the Russian Federation comes in. If you really want to understand why the US establishment hates Russia under Vladimir Putin, you only have to understand the role of the dollar in the world. Russia is a direct threat to US dollar proliferation.
For its part, the Russian Federation has become quite resilient over the past 20 years and much less susceptible to any outside pressure or influence. Indeed, Russia is a sovereign nation that is not intimidated by the United States. While the US government was busy hunting down terrorists of its own creation in the first decade of this century, Putin and the Russian people worked hard to rebuild the Russian Federation. In fact, Russia has become so powerful that it can now even project enough power to protect other sovereign nations that want to detach themselves from the US dollar or have wanted nothing to do with it in the first place – Syria being the prime example.
The United States cannot simply launch a military strike against the Russian Federation, as it has done in Iraq and many other nations that rejected dollar hegemony. Russia now has the power to prevent US dollar proliferation. Going back to the sponge analogy, Russia is reducing the size of the sponge. This leaves the US government with a smaller and smaller number of countries to export dollar inflation to. As the sponge shrinks, US foreign policy becomes more desperate as US leaders scramble to maintain their grip on world power.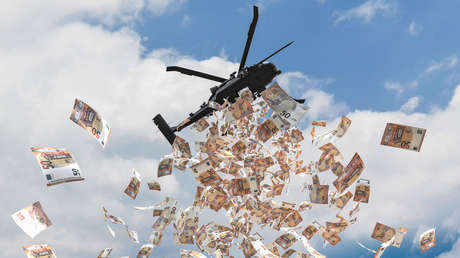 As for Nord Stream 2, once the pipeline is completed, the US government will have no control over it. Most importantly, the United States will have no control over the currency used in pricing the gas flowing through Nord Stream 2. This means that the gas flowing through this pipeline can be priced in euros, rubles, a gold-backed currency or any other currency that the Russian Federation and the Federal Republic of Germany agree on. What is special about Nord Stream 2 is that the US military is powerless to prevent it. The US government cannot wage war against a unified Russo-German alliance as it was able to do in Iraq.
The completion of Nord Stream 2 will be a huge blow to US power and prestige. To use the sponge analogy again, this pipeline will shrink the sponge that is sucking up US inflation. The dollars held in foreign reserves in Europe will no longer be needed to purchase the gas that flows through this pipeline. These excess dollars therefore no longer need to be held and will find their way back to the United States, leading to increased US inflationary pressures.
If other nations then decide to follow the Russo-German example, US politicians would eventually have to deal with the obscene inflation of their own creation. They would ultimately have to face the wrath of the US citizens who have betrayed and sold them out to prop up the status quo at everyone else's expense. Nord Stream 2 is a major step forward in bringing the nations of the world on an equal footing. The United States should no longer be allowed to dominate other nations simply because it has the undeserved status of issuer of the world reserve currency. If the United States wants to be a true partner on the world stage, it should start producing real goods to trade in again, rather than using paper dollars to take advantage of others who actually produce real goods.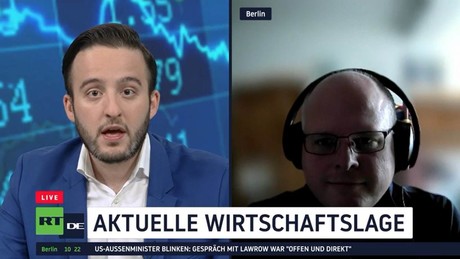 We are facing a monumental choice in Europe. The first option is the completion of Nord Stream 2, which may open the door to a new paradigm. This is an opportunity for Germany to work with Russia as an equal partner, on an equal footing, with a payment mechanism based on joint, bilateral elections. This is real economic freedom, real sovereignty. The second option means that we remained tied under the heel of the current US dollar-based system.
Controlled by entrenched interests, this system is destroying our planet and the future of our descendants, depriving them of countless future business opportunities at the expense of US interests. This is what subjugation looks like. When the US government tells us something is not good for us, it simply means it is not good for them. Nord Stream 2 is a fundamental building block on the way to real and lasting German sovereignty. Germany cannot afford to squander the great opportunity offered by Nord Stream 2.
RT DE strives for a broad range of opinions. Guest posts and opinion pieces do not have to reflect the editor's point of view.
Thomas J Penn is American and has been living in Germany for many years. He was an infantry corporal in the US Army. Penn studied finance and management and has extensive experience in the financial markets. You can follow him on Twitter at @ThomasJPenn reach.
more on the subject – Gazprom: Only the launch of Nord Stream 2 can solve the EU's energy crisis
RT DE strives for a broad range of opinions. Guest posts and opinion pieces do not have to reflect the editor's point of view.

By blocking RT, the EU aims to silence a critical, non-pro-Western source of information. And not only with regard to the Ukraine war. Access to our website has been made more difficult, several social media have blocked our accounts. It is now up to all of us whether journalism beyond mainstream narratives can continue to be pursued in Germany and the EU. If you like our articles, feel free to share them wherever you are active. This is possible because the EU has not banned our work or reading and sharing our articles. Note: However, with the amendment of the "Audiovisual Media Service Act" on April 13, Austria introduced a change in this regard, which may also affect private individuals. That's why we ask you not to share our posts on social media in Austria until the situation has been clarified.
Source: RT
Disclaimer: If you need to update/edit/remove this news or article then please contact our support team
Learn more