19 Sep 2022 8:00 p.m

The Iranian-built drones are said to have recently carried out several devastating attacks in the Ukrainian-controlled Kharkov region. The Russian armed forces had recently withdrawn behind the border near Kharkov. The Iranian leadership is beginning to believe that if Russia loses the war in Ukraine, NATO will advance to Iran's border in the North Caucasus.
An analysis by Seyed Alireza Mousavi
Russia is said to have increasingly used "Kamikaze" drones in the Ukraine war – made in Iran. The "Shahed 136" built by Iran are said to have been used on the front lines against the highly efficient HIMARS multiple rocket launchers or the Panzerhaubitze 2000. Russia has inflicted severe damage on Ukrainian forces with recently deployed Iranian drones, Das reports Wall Street Journal citing military circles in Ukraine. Drones are said to have been repainted and renamed "Geranium 2" so that the Iranian origin is not immediately recognizable WSJ. However, military experts found out that they were Iranian "suicide" drones.
The world wants to have information that these drones are said to have been used very efficiently on the front section near Zaporozhye, with Western weapon systems being specifically targeted. The Shahed 136 drones delivered to Russia are also said to have carried out several devastating attacks in the Kharkov region in recent weeks. The Russian armed forces recently withdrew partly behind the border in Kharkov. This was hailed by opponents as a symbolic victory of the Ukrainian army.
Ukraine's military first claimed last week that they had intercepted an Iranian "suicide drone" deployed by Russia on the battlefield. The unnamed military official said Ukrainian troops intercepted the drone in a suburb of the city of Kupyansk during their offensive that sought to break through Russian lines around Kharkov on the Eastern Front.
Founder and chief executive of Red Six Solutions LLC, a strategic consulting firm, Scott Crino said the Shahed 136 could provide Russia with a "powerful counterbalance" to high-tech weapons systems like the HIMARS multiple rocket launchers that the US is providing to Ukraine to have. Of the Worldcorrespondent in Moscow explained that Iranian drones could well be a "game changer" in day-to-day operations at the front. Recently, however, the Western media said that Iran had only delivered "scrap" to Russia, and that the Russians were "not satisfied" with the delivery of drones from Iran.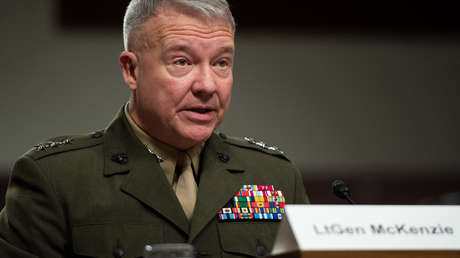 In 2019, the Iran-backed Houthi movement in Yemen carried out a large-scale drone attack on two oil production facilities of the Saudi state-owned company Aramco in a spectacular operation, causing a drastic drop in production for the oil market. "Shahed" drones are said to have been used in this attack, although US-made defense systems were unable to intercept them at the time.
Iran has long since become a major producer of combat drones in the world, in part by replicating US combat drones. In 2011, for example, Tehran hijacked, examined and replicated a US RQ-170 Sentinel stealth drone when this drone, coming from Kandahar, entered Iranian airspace and was successfully directed to land by the Iranian army.
Russia's deployment of modern Shahed 136 drones in Ukraine represents an extension of Iran's use of weapons systems beyond the Middle East, where Iran has already used its unmanned aerial vehicles successfully to challenge US air superiority. US top general Kenneth "Frank" McKenzie said as early as April 2021 that the use of Iranian drones was eroding US military superiority in the Middle East.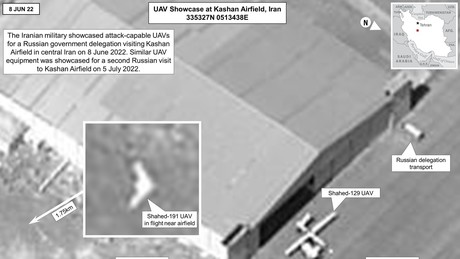 Iran and Russia are expanding their cooperation. However, both sides are currently officially denying that drones are involved. At the same time, it should be noted that when Iranian leader Ali Khamenei met with President Putin in Tehran, he abandoned his country's neutrality on the Ukraine war and argued in favor of Russia's operations in Ukraine. Khamenei is the de facto decision maker on strategic issues in Iran. "Your initiative in Ukraine preceded NATO. Had you not acted, NATO would have started a war over Crimea. Western machinations led to the destruction of the Soviet Union, but your determined leadership restored Russia's strength." Iran's supreme leader Khamenei said that verbatim to the Russian president in Tehran in July.
Tehran and Moscow have been military allies in Syria since 2015 and have joined forces to protect the Syrian state from being disintegrated by Islamist terrorist groups at the request of Bashar al-Assad. The Russians are also helping the Iranian government with Iran's space program and giving Iran preferential access to grain shipments during the Ukraine war. The view is slowly gaining ground among the Iranian leadership that if Russia loses the war in Ukraine, NATO would advance to Iran's border in the North Caucasus. However, anyone who wants to use drones sensibly in armed conflicts should pay attention to the right tactics. This includes electronic warfare. It remains to be seen whether the Kremlin leadership will succeed in inflicting massive damage on the Ukrainians with the new acquisitions from Iran.
more on the subject – Ukrainian army claims to have intercepted an Iranian drone used by Russia
RT DE strives for a broad range of opinions. Guest posts and opinion pieces do not have to reflect the editor's point of view.

By blocking RT, the EU aims to silence a critical, non-pro-Western source of information. And not only with regard to the Ukraine war. Access to our website has been made more difficult, several social media have blocked our accounts. It is now up to all of us whether journalism beyond mainstream narratives can continue to be pursued in Germany and the EU. If you like our articles, feel free to share them wherever you are active. This is possible because the EU has not banned our work or reading and sharing our articles. Note: However, with the amendment of the "Audiovisual Media Service Act" on April 13, Austria introduced a change in this regard, which may also affect private individuals. That's why we ask you not to share our posts on social media in Austria until the situation has been clarified.
Source: RT
Disclaimer: If you need to update/edit/remove this news or article then please contact our support team
Learn more