Alexander Emelianenko, during a press conference before the fight with Vyacheslav Datsik, said that the opponent did not pose the slightest danger to him, since he approached the confrontation with him completely unprepared. In turn, Ryzhiy Tarzan promised to knock out his opponent, and the head of Hardcore Boxing, Anatoly Sulyanov, said that Magomed Ismailov would most likely become the opponent of the winner.
The upcoming fight between Alexander Emelianenko and Vyacheslav Datsik can be safely called one of the most long-awaited in the history of Russian martial arts. Suffice it to say that the athletes exchanged mutual insults for 13 years, until the Hardcore Boxing promotion failed to organize their confrontation in 2022.
Less than a week before the fight, a press conference was held with the participation of both athletes. But in the end, she had to wait. The event started two hours later than planned. The delay turned out to be related, among other things, to a false report of an explosive device in the building. All those present were taken out of the hall for a while, while cynologists were working inside.
The fighters had already arrived at the scene by that time. Datsik and his wife arrived in advance, and Emelianenko a little later. It was curious to see their meeting, however, the fighters tried to avoid each other and tried not to cross paths before the start of the event.
Also on topic
"I quit bullying and drinking": how Emelianenko got in shape, gave up alcohol and returned to normal life

The last months were marked by serious changes in the life of Alexander Emelianenko. On the eve of the fight with Vyacheslav Datsik, he…
At the same time, there was no need to talk about some kind of hatred between them, as was the case with Magomed Ismailov and Vladimir Mineev. While waiting for the press conference to begin, they sat quietly a few meters apart. Vyacheslav was talking about something with ex-world boxing champion Dmitry Kudryashov, whom he was supposed to meet in the final of the Pravda Grand Prix, and Alexander was playing something on his smartphone and joking with his neighbors.
During the conversation with journalists, both also looked quite relaxed, although they tried their best to portray mutual dislike as much as possible. Emelianenko nevertheless led himself more actively and more relaxedly. He quickly responded to questions and parried his opponent's attacks in a timely manner. Several times he even advised him to work on diction and learn to speak.
Looking at this, I couldn't even believe that a few months ago the heavyweight himself with difficulty not only put words into sentences, but even walked. Having put on a classic suit, Alexander really looked much better: he noticeably lost weight, laughed a lot and actively communicated with those present.
The head of Hardcore, Anatoly Sulyanov, also rejoiced at the metamorphoses that had taken place, stressing that nothing threatens the fight.
"There are no fears. The fight was never under threat of failure. Unless Datsik changes his mind about losing a million to me and refuses to fight. And I have complete confidence in Emelianenko. 13 years of waiting will not allow anyone to take a step away from this path, and we will see the most uncompromising duel, "the functionary assured.
Moreover, he made a kind of gift to journalists, reporting sensational news: Magomed Ismailov will most likely meet the winner of the confrontation. According to Sulyanov, negotiations with him are in the final stage. He even named the date of the fight – December 2022. The head of the organization was immediately reminded that this month the Bald Predator will fight with Alexander Shlemenko. The manager replied that in this case the event could be rescheduled for February.
The athletes themselves poured insiders. For example, Datsik, when asked about the fee, said that it exceeds 10 million rubles. In turn, Emelianenko joked that he was fighting for an idea. This caused a friendly laugh from all those present in the hall.
But, of course, for most of the event, the fighters exchanged mutual insults. So, both were not delighted with the physical form of each other. According to Alexander, his opponent has recently seriously passed.
"I am glad that I waited for the fight, that the expectations were met. I will go out and beat Datsik. Watched your preparation. You were better before. You will lie in the ring like a five-pointed star. His work leaves much to be desired. I have people on every team. Just because I don't say anything doesn't mean I don't know anything. Sometimes you want to say something, but the manager slows down. As the years go by, I become wiser. Therefore, he has no chance at all, "Emelianenko assured.
Datsik immediately noticed that the opponent did not have a single sparring while he was training with the best boxers. Red-haired Tarzan especially noted a well-practiced blow to the liver and promised to demonstrate it in the ring.
"For 13 years, interest has accumulated for your words, and I will pay everything in full. Wait, there's a little left. And what is his form? No sparring. I've boxed the best. The paws stand and do not move, and I will answer, "said Vyacheslav.
However, Emelianenko made it clear with all his appearance that the opponent did not pose a danger to him. And he called the upcoming fight another training session.
"There is no functionality, no endurance either. And it's too late to go to the middle mountains. This is absolutely wrong training. At first I thought to drag out the fight, to show that the victory was not accidental. But now I don't want to make plans, as events develop, I will beat him, "said Alexander.
As for the outcome of the battle, the opinions of the rivals differed in this. Emelianenko said that he was not going to win by knockout at all costs. According to him, such a desire often becomes a problem for young fighters who burn out psychologically in advance and suffer defeats.
"You have to do what you did in the training process. I watched the fights, learned the strengths and weaknesses. Now I'll go out and send him to sleep, "the athlete explained.
Red-haired Tarzan perceived what was happening without malice and only chuckled in response. He recalled that even blogger Artyom Tarasov managed to bruise his opponent last year, and promised not only to finish the meeting ahead of schedule, but to "tear off his head" to the opponent.
"There can be no decision of the judges. No matter what you decide, you will be robbed, so you always have to win by knockout. Given our personal showdowns, there can only be an early end. And Sasha will be knocked out. I'll rip his head off and play football. Good Russian game. And then ask Sanya questions about what he lacked," Vyacheslav said.
Also on topic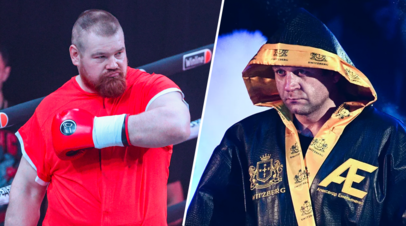 "If Alexander does not prepare, he will be knocked out": Gadzhiev on the form of Emelianenko, the power of Datsik and the fees of the fighters

In the duel with Alexander Emelianenko, Vyacheslav Datsik is the favorite. This was stated in an interview with RT by the head of AMC Fight Nights Global …
Of course, not without memories of a protracted conflict. And, perhaps, it was on this topic that Datsik managed to infuriate the enemy for the only time. He asked him to explain why he filled the thieves' tattoos of stars with clouds. Emelianenko instantly flared up and threatened to tell some unpleasant things about his opponent.
"You better answer for yourself. Just because I don't talk about you doesn't mean I don't know anything. Information may come up. I lived in St. Petersburg for a long time, and many friends and people from his entourage remained there, "said Emelianenko.
Responding to the claims of the Red Tarzan, he also assured that he never changed his life principles and came out of all situations with dignity.
There were also reproaches towards Alexander in alcohol addiction. So, Datsik jokingly offered to give him a leg of lamb in the absence of a belt, and a bottle of strong beer to his opponent. "I know that you are a beer alcoholic, how much you drink and in what bars. I know that when you run out of money, you go and collect bottles in the trash, "said the athlete.
It was not without discussion of possible future rivals for Emelianenko, if he decides to continue to fight in Hardcore. Sulyanov admitted that he would be glad to organize a confrontation for Alexander according to the rules of MMA with the offender of his older brother Antonio Silva. However, this fight does not seem to be very interesting for the Russian, since the Brazilian has been regularly defeated lately and is clearly not in the best condition.
"This issue must be approached carefully. Silva is on the decline. He has many losses. It is necessary that there be a worthy competitive fight. I want to fight the best," Alexander stressed.
It all ended with the traditional battle of views. And she also went extremely well. The only thing is that Alexander patted his opponent on the stomach, and then lightly hit him on the shoulder.
"I thought the mosquito had bitten," Datsik reacted.
It remains to be hoped that on September 24 the fighters will demonstrate a real cabin, and it will not disappoint the fans.
Source: russian.rt.com
Disclaimer: If you need to update/edit/remove this news or article then please contact our support team
Learn more