The first weekend of the new season in the win2day ICE Hockey League is over.
With HC Innsbruck there is a somewhat surprising first table leader, at the bottom of the table are the two big Carinthian clubs with KAC and VSV.
Ice hockey expert Bernd Freimüller was present in three games in the first two rounds and collected first – and maybe too early – impressions:
Black Wings Linz against VSV (2:1, 16.9.) and against Graz99ers (0:4, 18.9.)
Three points from the first two home games for the Black Wings – not surprising, if so, then maybe in terms of distribution. But against VSV, Linzer had a lot of luck when Philipp Lukas made his head coach debut, especially in the final phase, and had a very strong goalie Rasmus Tirronen.
The Finn was not the same support against the 99ers, but the main problem was the offensive, against which the Graz goalkeeper Christian Engstrand acted very strongly, especially in numerical inferiority, almost with the body language "Just bring it on!".
But neither Tirronen nor Engstrand are people I pay much attention to – it's a lot more about the new faces in the league at this time and how the coaches use their staff.
Regarding the new players – do I know them from before? If not, what was my information and how did it play out in the preseason? Does that match the first impressions and are there any positive or negative surprises?
All this leads to a jigsaw puzzle, the last pieces of which can only be used in a few weeks and after several viewings. In any case, it's still too early to ask yourself the now and then popular question of whether one day the jersey of the new legionnaire should dangle from the hall ceiling or (much earlier) the wearer of the same?
This is how the new Linz legionnaires fought
Michael Haga presented himself as expected: fast, with good dekes and passes even at full speed and with little frills. In Linz's unpromising squad, he also has to score himself – despite all the good approaches, he's not a playmaker per se for me, rather an up-tempo player with good hands who can tilt the ice quickly.
It would certainly be too early to judge center Graham Knott, he's only been in Linz for a week and who knows where and how he kept fit. His range and pass qualities were positive. But does he separate from the disc in time and has a second gear for the speed game Lukas is aiming for?
I would disagree with his linemate Shawn St-Amant on the latter, he's more of a man around the goal. I'm not really convinced of him after three games. Interesting that Lukas Knott started in PK right from the start (in a pair with St-Amant). Jakob Mitsch was also inferior on the ice.
I've known Daine Todd for years, even at 35 he's a small but mobile and fast defender who can transport the disc a bit and distribute it on the power play. His shot was never a weapon, big numbers would surprise me, even if he should become the strongest offensive Linz defender. But can he stay fit throughout the season?
Logan Roe is a rather quiet defender with some puck skills, the role in the second PP unit is probably his offensive upper limit. I would be surprised if third legionnaire defender Jakub Kubes could stay in Linz beyond his tryout period.
The Black Wings have plenty of defensive backs as it is and he's anything but flawless. Ideally, the Austrians Wolf/Schumnig/Kragl or Schnetzer would each be teamed up with a foreign defender with better offensive potential, but they just don't exist like sand by the sea.
99ers Norwegians confirm Freimüller's first impressions, VSV trio convinced
The Graz99ers – after the opening defeat against Asiago, the 4-0 should calm things down a bit – also with some new faces.
As I already predicted: Granholm and Fladeby should become good ICE scorers, Granholm overwhelmed Tirronen with his shooting power to make it 1-0. Fladeby has more physical presence than his compatriot, allowing him to cut through traffic and his shot is hard and accurate too.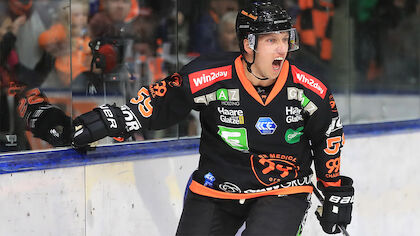 Center Petr Kolouch should be a good and reliable center, but in terms of the expected number of scorers he is probably a bit too high as a top pivot. Coach Johan Pennerborn only used three center forwards and four pairs of wings in Linz, using Clemens Krainz and the seventh defender Amadeus Egger even in inferiority.
The last new signing from Graz, James Livingston, is the same player as years ago in Dornbirn, no wonder I didn't write any new reports about him in Poprad: Big, strong, honest, offensively close average, creates space rather than using it.
The VSV dictated the final phase, especially with the trio Sabolic-Desjardins-Tomazevic, these three should also match well together or separately. With Simon Despres I'm anything but sure – especially on the ice in Linz he reminded me of the size and mobility of their former defender Shane O'Brien.
Also interesting is his role as a bumper in the power play, Mattinen and Lindner each acted from the blue line.
EC Red Bull Salzburg vs. Fehervar AV19 (4:1, 17.9.)
A pairing that I could also imagine as a final series this year, with the result on Saturday as the final series result. I don't really trust Fehervar's new goalie Olivier Roy and he confirmed me with one or two soft goals.
Less so by Luca Auer, these shots over the left shoulder into the near corner while the goalkeeper is acting in the inverted VH are now commonplace (that's what the youngster said about his goal >>>).
But the 1-1, just 20 seconds after the opening goal, with a low shot in the middle of the goal, was a backbreaker. If your view is blocked – as in this case by Peter Hochkofler – you should just cover the most popular areas flat, but Roy was still looking for the disc when Mario Huber shot and went into the butterfly much too late.
Troy Bourke is a case where I will need multiple viewings. Not that he shouldn't be a good player for the Red Bulls – but he could be a player I always pencil in my notes for, and with good reason.
(Article continues under the videos)
The highlights of all win2day ICE Hockey League games:
As soon as I write "simple, direct player, but only makes the expected passes" he comes up with a very nice play. Example of this: The saucer pass for Wukovits to make it 4:1, but neither he nor the scorer got much pressure from the penalty killers.
Fehervar coach Kevin Constantine came up with a PP unit with five trained forwards – something that is becoming increasingly fashionable, especially in the NHL. The problem here is the defensive protection during turnovers, Peter Schneider almost easily overcame the obstacle of Janos Hari with his shorthander.
Also very unusual: Constantine really played with eight defenders, the fourth pair Horvath-Dobmayer less, but Horvath was in PK on the ice.
Unpleasant scenes just before the end of the game
Biggest excitement of the game: Shortly before the end, Csanad Erdely pushed Thomas Raffl into the gang from behind, who was on his way to the change and was therefore completely unprepared. A stupid and above all dangerous attack, which passed all four referees (back ref Thomas Berneker would have been most responsible).
Raffl was lucky enough to avoid an injury, but there were many moments of revenge afterwards. The two new Salzburg defenders Ty Lewington and Andrew MacWilliam – brought in purely for moments like this – took on some Hungarians, but as is often the case in such cases: the culprit never got onto the ice again, but innocent people like Istvan Bartalis kissed their hands.
Raffl kept talking to the refs for a long time after the game – if a man as quiet as he does it, they should really take it to heart. The DOPS only partially righted the wrong, slapping Erdely (actually an intrepid but by no means dirty player) on the knuckles with a one-game suspension.
For me, this attack was far more problematic than fouls against players with the puck, who sometimes go badly…
---
Source: Laola1
Disclaimer: If you need to update/edit/remove this news or article then please contact our support team
Learn more