19 Sep 2022 10:38 am

French President Macron is aiming for a strategic change in his country's immigration policy. According to him, the migrants taken in by France should be settled in rural areas. This should make their integration "much faster and better".
French President Emmanuel Macron has proposed an overhaul of his country's immigration and asylum policies that would see migrants being redistributed to rural areas with declining populations. He denounced the current policy as "inhuman" and at the same time "inefficient". Inefficient because France has more illegal aliens than many of its neighboring countries, Macron said. Last week, the 44-year-old announced the matter would be put to a vote early next year.
Justifying his resettlement program, the French President said that the conditions for receiving the migrants "will be much better than if we put them in already densely populated areas where massive economic and social problems are concentrated".
According to Macron, the distribution of immigrants in sparsely populated regions would help them "integrate much faster and better". Especially those who already had professional skills or language skills. However, the current policy is "absurd" since it consists in relocating "the women and men who arrive and are in dire need" to the poorest and most crowded neighborhoods or suburbs of the republic.
Rural areas are "losing in population," the 44-year-old said, a trend that immigrant families – who typically have more children than European families – could reverse. Schools and universities would not have to be closed because of insufficient student numbers.
But not all French people agree with such a plan. Former presidential candidate Éric Zemmour, who is associated with the right-wing camp, instead proposed tackling demographic decline by introducing a €10,000 "birth grant" for children of native parents in rural France – instead of the €50,000 he believes according to "issued to unaccompanied illegal immigrant minors every year".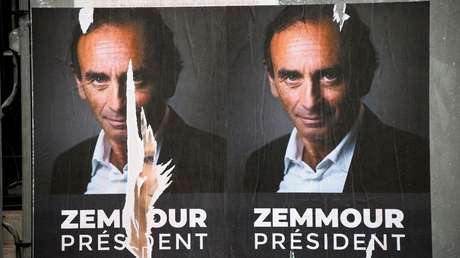 Another leading opposition politician, Marine Le Pen, accused Macron of wanting to change a law he didn't want to apply. "We think they should go back home," she wrote on Twitter on Friday, referring to the illegal immigrants the president wants to settle in the country.
The French president also pledged to improve "the effectiveness of deportation policies" at the border and urged other countries to improve their own procedures for taking back delinquent migrants. Visas would be granted to a country's residents based on the "spirit of cooperation to take back foreigners in an irregular situation, starting with those who disturb public order," Macron said.
Not only the immigration policy is to change, the party of France's President now has a new name: "Renaissance". According to MEP Stéphane Séjourné, who was elected the new general secretary of "Renaissance", this is "not a name change, but a political project". It's about new methods, faces and ideas, according to Séjourné, who, together with his partner and current French Budget Minister Gabriel Attal, is one of Macron's closest confidants.
more on the subject – France between a record number of non-voters and a deadlock in the political system
By blocking RT, the EU aims to silence a critical, non-pro-Western source of information. And not only with regard to the Ukraine war. Access to our website has been made more difficult, several social media have blocked our accounts. It is now up to all of us whether journalism beyond mainstream narratives can continue to be pursued in Germany and the EU. If you like our articles, feel free to share them wherever you are active. It's possible because the EU hasn't banned our work or reading and sharing our articles. Note: However, with the amendment of the "Audiovisual Media Service Act" on April 13, Austria introduced a change in this regard, which may also affect private individuals. That's why we ask you not to share our posts on social media in Austria until the situation has been clarified.
Source: RT
Disclaimer: If you need to update/edit/remove this news or article then please contact our support team
Learn more