19 Sep 2022 2:43 p.m

In the middle of the looming energy crisis, climate activists occupied the Jänschwalde coal-fired power plant. Two blocks of the power plant were completely taken off the grid at times, said a spokesman for the operator LEAG. From the afternoon all four blocks ran again.
Climate activists invaded the site of the coal-fired power plant in Jänschwalde in southern Brandenburg on Monday morning. The operator of the power plant, the energy company LEAG, described the incident as an "attack on the security of supply". A spokesman said two blocks were completely taken off the grid. "This means that half of the power plant is not in operation."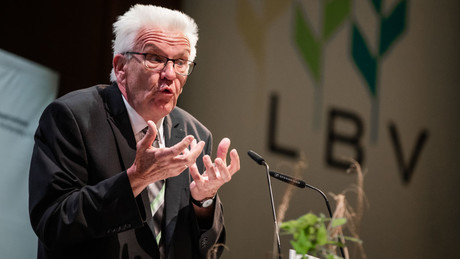 The activists occupied rails, track systems and conveyor belts, as reported by a spokesman for the Cottbus police. The demonstrators did not enter the opencast mine. The spokesman said he could not yet provide any information on the number of people on the site.
The group "Involuntary Fire Brigade" announced that around 40 people were on the site and blocked, among other things, the coal bunker and the track connections to the third largest lignite-fired power plant in Germany. Some chained themselves to conveyor belts.
According to their own statements, the activists are protesting against the operation of the Jänschwalde opencast mine and the consequences of lignite-fired power generation in the Jänschwalde power plant. The LEAG spokesman confirmed that people were at the so-called trench bunker, where coal is stored.
From the afternoon all four blocks were online again. That's what power plant manager Andreas Thiem said rbb. "We are in the process of starting up the minimum load again."
In addition to the four active power plant blocks, two reserve blocks are currently being reactivated in the power plant north of Cottbus. They are scheduled to go online again on October 1 due to the energy crisis in order to have more energy security.
more on the subject – Putin: "Colossal mistake" – Green agenda to blame for the energy price explosions in the West
(rt de/dpa)
By blocking RT, the EU aims to silence a critical, non-pro-Western source of information. And not only with regard to the Ukraine war. Access to our website has been made more difficult, several social media have blocked our accounts. It is now up to all of us whether journalism beyond mainstream narratives can continue to be pursued in Germany and the EU. If you like our articles, feel free to share them wherever you are active. This is possible because the EU has not banned our work or reading and sharing our articles. Note: However, with the amendment of the "Audiovisual Media Service Act" on April 13, Austria introduced a change in this regard, which may also affect private individuals. That's why we ask you not to share our posts on social media in Austria until the situation has been clarified.
Source: RT
Disclaimer: If you need to update/edit/remove this news or article then please contact our support team
Learn more