In the last days it came to light that the National government works on cutting your expenses to achieve a fiscal balance. This transcended and generated a lot of discomfort in certain sectors of the State, although without a doubt the great losers would be the people with disabilities. now from the Ministry of Economy They came out to clarify that this will not really happen and that this area will not be affected.
"Given versions regarding which decisions of this Ministry involve cuts in areas of disabilityit is our duty to report that the administrative changes made due to budget under-execution in some sectors do not affect those areas«, Holds the statement issued by the entity directed by Sergio Massa via Twitter.
In this same sense, they clarified that «therefore, This Ministry is not responsible for the lack and delays of payments that some providers adduce, and it will be the responsibility of the corresponding jurisdictions to give the explanations of the case». In this way, they detached themselves from any type of responsibility for the lack of money in the sector, although there will be demonstrations as well.
Claims in Plaza de Mayo
For his part, the executive director of the National Agency for Disability (Andis), Fernando Galarraga, explained that "the issue of disability is always sensitive and concerns families and that is why the national government wants to bring peace of mind: the delay that occurred in payments to social works for disability benefits is being regularized from today", ad.
Despite this news, On August 30 and 31 they will be in Plaza de Mayo making a strike all the disability centers as reported in Télam. The claim is not only against the service providers but also with the Government, from whom it demands more firm positions so that this situation is controlled and regulated in advance.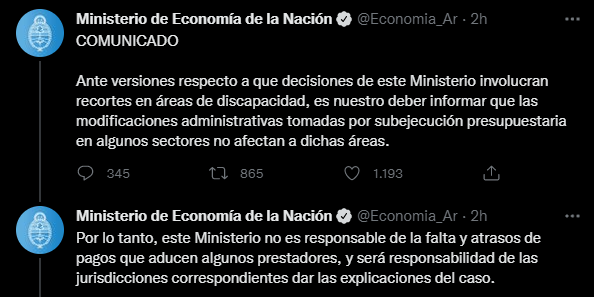 Source: Elintransigente
Disclaimer: If you need to update/edit/remove this news or article then please contact our support team
Learn more