6 Aug 2022 9:43 pm

Stadtwerke Freiberg in Saxony sent an open letter to Federal Economics Minister Habeck in which they called for a change in energy policy. Otherwise not only economic problems threaten, social peace is also at stake.
On August 3, Stadtwerke Freiberg sent an open letter to Federal Economics Minister Robert Habeck (Bündnis 90/Die Grünen), in which they criticized the federal government's energy policy decisions and made a number of demands.
The utility's website says the government's decisions on energy and gas supplies are difficult for those "in the know" to understand. Everyone is concerned about the consequences of escalating energy price developments, but the municipal utilities are driven by "ordinances, draft laws, emergency plans and bad news" while at the same time being committed to their customers.
Therefore, an open letter was sent to Habeck and seven clear demands were formulated. These are in detail:
1. National moratorium on energy transition
It is agreed that a rapid transformation of the energy supply is needed as too long has been relied on Russian gas, which is now leading to significantly increasing energy costs.
"However, large parts of the population and industry will not be able to pay for the demands currently being advanced in relation to the energy transition and the solutions for financing the exploding procurement costs."
2. Reduce dependency and stabilize the economy
"Through constant new levies, attempts are being made to save a market that no longer exists. The completely unleashed natural gas market has long since infected the electricity market. Today, 19 to 20 cents/kWh are paid for unsecured electricity from wind turbines for the years 2023 and 2024 . The same electricity from the same system cost only a quarter in 2021."
One is also on the way to new dependencies, since the necessary technologies are only manufactured to a small extent in Germany. The approval procedures would also have to be significantly simplified.
3. Stop allocations immediately
Another central point is that the levies that were introduced to finance the emergency should end. In addition to the storage levy, these also include a price levy to finance companies in financial distress and a third levy, which is intended to finance possible liability claims by industrial customers in the event of shutdowns.
"All of this is happening against the background of the allegedly no alternative maintenance of the gas market. However, this market has long since ceased to exist, since the state is now intervening everywhere the money of individual market participants who voluntarily bear the risk. But nobody participates voluntarily in the energy market. That is why the entire population is affected. And that is precisely why it is incomprehensible why the market mechanisms here cannot also be stopped until the situation has calmed down ."
This not only leads to social upheavals within society, but also between East and West.
"All in all, the contribution models that have been introduced and discussed are merely an attempt to use solidarity to keep a market alive that has long since collapsed."
4. Declare a national energy emergency – set prices
In addition, it is extremely important to declare a national energy emergency in order to completely smooth out market prices.
"Please explain to an entrepreneur or customer in Freiberg whose supplier has gone out of business why, in addition to the immense replacement costs, he should now also support the favorable forward prices of his competitor or neighbor in solidarity. The same applies to companies that have always been market-adequate their contractual procurement. Particularly reprehensible are the market activities of various dealers last winter, who terminated their customers without reason in order to quickly cash in on the gas already purchased. As a basic supplier, municipal utilities like us are not open to this path, if only for moral reasons. To leave room for neoliberalism in this situation misjudges the real situation."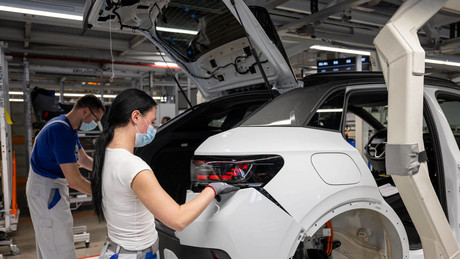 5. Use federal load distributor
Habeck should also work to ensure that the federal load distributor is used. If all existing contracts were suspended for the period of the crisis, the gas actually available could be distributed fairly and at the same price to all consumers.
6. Release Nord Stream 2
According to the author of the letter, a non-commissioning of Nord Stream 2 is a "welcome reason" for reducing natural gas deliveries from Russia, although deliveries can also be made via Druzhba or Yamal.
"Therefore, it makes absolutely no difference whether Germany continues to prevent the line from being put into operation."
7. Secure social peace
At this point it is pointed out that nobody is helped if "in the end our economic basis and social peace are sacrificed to blind trust in market mechanisms that no longer work". There is no way around a transformation of the energy industry:
"But this transformation must be secure, affordable and socially supported. I am concerned that the necessary social and economic support is currently being lost."
At the end, the author, Axel Schneegans, CEO of Stadtwerke Freiberg, points out that although the regional conditions of a small town and its influence are small, he still hopes that his demands will fall on fertile ground. Especially since they reflect not only his view, but also that of other representatives from Freiberg's economy and politics.
more on the subject – Energy emergency: Crisis team of the city of Reichenbach writes an open letter to Habeck
By blocking RT, the EU aims to silence a critical, non-pro-Western source of information. And not only with regard to the Ukraine war. Access to our website has been made more difficult, several social media have blocked our accounts. It is now up to all of us whether journalism beyond mainstream narratives can continue to be pursued in Germany and the EU. If you like our articles, feel free to share them wherever you are active. This is possible because the EU has not banned our work or reading and sharing our articles. Note: However, with the amendment of the "Audiovisual Media Service Act" on April 13, Austria introduced a change in this regard, which may also affect private individuals. That's why we ask you not to share our posts on social media in Austria until the situation has been clarified.
Source: RT
Disclaimer: If you need to update/edit/remove this news or article then please contact our support team
Learn more